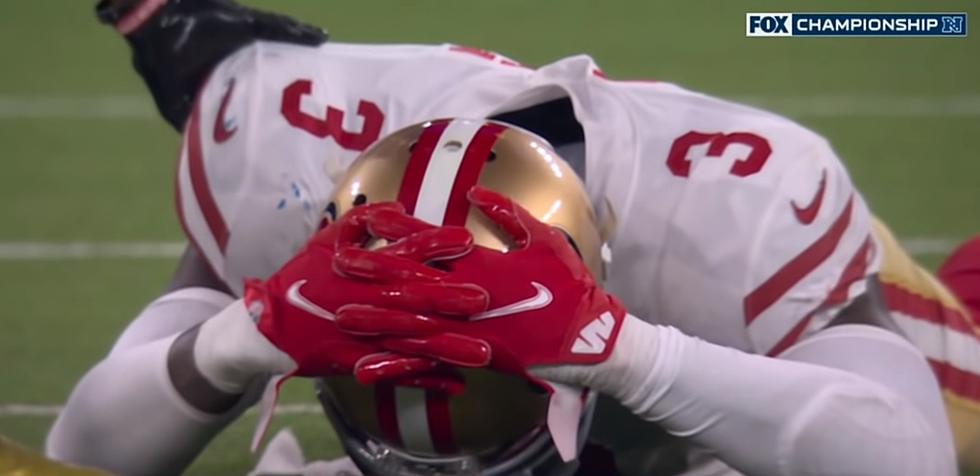 WATCH: Matthew Stafford Get Away With A Really Dumb Pass
Buzzer Beater via YouTube
I am NOT a Matthew Stafford hater, but the truth is, if you followed Matthew's career when he was with the Lions, he can, on occasion, throw some dumb passes.
Luckily, the line between hero and goat in the NFL is pretty thin. Matthew made a dumb move late in the game Sunday when the Rams were driving to eventually tie the NFC Championship tilt with the San Francisco 49ers up at 17.
Going long over the middle for either Van Jefferson or Odell Beckham Jr. (hard to say who he was throwing to) with a little over nine minutes left to play, Matthew put the ball right into the hands of Jacquiski Tartt of the 49ers.
By the way -- how cool is that name?
Fortunately for Matthew, Tartt couldn't find the handle and the ball dropped harmlessly to the turf. Had he held on, who knows what the outcome of the game would have been?
Back in the day, this was referred to as 'The Agony of Defeat'.
Tartt, to his credit, owned his mistake and offered no excuses for the dropped pass, which could have turned the direction of the game. Especially since he had lots of room to run.
Stafford settled down, moved the team into field goal range to tie it, and then got the ball back and led the Rams on 49 yard rive to take the lead with a 30 yeard Matt Gay field goal with 1:46.
The Rams then clinched when they held on to a errant Jimmy Garrapolo pass seconds later for an interception.
Good luck to Matthew in the upcoming Super Bowl, most of Michigan is behind you, but remember this, we loved you even when the dumb passes didn't work out.
The Detroit Lions Fans Enjoy Thanksgiving Day Tradition At Ford Field
Despite a long history of losing, the Thanksgiving Day game at Ford Field in Detroit has brought out the best in fans, and in the halftime show performers.
More From The Game 730 WVFN-AM