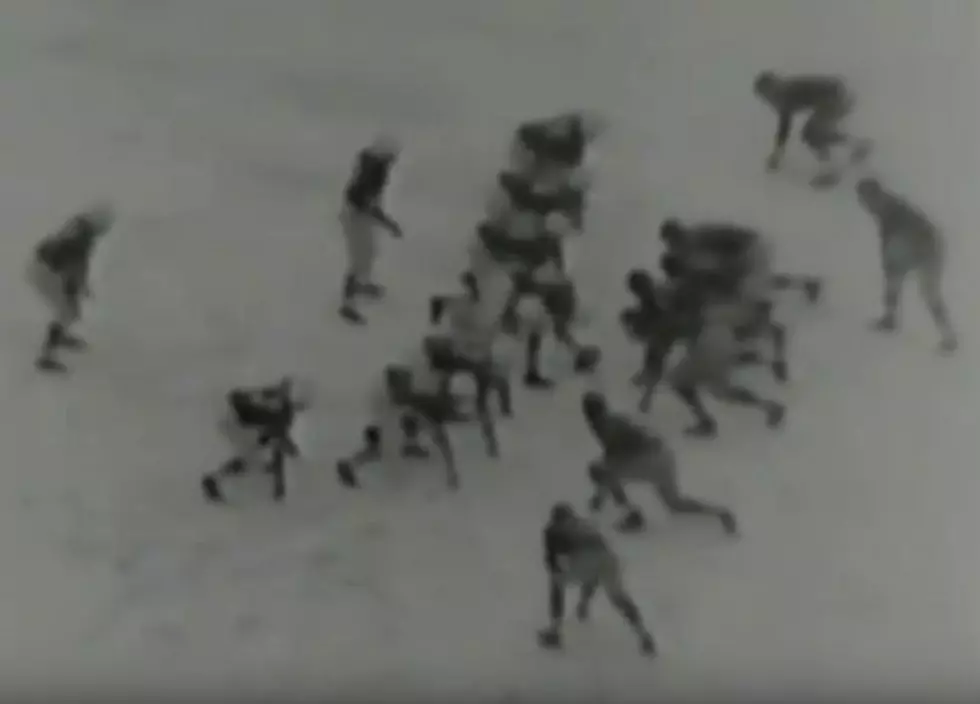 How A Blizzard Made The 1950 Michigan/Ohio State 'Snow Bowl' Most Unusual
1950 Snow Bowl (YouTube via WolverineHistorian)
Let's face it. There is no way on God's green earth (or in this case, God's white, snow covered earth) that this game would have been played as scheduled in the modern era. But the world was much different in 1950. The show must go on, especially the biggest rivalry in sports.
On November 25th, 1950, the annual match-up between Michigan and Ohio State took place in Columbus. A lot was on the line, including the Big Ten Championship and a chance for the Wolverines to earn a trip to the Rose Bowl. The weather was absolutely miserable that day due to blizzard conditions and discussions of cancelling the game happened. However, had the game been called off, Ohio State would have become the Big Ten Champion.
So the game was played. Game conditions had a temperature of 10 degrees and a wind chill well below 0 with gusty winds up to 30 mph. Snow was falling at a rate of 2 inches per hour. The conditions led to a style of game play and some football statistics that are unlike anything you would see today.
Unusual Football Statistics
Michigan did not earn a first down in the entire game. Ohio State had three first downs.
Michigan was 0-9 passing and had 27 total rushing yards
Ohio State passed for 18 yards and rushed for 16 yards, totaling 34 yards.
Michigan punted the ball 24 times and Ohio State punted 21 times for a total of 45 punts.
There were a record 4 blocked Michigan punts
Michigan had 685 punting yards and Ohio State had 723 punting yards for a combined 1,408 punting yards.
Punts often happened on first down as field position became the primary strategy. The other team having the ball on offense was seen as an advantage.
Ohio State led 3-2 at the end of the 1st Quarter, the final score was 9-3 with Michigan getting the win.
Michigan's only scores were on two blocked punts, one for a safety and the other for a touchdown (and extra point) for their 9 points.
No points were scored in the entire 2nd Half.
Before the game, grounds crews struggled to get the tarp off of the frozen field because there was four feet of snow on top of it.
The conditions were so intolerable that Ohio State didn't even ask for tickets for those who showed up to attend.
Fans built bonfires in the stands to keep warm.
The game was played during the worst blizzard to strike Columbus, Ohio in 37 years.
Some of Michigan's team left Columbus by bus on its way north to Ann Arbor despite the weather, but roads became impassible. They found shelter at a hotel about an hour north of Columbus.
Other Wolverine players remained in Columbus for the weekend until the storm passed.
Enter your number to get our mobile branded app
More From The Game 730 WVFN-AM