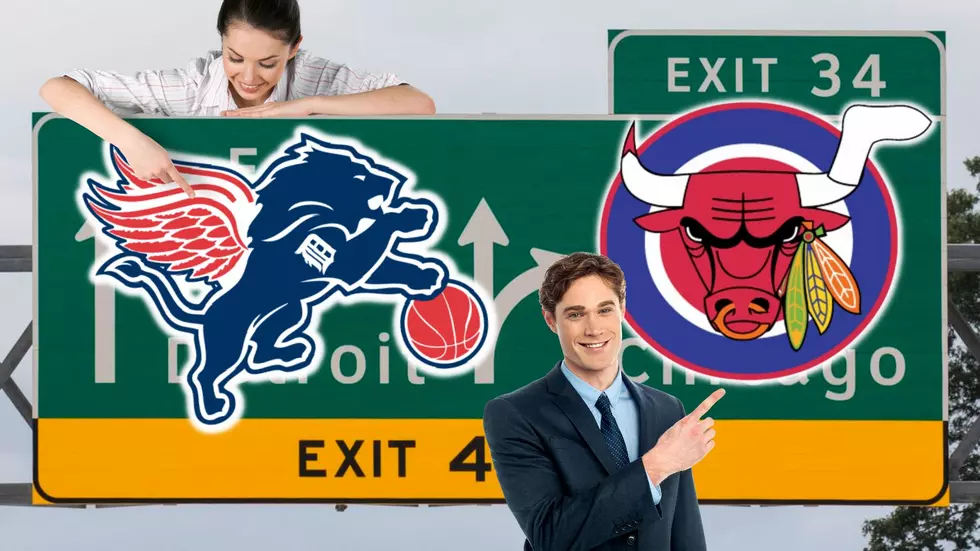 Is Kalamazoo a 'Detroit' or 'Chicago' Sports Town?
Canva
Kalamazoo is almost EXACTLY halfway between two major metropolitan areas in the U.S. - Detroit, and Chicago. To the east, you have the Lions, Redwings, Tigers, and Pistons. To the west, the Bears, Blackhawks, Cubs, White Sox, and Bulls.
But with such close proximity to both cities, where does Kalamazoo's allegiance lie during the season? Which teams am I going to see on the screens at Ole Burdick's, Buffalo Wild Wings, and The Old Goat Tavern on Michigan Ave.?
You would think with Kalamazoo being IN Michigan, it's a no-brainer that most residents would lean toward Detroit Sports. However, there are a LOT of transplants from all over the country here, especially the Chicago area. So it's no surprise, there's a heavy blending of sports fandoms.
So during football season, on Sundays, are most people driving west to Soldier Field, or East to Ford Stadium?
Neither of the NFL teams is exceptionally good right now, so in terms of "bandwagon" fans, there aren't many right now. Pretty even playing field. But it seems like the majority of KZoo natives lean in the direction of... Michigan and Michigan State Football. LOL
Yeah, not a lot of heavy NFL love when the powerhouse teams in your state are both colleges... though MSU is testing that this season.
When it comes to basketball, it doesn't seem like there's a lot of excitement there either for people in Kalamazoo.
"Pistons vs. the Bulls is on? That's nice. Let's watch Hockey!"
And SPEAKING of Hockey, THIS seems to be the only place where Detroit is leaps and bounds above Chicago. Overwhelmingly, the NHL team of choice is the Red Wings, over the Blackhawks, according to at least one Redditor.
Baseball is another one that seems like it has some popularity on both costs of Lake Michigan. On the one hand, you have Bally Sports and the Tigers because we're actually IN the state of Michigan.
But on the other, a large generation of Kalamazoo natives grew up getting WGN in their homes and fell in love with the Friendly Confines of Wrigley Field and the Cubs (practically no mention of the White Sox in any discussions, btw).
So it seems in baseball, it's about a 50/50 split between the two major cities.
But we're looking for that definitive answer... is Kalamazoo a "Detroit" or "Chicago" sports town? Well, one person who commented on my question on Reddit seems to have nailed it, according to nearly every reply below his post.
The Original Tiger Stadium
More From The Game 730 WVFN-AM