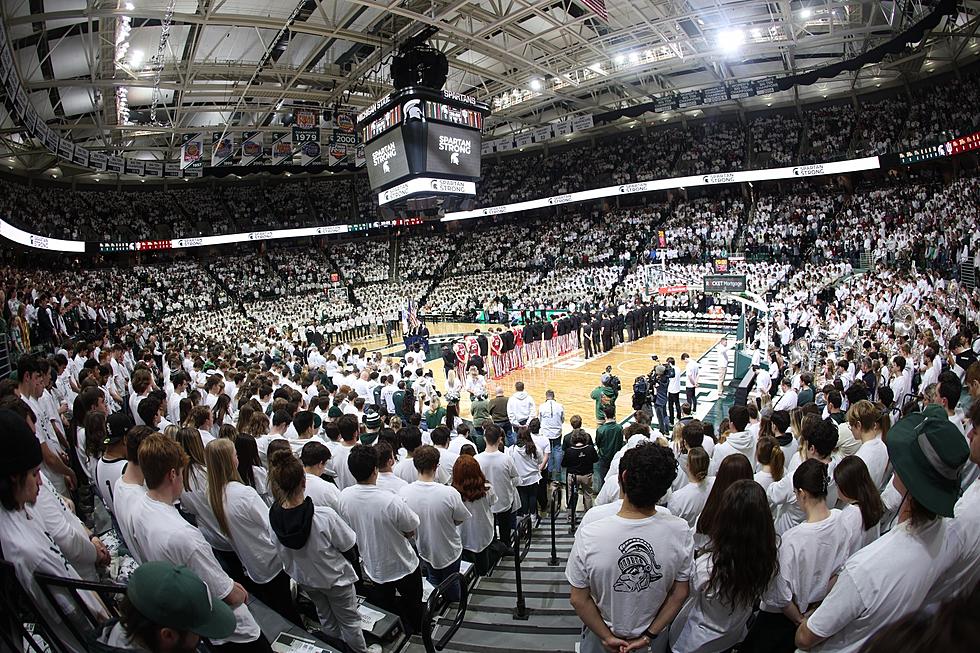 You Can Buy Pieces Of The Breslin Center Scoreboard!
Getty Images
The Lansing State Journal is reporting that the Michigan State University Surplus Store is selling off pieces of the scoreboard that hovered over center court at the Jack Breslin Student Events Center.
The university removed the scoreboard (seen above from a distance) just last month and is replacing it with a more modern setup this fall.
The LSJ says that the auction for these items went on sale earlier this week and that more of them will go on sale on Thursday.
That particular scoreboard has been in use since 2011, but is considered outdated and is being replaced.
The Breslin Center opened in the fall of 1989, and has housed Michigan State men's and women's basketball ever since then.  It started hosting MSU volleyball matches just last year.
It has also hosted concerts, graduations (high school and college), and professional wrestling shows.  And it has hosted the Michigan High School Athletic Association (MHSAA) boys basketball finals since 1994.  It has also hosted the MHSAA girls basketball finals numerous times since its opening.
So if you're a Spartan fan, or know someone who is.  You can get a piece of history.  You can go to the Surplus Store over on campus, where pieces are on display.  But you can only buy or bid on the scoreboard pieces online.
This is in addition to other things that MSU is auctioning off this summer.  The university is auctioning off old parking booths that are considered obsolete.
10 Burning Questions About The Detroit Lions