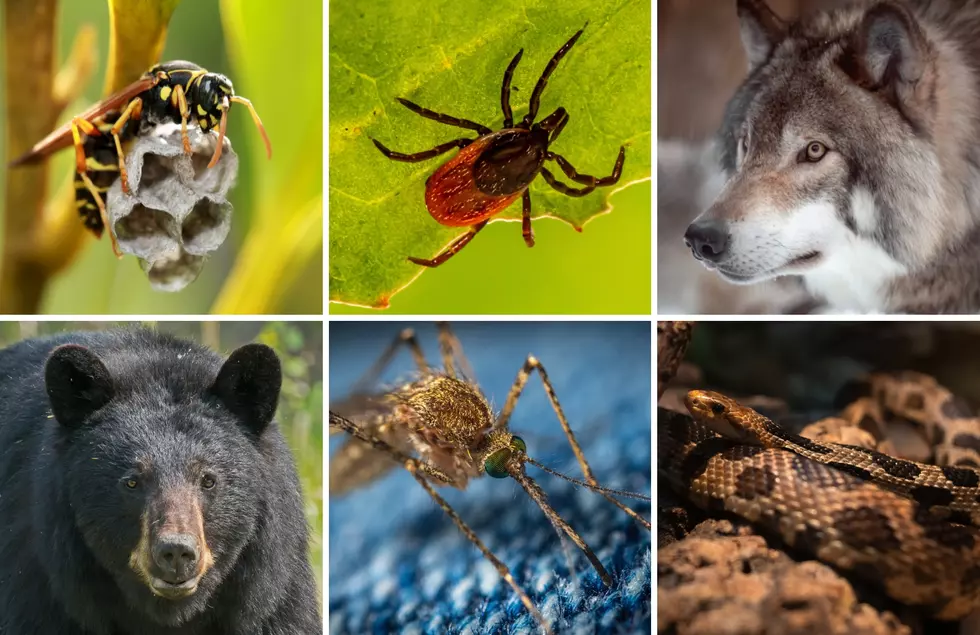 This Animal Is The Number One Killer Of People In Michigan
Credit: unsplash / canva
Growing up as a kid, I was afraid of walking on a trail and being attacked by a bear or getting bitten by a snake that would kill me before I could make it to a hospital.
Luckily for me, I never had to worry about that because my parents never took me up north and I was a husky kid so the odds are pretty good I would have never found my way onto a hiking trail unless there was a trail of candy leading me there.
These Deadly Animals Can Be Found In Michigan
Michigan has many dangerous and deadly animals, but which one is the number one killer of people?
Brown Recluse Spider
Not only are they creepy little dudes but a Brown Recluse Spider bite can cause fever, convulsions, itching, nausea, muscle pain, and in rare cases death.
Black Widow Spider
Rap Artist Iggy Azzelia might have made Black Widow Spiders seem cool but a bite from one can include burning, swelling, muscle pain, and paralysis of the diaphragm. death is rare but is most common in children and the elderly.
Eastern Massasauga Rattlesnake
As I mentioned early I was always afraid of walking a trail in the woods up north and getting bitten by a snake and dying like I was in a game of Oregon Trail. The Eastern Massasauga Rattlesnake is the only poisonous snake in Michigan, but it's considered more venomous than most other venomous snakes. Their venom can cause damage to your circulatory system destroying blood cells and skin tissue resulting in internal hemorrhaging
Black Legged Ticks
Don't let their small size fool you, these little dudes can cause some major damage. Black Legged Ticks can spread diseases like Lyme disease which can affect joints and the central nervous system if left untreated.
Mosquitoes
Not only are Mosquitoes annoying but they are also deadly because they can carry diseases like West Nile Virus.
Paper Wasp
Paper wasps are so dangerous because unlike bees who sting you once and die. Paper Wasps can sting you multiple times with their venom.
Black Bears
Black bears don't often attack but when they do there's a good chance it involves either a cub or a last resort for food.
Grey Wolves
Wolves, for the most part, are very shy but they do hunt in packs and have very sharp teeth so if you encounter one in the wild make sure you make yourself as big as possible and slowly walk backwards.
So if none of these animals are the number one killer of people in Michigan what is?
This Animal Is The Number One Killer Of People In Michigan
According to Ranker Dog bites and attacks have been on the rise in Michigan, and the CDC's report lists dogs as the animal most likely to kill you in The Great Lakes State.
10 Animals You Can't Own As Pets In Michigan
Some people really want to have an exotic pet in their home, but very rarely is it a good idea. And if you are looking to add a wild animal to your family, check out this list of animals you can not own as pets in Michigan.
Has It Become Too Dangerous To Walk Your Dogs In Grand Rapids?
Recently while walking my dogs Benny and Paddy after work I had multiple incidents where I was worried about the safety of walking my dogs. These are some of the dangerous things I've seen while on our W-A-L-K
More From The Game 730 WVFN-AM