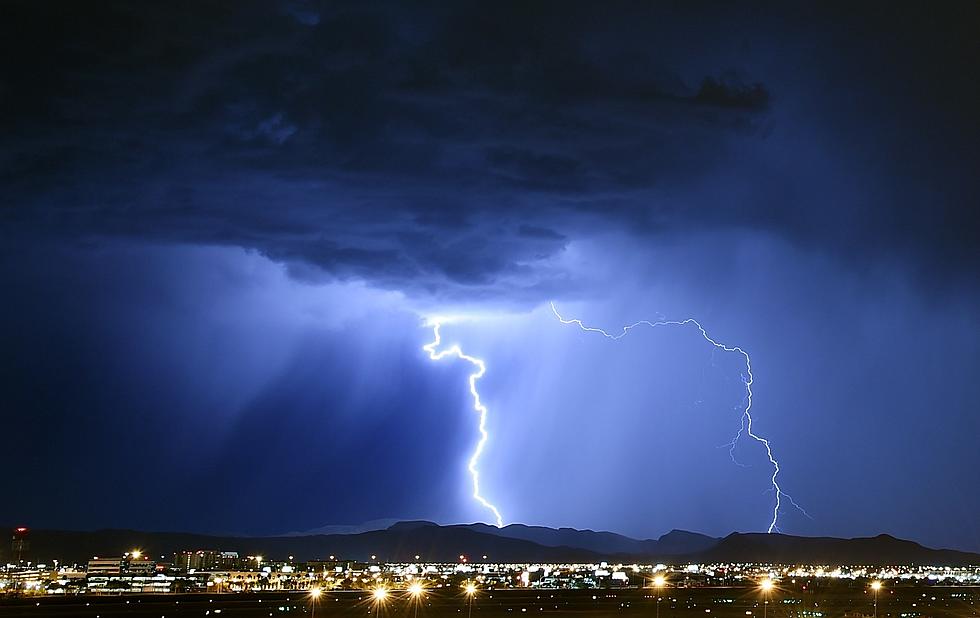 The Worst Thunderstorm I've Ever Driven Through
Getty Images
As you know by now, a tornado touched down in the Williamston/Webberville area on Thursday night.  You can read more about it here.
And while my experience with Thursday night's storm wasn't as bad as what the people just east of us went through.  It wasn't very good, either.
Me and Erik "Doc" Love were broadcasting the season-opening high school football game between Holt and Mason at Mason High School.
Early in the second quarter, with Mason leading 21-7.  Officials blew the whistle to stop the game because one of the refs saw lightning in the distance.  MHSAA rules state that any athletic contest must be stopped for at least 30 minutes if lightning is seen by game officials.
So after about 45 minutes of waiting, it was apparent that the game wasn't going to be restarted as the massive storm hit Ingham County.  We stopped waiting around for official word of a postponement.  So Erik and I booked from the stadium press box, trying to get in our cars and get home before the meat of the storm hit.
We were both unsuccessful...
As soon as I turned north onto Cedar St. off of Kipp Rd. in Mason, I ran right into the heart of the storm.  Swirling winds, torrential rain and thunderstorms, and it was dark.  The power flickered off and on while driving through Mason.  I was legitimately scared, wondering if I would ever get home (I live in Holt).
It became a slalom course of road signs, tree branches, and other debris as I drove north towards Holt.  I had to put my hazard lights on as I had slowed down to 25-30 MPH behind other vehicles slowed by the storm.
It didn't get any better until I got past the Esker Landing roundabout on the south end of Holt.  Then it just turned into just another severe thunderstorm.  Still not good, but better than I had just experienced.  And I finally made it to my apartment in Holt safely.
But for about 15-20 minutes, I was scared to death.  Wondering if my car would get blown over by the wind, wondering if the rain would force me off the road.  It was baaaaaad.
Folks, I have driven in bad conditions before, especially in the wintertime.  But I have never driven through a thunderstorm like that...EVER.  And the only reason I drove home is because Mason and Holt are so close together.
Next time, I'll just wait the storm out in the parking lot, regardless of how late it is at night.  I don't ever want to go through anything like that again.  It's not worth it.
RIP Spartan Hall of Fame Cafe: It Really Was Great Food, Great Memories
Spartan Hall of Fame Cafe is no more, demolished to make way for East Lansing's second Chipotle.
More From The Game 730 WVFN-AM