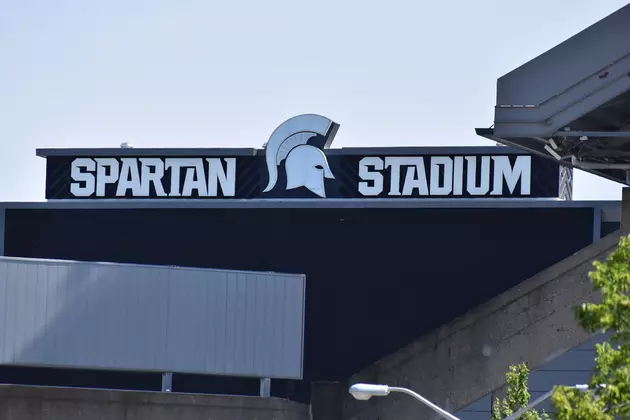 Katy Bar the Door: MSU, Michigan Clash in East Lansing for First Top 10 Matchup in 57 Years
McConnell Adams, Townsquare Media Lansing
This week is really Prozac week. It should be like Rod Serling and the Twilight Zone.
Both Michigan State University and the University of Michigan are ranked in the top ten in the AP rankings. This is the first time since 1964 that this has been the situation. Michigan is ranked number six in the country and MSU is ranked number eight. Both teams are undefeated at 7-0.
This is MSU's head coach Mel Tucker's second year. He beat Michigan last season at the Big House. This year, U of M's head coach Jim Harbaugh has turned it around. He had to or else. Michigan is a four-and-a-half-point road favorite.
This should be a great game and hopefully a blood bath too. Both teams are getting solid quarterback play, and MSU has the leading rusher in the nation Kenneth Walker III. But, U of M has a solid rusher in Corum. This should be a slobber-knocker and a real battle for the state of Michigan.
If you're a football fan, you are going to enjoy this week immensely. I really feel at this time I'm not sure who will come out victorious. The moons are all aligned for this day before Halloween clash to begin. MSU and U of M haven't been this close toe to toe in many years.
15 Most Important Games In The Michigan vs Michigan State Rivalry
Michigan and Michigan State have been battling it out on the gridiron since 1898. You can imagine that playing each other for that long will lead to a pretty heated rivalry. The Michigan / Michigan State rivalry is one of the best in all of sports. There have been many moments that helped to build that rivalry over the years. Check out 15 of the most important games over the decades of the Backyard Brawl.
MORE: Michigan's Greatest Sports Traditions
Part of the allure of sports is the sense of tradition, and these Michigan traditions are something that fans look forward to every year.
More From The Game 730 WVFN-AM