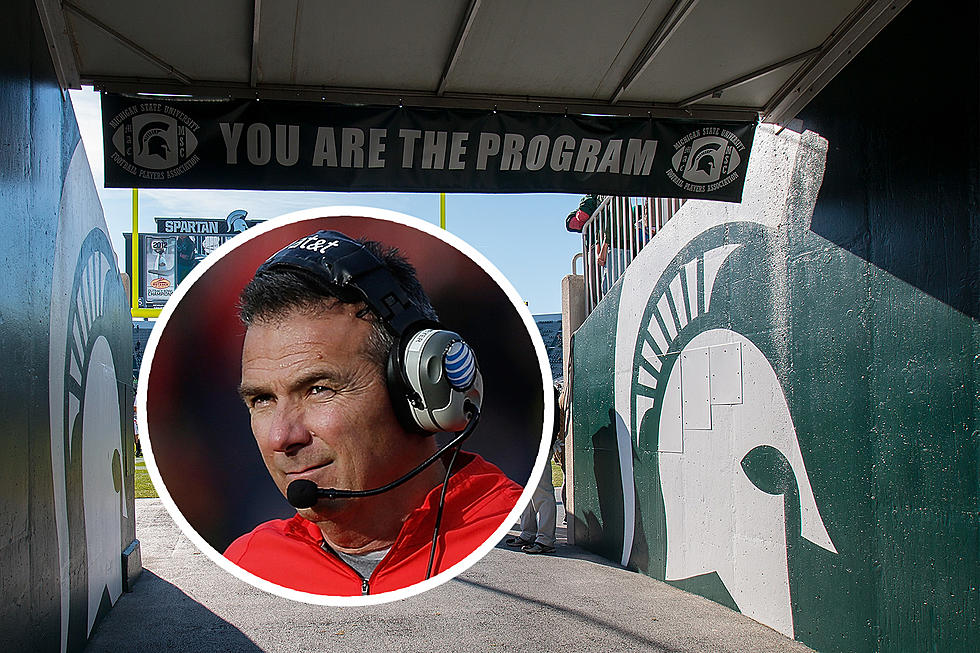 Michigan State Won't Hire Urban Meyer, But Not Because of His 'Problematic' Past
Getty Images
With its football season in free fall, Michigan State has at long last officially begun the search for its next head coach.
Last week, the school fired the now-disgraced Mel Tucker, just 17 days after his alleged sexual harassment of a prominent rape survivor and advocate and an ensuing Title IX investigation into those allegations went public in USA Today. The media and Twittersphere have been rife with purported shortlists for MSU's vacancy ever since, with national reporters recently joining the fray.
The name that has drawn the most attention — good and bad — has been that of former Ohio State and Florida head coach Urban Meyer, whose three crystal footballs and current availability have made him an attractive candidate to many. The topic has particularly dominated MSU Twitter, especially on Monday when many Spartan fans apparently tried to speak Meyer's candidacy for the job into existence.
Much if not all of that tweeting can be attributed to a pair of Twitter accounts purporting to be CBS Sports correspondents. A cursory Googling and one-minute perusal of either's timeline, though, makes abundantly clear that neither have any association with CBS Sports and that both are committed shitposters.
Regardless, the Meyer debate has consumed MSU Twitter for the better part of the last 24 hours. We've even gotten to the point where we're pathologically monitoring flights.
The buzz seemingly reached critical mass Monday afternoon, perhaps prompting MSU athletic director Alan Haller to issue an open letter to the public about the coaching search.
[W]e will thoroughly evaluate and do everything required to find the right individual to lead the Spartan football program. Throughout the process, I won't be able to provide many updates. I realize that our community has a tremendous passion for Spartan football and that there's a great desire for more information about this process. However, privacy is important to attract top-caliber candidates, most of whom are involved in their own current seasons. I expect that you will hear a lot of names and rumors. I expect to speak with many individuals throughout this process. While some are candidates, others will be resources for me as I go about my due diligence to ensure the best hire for Michigan State.
Michigan State Twitter didn't fail to deliver in living up to the standard of the conspiratorial social media platform.
You can't blame them. As an MSU alum and someone who has to watch this godforsaken team commit crimes against football every weekend for a living, I completely sympathize with the need to manufacture a positive distraction.
I also don't blame fans who want to see Michigan State hire the best available coach. And make no mistake, that's Meyer. It's hard to find coaches who have three national championships and a track record of immediately turning around every program he's ever helmed. That kind of guy isn't usually out of coaching, but Meyer is, and it's probably a safe bet that he'd like to return to doing what he was obviously born to do — being one of the best college football coaches of all time.
The problem is that it's just not realistic. No, not because of his "checkered past," or any other euphemism you've heard Michigan fans offer as a disqualification for Meyer's candidacy in East Lansing. Seriously. Have you noticed that the people who are most vocal in the belief that Michigan State "can't afford to hire Meyer" — whatever that really means — are fans of a certain Big Ten school that went 0-7 against him while regularly struggling to keep his teams from rolling up 500 yards of offense and 40-plus points? It's almost like those people are nervous about the prospect of Meyer returning to the Big Ten, this time on their western front.
The truth is if Meyer's history were as abominable as those Michigan partisans say then his face wouldn't be plastered all over FOX's college football product. A radioactive past would get him canceled from TV, but instead the opposite has happened. What does that tell you?
In the end, though, those U-M fans/media are right, even though they're only right in the same vein that a broken clock occasionally is.
Michigan State can't hire Urban Meyer. It's not because it's not a good enough job, though. There's a carefully crafted and propagated narrative in this state that aims to define MSU as a lackluster, afterthought, poverty program. The people pushing this myth are doing so because they stand to benefit from it. They don't want Michigan State fans to think of their football program as one of the top 20 in all of college football, even though that's exactly what it is by virtually every empirical metric, including:
Revenue: 12th nationally, 4th in Big Ten ($172 million)
TV ratings: 17th nationally, 5th in Big Ten (1.91 million viewers on average)
Attendance: 20th nationally, 7th in Big Ten (69,000 on average)
Assistant coach salary pool: 10th nationally, 2nd in Big Ten ($6.8 million)
Big Ten championships: 7th (9)
National championships: 17th nationally, 4th in Big Ten (3)
NFL Draft picks: 16th nationally, 5th in Big Ten (322)
Michigan and its representatives in the Detroit media want to make sure MSU continues to think small, like Little Brother should. They want you to think someone like Urban Meyer is unattainable for your program because a Michigan State that isn't down makes them uncomfortable. They're hellbent on denying MSU a seat at the table. The block "M," arrogance, and leveraging the Detroit media and every other available resource to subjugate Michigan State are U-M's most enduring, transcendent qualities for 150-plus years.
And frankly, Michigan's psyop has been incredibly effective, as evidenced by the myriad calls I've taken on my sports radio show from Spartan fans who want MSU to interview a guy whose been stuck in the MAC for nearly a decade, any number of former State players who have flamed out spectacularly at obscure coaching stops, or Ferris State's Tony Annese, who's never coached at even the FCS level, let alone the MAC, LET ALONE THE POWER FIVE.
Michigan State fans need to pry their eyes away from the brainwashing machine and engage with reality. And reality is that there are maybe 15 jobs in all of college football that are better than yours. Is the MSU gig as good as Alabama? No. Is it on par with Ohio State? Of course not. Does it share an echelon with Michigan? Absolutely not. But that doesn't mean the State job is some dead-end, fleabag stepping-stone opportunity. All you have to do is pass through campus and look at the nearly $100 million currently being invested in new football facilities for proof of that. The Michigan State job is one of the best in the entire sport, and, unless Texas A&M cans Jimbo Fisher, Nick Saban retires, or Jim Harbaugh finally finds an NFL team that actually wants to hire him, MSU will be the most attractive opening on the market this year.
Anyway. The reality as to why Michigan State can't hire Meyer differs significantly from the narrative the Detroit media has so happily obliged Michigan in disseminating.
4 Reasons Why Michigan State Won't Hire Urban Meyer
He's the no-doubt, guaranteed-to-be-a-home-run pick, but there's no way MSU will hire Urban Meyer as its next head coach. And it's not because he didn't fire an assistant coach accused of domestic violence fast enough, or due to his getting caught at a bar in a compromising position with a woman less than half his age.
10 Realistic Candidates Michigan State Could Target For Next Head Coach
This list isn't like the dozens of others you've seen cobbled together with an amalgamation of next-to-impossible hires, like Nick Saban, and completely unqualified guys, such as Division 2 candidates and coaches who have been at a Group of Five job for five-plus years. This group consists of legitimate names who meet most if not all of the qualifications and needs of MSU's football program and who would probably be interested if the Spartans made an overture.
We've also rated each candidate in terms of the likelihood that they'll be seriously by Michigan State.
More From The Game 730 WVFN-AM