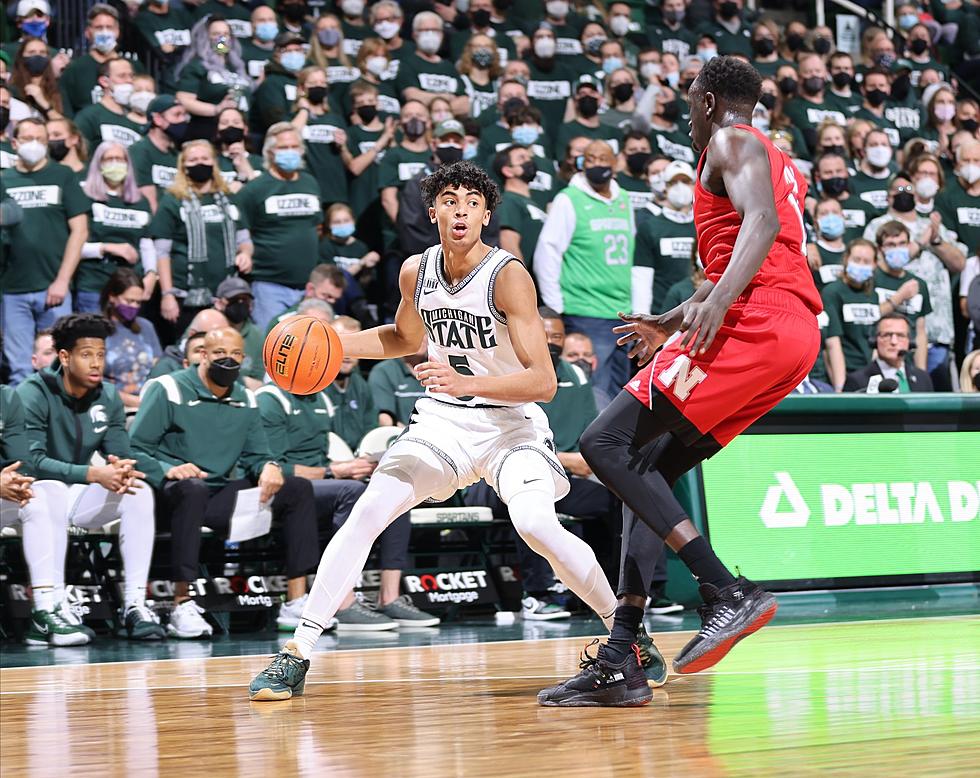 MSU Men's Basketball, At This Point
Getty Images
Michigan State's men's basketball team fell to Penn State on Tuesday night 62-58 in Pennsylvania.  The Nittany Lions rallied from 14 points down in the second half to get the win.
With the loss, MSU falls to 18-7 overall and 9-5 in Big Ten play.  They will host league-leading Illinois on Saturday afternoon at noon (heard on 1240 WJIM-AM and 94.9 WMMQ beginning at 11am).
Those are the facts.  Here are some opinions on this team as of this writing (morning of February 16th).
MAX CHRISTIE IS MSU'S BEST PLAYER
You might say "Duh!!!" when I write that.  But he has clearly shown that he is State's most talented player this season.  He is highly thought of in NBA circles despite his freshman status.  He is currently rated ninth in the nbadraft.net mock draft.
But he has struggled recently.  Head Coach Tom Izzo, when asked if Christie (pictured above) has hit the "freshman wall", he said "100%".
How Christie responds the rest of the way will dictate the result of this season.
THE SCHEDULE GETS EVEN TOUGHER
MSU has six games left before the Big Ten Tournament.  It starts with the Illinois home game on Saturday.  But they have road games at Iowa, Michigan, and Ohio State.  And they also host Purdue before the season finale at home against Maryland.
Other than the Maryland game, none of the other games are lock wins at all.
Because of that...
THEY ARE NOT A LOCK FOR THE NCAA TOURNAMENT
Folks, they aren't yet.  They'll probably get in.  But at 18-7 overall, they need 1-2 more wins to clinch it.  They'll beat Maryland on Senior Day, but might need one more win to get in for sure.
TURNOVERS AND FOUL TROUBLE CONTINUE TO BE A PROBLEM
We've heard Coach Izzo complain about the turnovers all season long.  But they committed only 11 against Penn State, and only 11 against Indiana.  So it has improved a bit.
And you know the way that MSU plays, they always commit more fouls than most teams.  MSU fans sometimes have a hard time dealing with that, and some think that the officials should let them play more.  Some even think there's a conspiracy against MSU Basketball.  I disagree with that.  If you want less fouls called, FOUL THE OTHER TEAM LESS!!!!!
Who gets into foul trouble the rest of the way is a huge factor.
INJURIES AND COVID-19
Sophomore A.J. Hoggard didn't finish Tuesday's game because of a sprained ankle.  If he's out for any length of time, that's a problem.  That means Tyson Walker will be playing a lot more minutes.  And what if other key guys get hurt (Gabe Brown, Marcus Bingham, Malik Hall)?  And even though COVID-19 numbers are way down in Michigan, it is still out there.  And if one guy gets COVID-19, that will affect the team.
OVERALL
MSU was picked to finish 6th in the Big Ten before the season.  Well, if the season ended today, that's where they'd finish.  But bad losses to Northwestern, Rutgers, and now Penn State should have people concerned.  Not panic, but concern.
We've seen Coach Izzo take teams worse than this (2015, anyone?) to the Final Four.  But the way they're playing this year, that likely won't happen.  They look to me to be a 6-9 seed in the NCAA Tournament.  And then who knows after that.
What do you think?  Let us know!
Mid-Michigan High School Boys Basketball Top 10—2/15/22
Here's a look at the top 10 teams in the Lansing area in boys basketball.
More From The Game 730 WVFN-AM