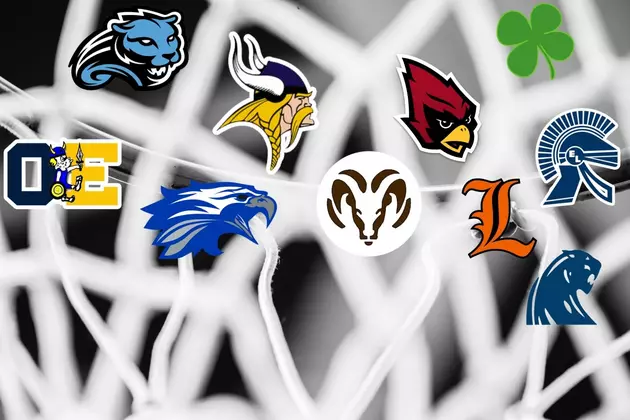 Mid-Michigan H.S. Girls Basketball Top 10 Poll – 1-24-22
Canva
For the third straight week, the same ten teams make up this week's poll.  It's just that the order is a little bit different.
Holt defeated DeWitt on the road last Tuesday 49-48.  Janae Tyler had 28 points and 15 rebounds and Claire Groenwoud hit the winning three-pointer in the final seconds.  It is in the argument for area game of the year.
East Lansing was blown out by Detroit Edison 68-30, but there's no shame in that.  Detroit Edison is the favorite to win Division 2 this year (although the defending champs in Portland might have something to say about that).
One note about the rankings, there was some disagreement from readers about last week's poll.  As I had/still have Portland St. Patrick above bigger schools like Portland, Haslett, East Lansing, etc.  It's not a question as to whether St. Pats could beat any of those other teams (they might not), but it's more of a reward for having a great season so far (11-0 speaks for itself).  The same applies to Ovid-Elsie and Lansing Catholic.  It's about rewarding them for being undefeated!
Some more big games this week.  East Lansing is at Portland and Holt is at Williamston on Tuesday.  P-W is at Portland St. Patrick on Thursday.  And on Friday, Fowlerville is at Haslett and Leslie is at Olivet.
Ok, on with this week's poll:
Mid-Michigan High School Girls Basketball Top 10—1/24/2022
Here's a look at the top 10 teams in the Lansing area in girls basketball
We will have the East Lansing at Portland girls game tomorrow night on WVFN.  We'll hit the airwaves at 7:00.  Erik "Doc" Love and Brock Palmbos will have the call from Portland.  We've had two good girls games on our airwaves so far this season, let's go for three!!
As always, The Game 730 AM's coverage of high school basketball is brought to you all season long by Cherry Creek Mortgage Company in DeWitt.  Serving home buyers in the Mid-Michigan area, go talk to Wayne Lacy and his staff at 517-580-5050 and ask about any kind of home loan and/or mortgage.
More From The Game 730 WVFN-AM