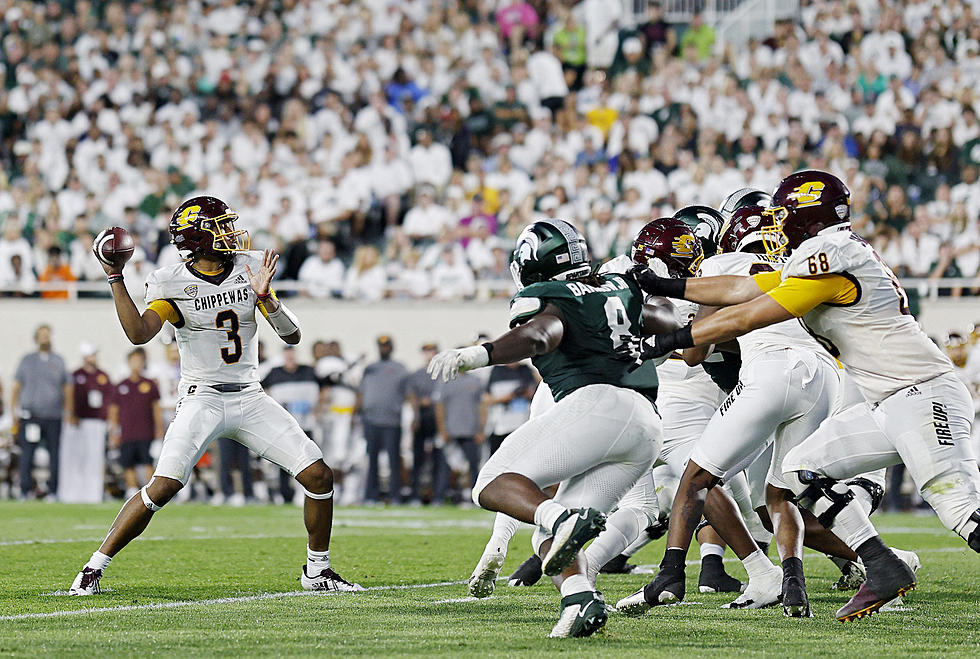 Michigan State Should Stop Scheduling Central Michigan
Getty Images
How many more times do the decision makers at Michigan State need to experience an impending sense of doom as Central Michigan hangs with and around the Spartans for far longer than it has any business doing before they'll finally stop scheduling the Chippewas?
I mean seriously. Does State have to lose to CMU for a fourth time before someone in East Lansing at long last realizes that laying a boobytrap for your own team isn't a good idea?
MSU beat CMU 31-7 on Friday night, a final score that looks like a comfortable victory befitting a Big Ten team hosting a MAC opponent. But the box score doesn't convey the genuinely gloomy pall that was cast over Spartan Stadium and Spartan Nation as the Chippewas kept it uncomfortably close for about two-thirds of the game.
CMU stymied the Spartans' offense for the entire first quarter. It took just two drives before MSU fans grew audibly restless. Then, with about two minutes left in the half, that restlessness became outright PTSD as the Chippewas took a 7-3 lead, conjuring images of a victorious Herb Deromedi being carried off the Spartan Stadium turf. CMU quarterback Bert Emanuel Jr. eluded Spartan defenders seemingly at will for the first two quarters, looking like Michael Vick in his prime.
Whether they'll admit it or not, every MSU supporter was feeling that same feeling they felt back on Sept. 12, 2009. It wasn't until Noah Kim's 10-yard scoring strike to Tyrell Henry with about 13 minutes left in the game that the Spartan faithful could finally exhale, with MSU going up 24-7 to at last put some distance between itself and CMU.
Football is a game about belief, and State dodged a bullet on Friday night. The Spartans' staleness on offense and miscues on defense breathed life into the Chippewas time and time again. That's something that can easily cost a favorite versus an underdog, let alone an underdog that doesn't need to rely solely on blind faith to believe it can win. CMU has tangible proof that it can beat MSU. The Chippewas have done it three times in a dozen tries. Hell, they might as well be 12-0.
If you're Michigan State, why continue to put your team in this spot? Playing CMU is a no-win proposition. If the Spartans beat CMU, it doesn't matter because they're supposed to. If MSU is anything less than dominant, it breeds a narrative that State is in for a long season, which of course does the actual team no good at a time when it needs to be gaining confidence. And when MSU loses this game, well, it ruins the season, sometimes ends an era of the program, and traumatizes thousands of alums, fans, and supporters for decades.
This game is always closer than it should be. The CMU side legitimately considers it a rivalry, and it's hard to argue that point when you look at it from their perspective. That ought to thoroughly humiliate MSU. But more than that, it ought to convince State to avoid CMU at all costs.
The purpose of non-conference games for Power Five teams is pretty transparent. You schedule three cupcakes to get your team some early confidence and chemistry, plus you start your season off 3-0. That's the way schools who aren't embarrassed to give their teams every possible advantage use the non-conference slate, anyway.
There's no rational reason for MSU to keep inviting this trouble through its doors. I don't want to hear about how it's good for the region or that it's the right thing to do for our Michigan MAC teams, either. That's complete BS.
Wanna know what would've happened if MSU hadn't paid CMU $1.75 million to nearly end the Spartans' season before it even began on Friday night? Some other Power Five school would've cut CMU that same check. The Chippewas have played road games at Penn State, LSU, Miami (FL), and Wisconsin in the last four seasons alone. In two weeks, they're going to South Bend. They don't need MSU's charity to survive.
And by the way, what kind of way is that to run a big-time college football program? Worrying about the wellbeing of your in-state Group of Five schools? Last I checked, MSU fans, alums, and donors are the ones paying Mel Tucker's salary, not CMU's fanbase. Think Georgia, Alabama, Ohio State, or LSU are putting their teams' best interests in jeopardy just to get the directional schools in their state a few more bucks?
"But ending the series with CMU makes MSU look like a bunch of cowards!" And? I'd rather look like a craven football program than play CMU and remove all doubt.
What did MSU get out of this game? Besides $1.75 million lighter in the bank account, all the Spartans received was a good scare and a bare minimum of seven days of negative media.
Schedule East Carolina. Bring in Florida International. Hell, invite FCS teams like Mercer or Arkansas-Pine Bluff. Whatever.
But please stop scheduling CMU. You're just asking for it when you do.
Michigan State Opens 2023 Season With 31-7 Win Over Central Michigan
More From The Game 730 WVFN-AM