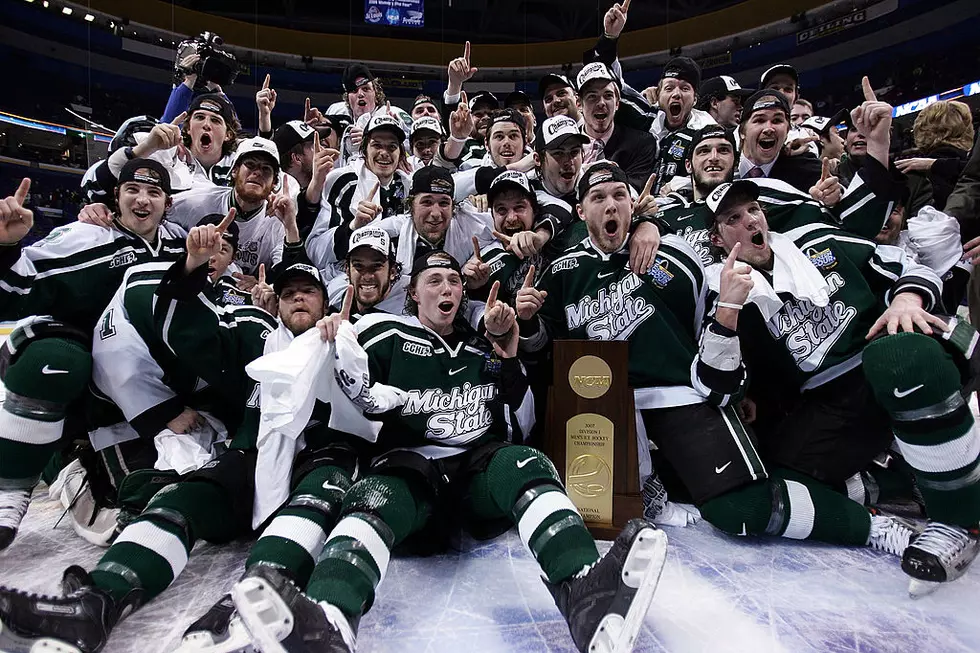 Michigan State Just Isn't A Premier College Hockey Program Anymore
Elsa/Staff | Getty Images
Pictured here: Michigan State hockey when it was most recently relevant on the national scene — winning the national championship in 2007.
Michigan State introduced Adam Nightingale as its new hockey coach this week, five years after introducing the man he's replacing, Danton Cole.
Ironically, MSU got its new coach from the same position and same organization as it did its last one — the helm of the U.S. men's under-18 national team. Nightingale had served as that program's head coach since 2020. Cole held the same job from 2010 until he was hired by State in 2017.
Nightingale and Cole are both Michigan natives. They both played hockey at Michigan State, too.
With so many commonalities between the two, many Spartan hockey fans have worried aloud via sports radio and social media that Nightingale and Cole will be alike in their performance as MSU's head hockey coach.
The school fired Cole last month after he posted a 58-101-12 record and no winning seasons over five years. The Spartans' only postseason appearances under Cole came via berths in the Big Ten conference tournament, which each member team qualifies for automatically. In those seven games, Michigan State was outscored 27-7, including humiliating 4-1 and 8-0 defeats in the 2022 Big Ten quarterfinals to arch-nemesis Michigan.
The 2019-2020 season was Cole's best at Michigan State. MSU finished in sixth place of the seven-team Big Ten. Every other season, Cole's Spartans finished last.
Will Nightingale fare any better behind the bench for State? Those MSU fans who have taken to sports radio and social media don't seem to think so. There's also prevailing thought among fans and media alike that Michigan State made overtures at other reputable, established college hockey head coaches but was spurned. The biggest one to have reportedly turned down MSU was Mike Hastings, who just led Minnesota State to the national championship game.
Some Spartan fans were borderline shocked to learn that Hastings had reportedly passed on MSU. Michigan State has much more to offer in terms of potential and resources, they said. Going back to the Ron Mason family tree to hire another young coach with no college hockey head coaching experience is beneath the Spartans' standards, they said. State could have done much better and should have, they said.
Some of the reasons I've heard and/or seen State fans enumerate via sports radio and social media as to why the Spartans should have had no trouble wooing Hastings included:
Michigan State's endowment is some 81 times larger than Minnesota State's ($4.4 billion compared to $54 million).
MSU's athletic department revenue during the last pre-COVID 19 year was over $130 million, whereas that figure for Minnesota State was $13.5 million.
Munn Ice Arena is a larger venue than Minnesota State's (about 6,500 seats compared to 5,300).
Michigan State has invested over $26 million into upgrades for Munn Ice Arena in the last three years.
MSU is one of the brands in college hockey.
MSU is a blue blood-level college hockey program, and Minnesota State just isn't.
But is that true? And if it is, does it matter? Let's break it down one-by-one:
Michigan State's Endowment is Larger Than Minnesota State's
Endowments don't have a lot to do with athletics. In many cases, the funds that make up an endowment are tied to specific purposes and applications, and most of those purposes and applications are not athletics. There are even some laws that restrict how a university uses its endowment. As we saw during the pandemic, schools don't just dip into their endowments to reinforce certain areas that have a financial need. And, if university endowments make such a difference in the college sports arms race, why then has Kansas, with an endowment less than half the size of MSU's, won two national championships in basketball since the Spartans' last title?
MSU Has Significantly More Athletic Department Revenue Than Minnesota State
Go deeper on athletic revenues and isolate hockey. In that year, Michigan State's hockey program generated $2.76 million in revenue against $3.84 million in expenses. Minnesota State generated $2.25 million in revenue against $2.28 million in expenses. The differences there are negligible. And another point: Throwing more money at something doesn't guarantee better results. The cognitive dissonance of Michigan State fans who argue that their hockey program is more appealing and resource-rich than that of Minnesota State simply because the Spartans have a bigger overall athletic budget is astounding. After all, those very same Michigan State fans would love to remind you that Michigan's greater financial resources in football have proven to be immaterial to the results on the field when the two teams have played over the past decade-and-a-half.
Munn Ice Arena is a Larger Venue Than Minnesota State's
Munn may have 1,200 more seats than Minnesota State's Mayo Clinic Health System Events Center, but that doesn't mean a whole lot when those seats are empty. Minnesota State has put together 10 consecutive winning seasons, including back-to-back trips to the Frozen Four and seven NCAA tournament appearances in that time frame. Michigan State? Let's just say there haven't been as many reasons for Spartan fans to be excited to go to Munn.
Michigan State Has Upgraded Munn Ice Arena
Michigan State definitely has an edge in terms of facilities thanks to recent investments. But would you rather have a nicer rink with a bad hockey product or a less-modern arena that's home to one of the top college hockey programs in the country?
MSU is One of THE Brands in College Hockey
Is it, though? It's hard to make the case that Michigan State is still a big-time college hockey program. Big-time college hockey programs don't tend to go 10 years without an NCAA tournament appearance. They also don't endure 21-year conference championship droughts. And how many big-time college hockey programs do you know that have to go back to 2013 to find their last postseason win? By the way, to find Minnesota State's most recent conference championship or postseason win, you only have to go back a few weeks — far less than a decade-plus.
MSU is a Blue Blood-Level College Hockey Program
The results from the last 13 seasons say otherwise. In fact, the past decade demonstrates that the MSU that has a case for being mentioned among college hockey's blue bloods is Minnesota State, not Michigan State.
---
All of those stats and info paint a pretty clear picture as to why one of the most en-vogue names in the college hockey coaching ranks might find Minnesota State preferable to Michigan State. But the elephant in the room is money. And guess what? Minnesota State probably has that on its side, too.
We don't yet know the terms Michigan State came to with Nightingale, but we do know the school paid Cole a base salary of $300,000 per year with the chance to take that up to a total of $385,000 per year through supplemental and performance incentives. Minnesota State is currently paying Hastings a $336,000 base salary that could get to $350,000 through additional pay.
Put plainly: If you were one of the hottest names in college hockey, would you leave your current gig — which you're absolutely crushing — for a program that's been listless for the better part of the last 20 years, all for a few thousand bucks more? Would you leave the great situation you built in Mankato for East Lansing, where there's at least a cause-for-concern-level chance that you'll be next guy through the revolving door there in five years?
If you were Hastings, would you make what's objectively a lateral move at best and even more likely a professional downgrade? Or would you continue doing what you've done at Minnesota State, further cultivating a reputation as one of the best coaches in college hockey, while waiting for one of the true blue-blood jobs to open up and increase your salary by 50 percent? (Hastings could get lucky like Tony Granato, for whom Wisconsin decided to pay nearly double the median salary of college hockey's 10 highest-paid coaches.)
Across all college sports, there's only one way a school can lure a proven head coach away from a good situation into a very not-good situation without sending said proven coach up a few tax brackets: the allure, prestige, potential, and promise that comes with a true blue-blood program. Michigan State hockey ain't one, and that's why Hastings ain't their coach.
So maybe Michigan State couldn't have done better than Nightingale. Maybe their hiring practices here weren't merely a rote exercise of keep-it-in-the-family nepotism. Maybe the MSU hockey job isn't as attractive as it used to be.
Maybe Michigan State just isn't a premier college hockey program anymore.
Michigan State Hockey Over The Years
More From The Game 730 WVFN-AM