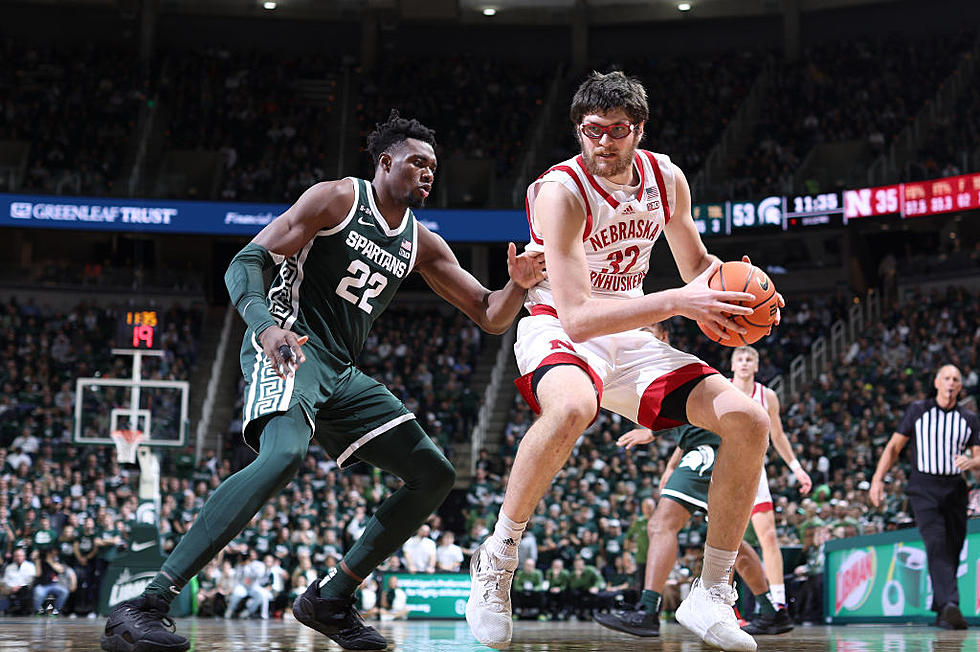 Michigan State Has Lost 6 of 7 On The Road. Nebraska's No Gimme.
Getty Images
Michigan State basketball desperately needs to get the taste of its 112-106 overtime loss Saturday at Iowa — a game MSU led by 13 points with two minutes left — out of its mouth. The Spartans will get an opportunity to do so Tuesday night in Lincoln.
In years past, this would appear to be a get-right game for MSU. Road environments aren't usually the setting for such opportunities, but Nebrasketball hasn't struck fear in the hearts of visiting teams over the years.
The Huskers aren't exactly what the doctor ordered anymore, though. And MSU basketball isn't exactly what it used to be, either. To wit: Michigan State is barely above .500 in Big Ten play over the last three seasons with a 29-28 record.
Nebraska (15-14, 8-10) hosts MSU (17-11, 9-8) at 9 p.m. Tuesday in a game that, on paper, no one really thought much of when the schedule came out. Now it's a different story: The Huskers have won five of their last six and are 6-3 at home in Big Ten play this season, with losses to Northwestern, Illinois, and Purdue.
Over its current four-game winning streak, Nebraska has notched wins at Rutgers and versus Wisconsin, Maryland, and Minnesota. The Huskers also beat Penn State in Lincoln three weeks ago.
Translation: This will not be a glorified exhibition where MSU exorcizes all of its demons from the debacle in Iowa City.
Fred Hoiberg has Nebraska playing the program's best basketball of his four-year tenure, helped lately by burgeoning guard Keisei Tominaga. Over the last six games, Tominaga is averaging 21.5 points while shooting 54.5 percent, including 44.7 percent from beyond the arc.
Tominaga could present an issue for MSU, whose poor performance at Iowa cost it the top ranking among Big Ten teams in terms of team 3-point defense. The Spartans had been holding opponents to about 30 percent from beyond the arc before the Hawkeyes lit them up on 17-for-36 (47.2 percent) 3-point shooting Saturday.
There's also the not-so-minor issue of Michigan State's play on the road. The Spartans are just 3-6 away from Breslin Center in Big Ten play this season. They've lost six of their last seven league games on the road, and they'd be on a seven-game road losing streak if it weren't for the worst Ohio State team in a quarter-century.
State blew out Nebraska 74-56 just after the New Year, thanks in large part to stifling 3-point defense that held the Huskers to 12.5 percent on 2-for-16 shooting from behind the line. But that might as well have happened a season ago. Things have changed, and these two teams are on different trajectories now.
Nebraska is one of the few Big Ten teams MSU can simply out-talent. Still, this one won't be that easy.
How TV Networks Are Ruining College Sports
As major college sports sells off the final bits and pieces of its dignity and soul, the industry is growing more and more unrecognizable to longtime fans. The never-ending drive for added revenue and new revenue streams has given TV networks hegemony over college sports the likes of which we've simply never seen. It's good for business, but hardly ever good for anyone else.
More From The Game 730 WVFN-AM