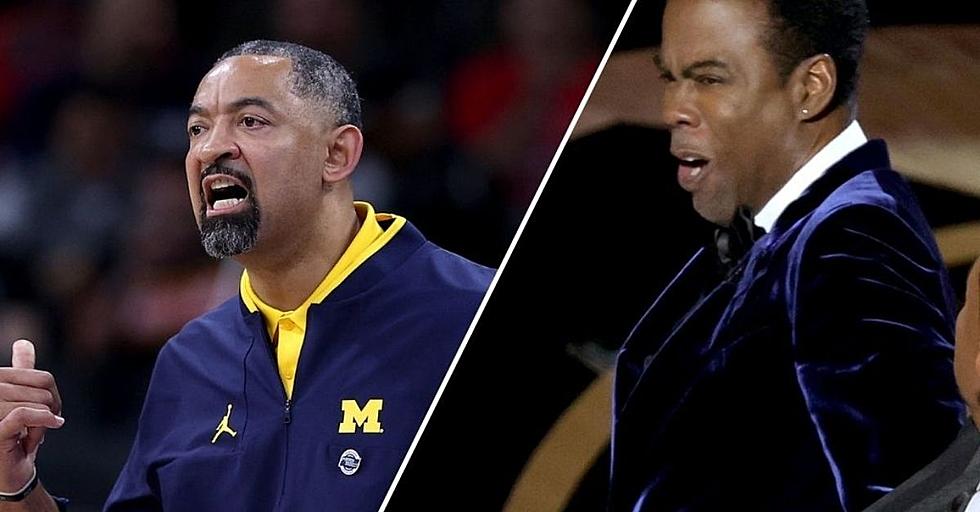 The Best Michigan Twitter Reactions Of The Slap Heard 'Round The World
left Maddie Meyer via Getty Images - Right: Neilson Barnard via Getty Images via Canva
It's the news making its way across the Twitterverse right now, and boy do the people of Michigan sure know how to throw a good shot or two.
Was The Altercation Actually Staged?
This one has people flying at each other from across the room. The Oscars have had lower ratings than they ever have over the past few years. Some believe that the fight was just a simple rating boost. If you ask me, it was a little odd security didn't flood the stage after the altercation.
Regardless if the fight was real or not, we are living for the memes on Twitter.
Was The Oscars Slap From Will Smith a Preview For A Juwan Howard Movie?
Your timeline may be a bit broken if you haven't seen a few memes from the altercation.
Twitter knows how to throw some good shade too if you know where to look, and boy did the people of Michigan go after the Wolverines Basketball coach, Juwan Howard.
One user suggest that Will Smith play Howard in an upcoming movie about the slap Howard gave a few weeks ago. 
Another Twitter user joked that this was simply a preview of Smith playing Howard in the upcoming 'slap' movie.
The one below is one of my favorites so far I've seen:
Let's not forget about this masterpiece of a meme here:
Do you think this Oscar fight was real, or do you think it was just something to get a few extra views and buzz around the show?
Regardless, it did give us some good Twitter memes to scroll through.
5 Izzone Chant Ideas for Juwan Howard's Next Trip to Breslin Center
We here in East Lansing know how to make someone feel welcome, right? Here are some chants the Izzone can use when welcoming back Juwan Howard.
You Think This Year's Team Is Bad? These Past Detroit Lions Teams Didn't Do Too Hot Either
Ah, our good old Lions. Most Michiganders know only the love-hate relationship that we share with the team. I mean, how could you not love the hapless Lions? They're our home team. With that being said though, they've had a win-less season before, which stings. Check out some not-so-good past years for the Detroit Lions.
More From The Game 730 WVFN-AM