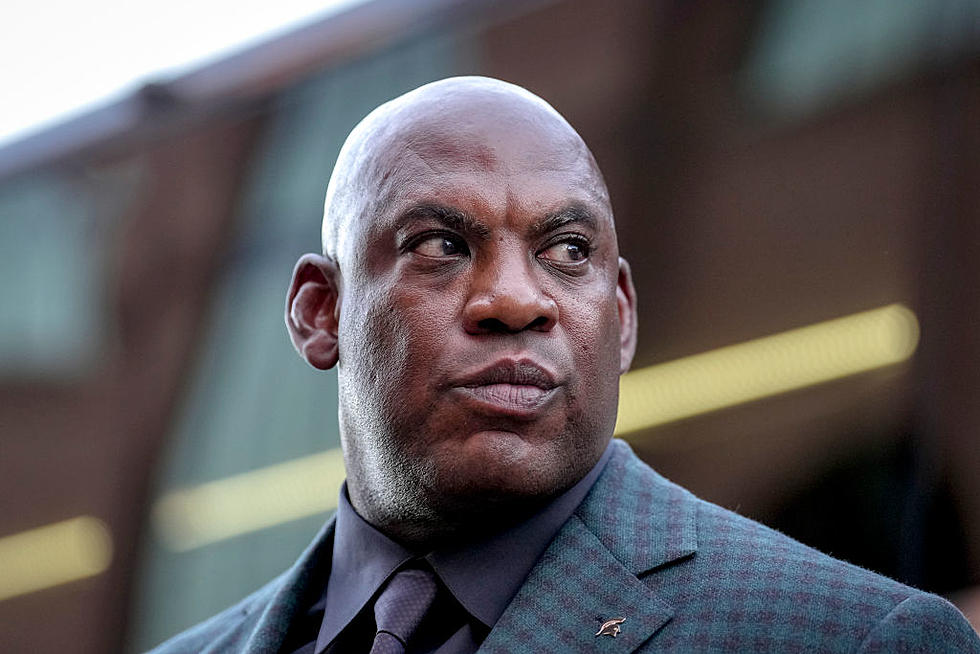 It Doesn't Take an Investigation To Determine That Michigan State Needs To Fire Mel Tucker
Getty Images
Michigan State head football coach Mel Tucker is under investigation for sexual misconduct after a prominent rape survivor and activist alleged he made sexual comments and masturbated while on a phone call with her.
The story broke early Sunday morning, just hours after Tucker and MSU beat Richmond 45-14 in their second game of the 2023 season, in a detailed investigative piece in USA Today.
The allegations are serious and disturbing.
The accused is Mel Tucker, the head football coach at Michigan State University and one of the highest paid coaches in all of sports. Accusing him is Brenda Tracy, a rape survivor who has made educating athletes about sexual violence her life's work.

Over eight months, they developed a professional relationship centered on her advocacy work. Tucker invited Tracy to campus three times – twice to speak to his players and staff and once to be recognized as an honorary captain at the team's spring football game.

But their relationship was upended during a phone call on April 28, 2022, Tracy says in a complaint she filed with the university's Title IX office in December that remains under investigation.

According to her complaint, Tracy sat frozen for several minutes while Tucker made sexual comments about her and masturbated. His violation, she said, reopened 25-year-old wounds from her rape by four men – three Oregon State University football players and a high school recruit.

"The idea that someone could know me and say they understand my trauma but then re-inflict that trauma on me is so disgusting to me, it's hard for me to even wrap my mind around it," she told USA TODAY. "It's like he sought me out just to betray me."
Tucker admitted to masturbating on the phone call in question, according to information from the Title IX investigation reported by USA Today. He denies that he sexually harassed Tracy, though, characterizing the incident as consensual phone sex.
"Ms. Tracy's distortion of our mutually consensual and intimate relationship into allegations of sexual exploitation has really affected me," Tucker wrote in a March 22 letter to the investigator. "I am not proud of my judgment and I am having difficulty forgiving myself for getting into this situation, but I did not engage in misconduct by any definition."
There's a lot more to the story, including allegations that Tucker threatened to ruin Tracy's career if she went public with her complaint. You should set aside 10 minutes and read the full report by USA Today.
The Title IX investigation into Tucker over these allegations is ongoing. But regardless of its eventual findings, and regardless of the veracity — or lack thereof — of Tracy's accusations, the outcome here is inevitable.
Michigan State should fire Mel Tucker.
At worst, Tucker used his platform and station as a major college football coach to take advantage of someone — but not just anyone, a woman who was brutally gang-raped by three Oregon State football players and a high school recruit a quarter-century ago. Worse yet, Tucker had invited his alleged victim to speak to his players about the perils of sexual violence and what they could do to be part of the solution.
At best, Tucker exhibited, then admitted to, astonishingly poor judgment. And that alone is a fireable offense.
But there's no doubt this episode will ultimately spell Tucker's demise at MSU, if not for one reason and one reason only — Michigan State simply cannot, must not, and, ultimately, will not abide by another sexual misconduct scandal.
This university is only a few years removed from one of, if not the worst-ever sex-abuse scandals in all of sports, where former MSU physician Larry Nassar sexually assaulted hundreds of young women over the course of nearly two decades. Michigan State has undertaken significant measures to atone for and prevent any further such sex crimes from occurring on its campus ever again, including paying a record half-billion-dollar settlement to Nassar's victims, as well as many wide-ranging policy changes throughout the entire institution.
But even at a post-Nassar MSU, the university is still experiencing turbulence. Within the past year, the school's business college dean was forced to resign for allegedly failing to properly report an administrator's alleged sexual misconduct against a student at an off-campus function. This matter with Tucker is just the latest setback and embarrassment for MSU as it desperately tries to move forward.
A hearing to determine whether Tucker violated the university's policy against sexual harassment and exploitation will be held during MSU's bye week on Oct. 5 and 6, according to USA Today. The result of the hearing could cost Tucker the $80 million remaining on the 10-year, $95 million extension he signed back in 2021. His contract, which is set to run through 2031, stipulates that he can be fired for cause due to "conduct which, in the University's reasonable judgment, would tend to bring public disrespect, contempt or ridicule on the University."
This is an important time in Michigan State's nearly 200-year history, particularly as it fledges in the wake of the Nassar scandal and attempts to restore faith in the safety of its campus community. The last thing this school needs right now is its head football coach, one of the most prominent and recognizable representatives of the university, to be mired in his own sex scandal, accused of re-victimizing a survivor of the very same trauma MSU is working so hard to stamp out.
I don't know if Tucker did what Tracy accused him of doing. But I don't need to know that to recognize that he should be fired.
People are entitled to conduct themselves however they so choose in their personal lives. But for public figures, such as a head football coach at a major Power Five school, that personal life isn't private. Whether they like it or not, people in those situations are constantly representing the institutions for whom they work. That's part of the trade-off that comes with an ever-visible position that affords unfathomable status and salary.
Translation: A big-time college football coach can't be implicated in a messy extramarital affair, let alone one involving serious accusations of sexual misconduct.
Keep in mind, too, that part of Tucker's job at the helm of the Spartan football program is to lead by example. Football coaches constantly preach integrity, respect, and selflessness, among other easier-said-than-done ethics, to their players. Do the actions Tucker admitted to before Title IX investigators satisfy his own standards? Obviously not. Shouldn't he measure up to the same expectations he has for his players? Obviously yes.
In this day and age, there should be no tolerance for this kind of thing anywhere. At Michigan State, which has experienced more than its fair share of sexual misconduct controversy lately, that's especially true. MSU is trying to rebuild faith in its institutions and repair trust with its community. It can't do that and indulge Tucker at the same time. It's one or the other.
MSU should make a statement that it's serious about moving forward. This incident should cost Tucker his job. I suspect it will, and he'll have no one to blame but himself.
College Football Coaches Who Could Replace Mel Tucker At Michigan State
With Mel Tucker embroiled in a sexual harassment controversy and MSU experiencing an acute case of sex-scandal fatigue, we take a look at a short list of candidates who could make sense for Michigan State once its head coach position is officially vacant.
More From The Game 730 WVFN-AM