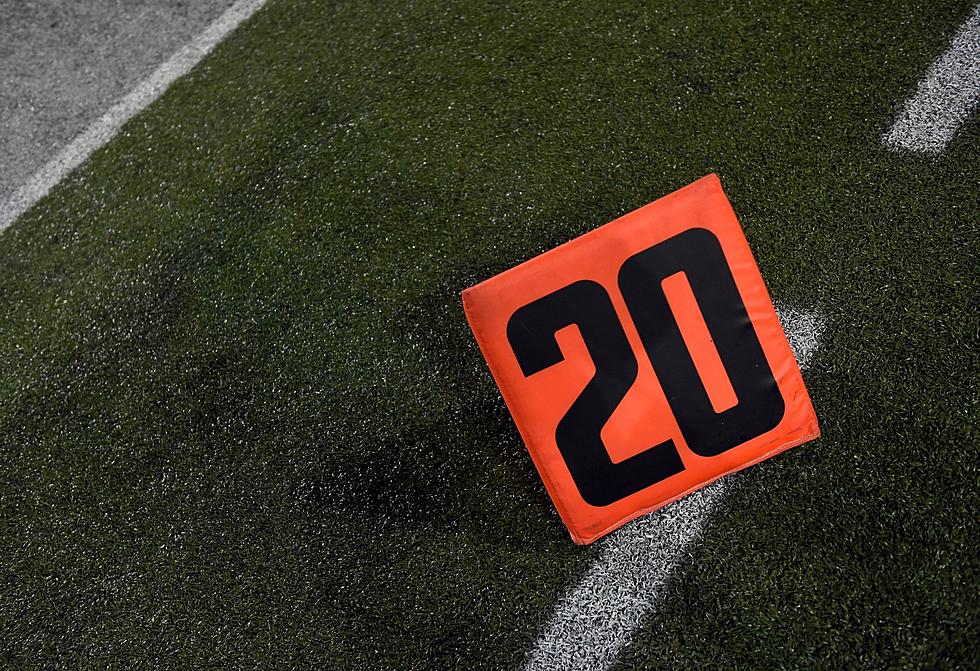 Five Area H.S. Football Remain In Semifinals
Getty Images
To the surprise of many, there are five area high school football teams left in the Michigan High School Athletic Association (MHSAA) 11-Player football playoffs.
We are now down to the semifinal phase of the tournament, all winners this coming Saturday will head to Ford Field in Detroit to play for state titles next weekend.
I say "surprise to many" because it is rare to have five area teams still alive this late in the tournament (usually it's 1-3 teams).  But congratulations to DeWitt, Mason, Portland, Lansing Catholic, and Pewamo-Westphalia for winning regional titles last weekend.
Here's a look at the semifinal matchups this Saturday afternoon (all games are 1pm kickoffs):
DIVISION 3 @ JENISON H.S. - DEWITT (11-1) VS. ST. JOSEPH (8-4)
The Panthers' potent offense has them on the verge of a second straight state title.  Tyler Holtz, Tommy McIntosh, Nick Flegler, Bryce Debri, Bryce Kurncz and the crew have been flat-out awesome this season.  They won easily over Cedar Springs last week 42-14 in the regional final.  St. Joe's entered the playoffs at 5-4, but beat quality teams (Zeeland West, Stevensville-Lakeshore) to get to this point.
DeWitt is a decided favorite and should win, but as Chris Berman said, famously:  "That's why they play the games!"
DIVISION 3 @ WAYNE MEMORIAL H.S. - MASON (10-2) VS. DETROIT MARTIN LUTHER KING (11-1)
Mason beating Bloomfield Hills Brother Rice last Friday night was the biggest surprise of the weekend.  But congratulations to coach Gary Houghton's Bulldogs.  With that win, Mason won their first-ever regional championship.
If Mason beats Detroit MLK, it will be the upset of the entire tournament (in any division).  Many observers feel that King is the best team in the state overall.  But after taking out Brother Rice, Mason probably believes they can beat anybody.  We'll see.
DIVISION 5 @ NOVI H.S. - PORTLAND (10-2) VS. MARINE CITY (12-0)
John Novara's defense made four key stops inside their own 20-yard line (with two forced fumbles and recoveries) to turn back Kalamazoo United 21-0 last Friday night.
The Mariners of Marine City are a formidable team that, like Portland, runs the Wing-T offense.  However, Portland can throw the ball a bit with senior QB Hayden Getchall.  They'll need to a little bit if they want to make a return trip to Ford Field (Champs in 2012, Runner-Up is 2018).
DIVISION 6 @ CLARE H.S. - LANSING CATHOLIC (11-1) VS. STANDISH-STERLING (10-2)
Jim Baker's Cougars have breezed through the tournament so far.  Joey Baker, Alex Watters and company look primed to win their second state title in three years.
But don't overlook Standish-Sterling.  They've had no trouble so far in this tournament, either.  They've won all three games by an average of 27 points.  Catholic is the favorite, but if it's close, how do the Cougars react?  They lost a close defensive struggle in Week 9 to P-W 12-7.
DIVISION 7 @ CEDAR SPRINGS H.S. - PEWAMO-WESTPHALIA (12-0) VS. TRAVERSE CITY ST. FRANCIS (12-0)
Which brings up to P-W.  Jeremy Miller's crew is the only unbeaten left in the Mid-Michigan area.  Despite season-ending injuries to key players, the Pirates just keep mowing everybody down.  Tremendous coaching job this season.
T.C. St. Francis will be difficult, however.  They've crushed everybody in the playoffs to get here.  I'm picking P-W because their experience beating Lansing Catholic in a defensive struggle can only help them.  And I think this will be a tight game.
Good luck to all the area teams!  And don't forget to tune in Saturday afternoon at 12 noon for the pregame show before DeWitt battles St. Joseph in the Division 3 semifinals.  Erik "Doc" Love and I will have the broadcast from Jenison H.S. with kickoff at 1:00pm.  And it's brought to you by Cherry Creek Mortgage Company and by Lansing Surgical Associates.
The Best High School Mascots in the Lansing Area [RANKED]
More From The Game 730 WVFN-AM