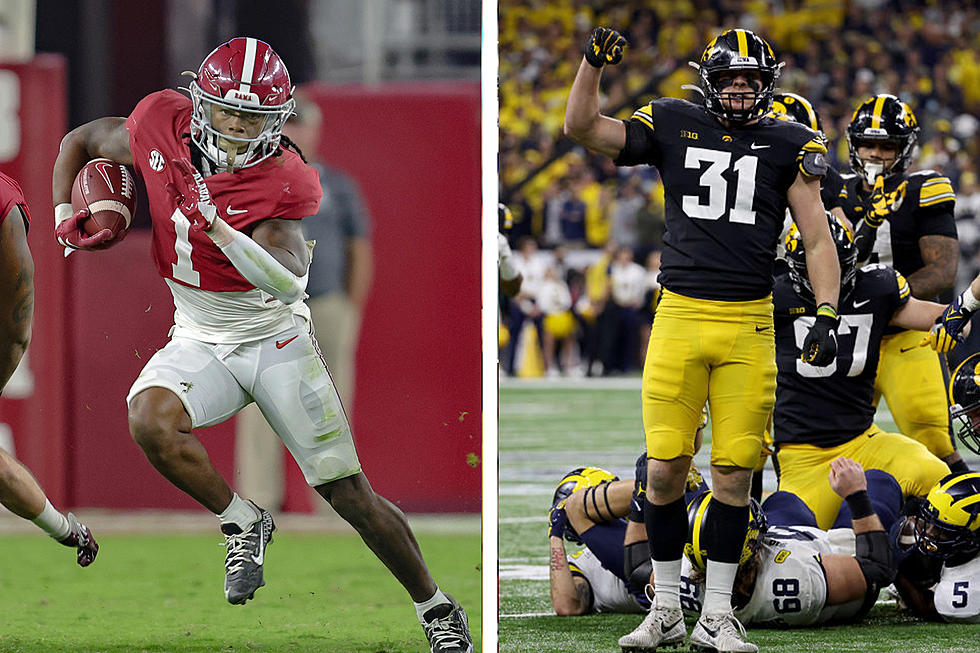 Things That Make More Sense Than The Detroit Lions' First 2 Picks Of The 2023 NFL Draft
Getty Images
Thursday was a rollercoaster for Detroit Lions fans.
They woke up to oddsmakers in Vegas having set Illinois defensive back Devon Witherspoon as the favorite to be taken by Detroit at No. 6 during Thursday's first round of the 2023 NFL Draft. That was uninspiring for a host of reasons, including the fact that Witherspoon is under 6 feet tall, he wasn't exactly tested by solid quarterbacks all that often in the Big Ten, and the Lions aren't that far removed from a disastrous reach for a corner in the single-digit selections.
Then there were rumblings that the Lions were considering a quarterback at No. 6, despite having an obviously able-bodied, 28-year-old incumbent coming off an excellent season. Worse yet, Lions' brass were reportedly thinking about taking the admittedly physically freakish Anthony Richardson, who, in case you didn't see Florida play much last season, struggled mightily to deliver consistently accurate passes.
The ride wasn't over there, though. Once the draft commenced, Detroit traded down out of the sixth-overall spot, swapping with Arizona for their No. 12 pick and other compensation.
By the time the Lions were finally on the clock, it was almost a feeling of relief. At last, the dramatics were over and our gridiron heroes, led by the most competent front office this franchise has had in a long time, were about to deliver on a talented yet need-addressing pick.
And then they wasted the No. 12 overall selection on a running back.
As we've thoroughly documented here, drafting a running back in the first round is almost always a complete waste of a pick. On average, backs taken in the first round carry the ball for 4.26 yards per carry. Backs taken after the first round average 4.2 yards per carry. That's a difference of 2 ¹/⁶ inch per carry.
It's simply wasteful to use a first-round pick on a back because of the opportunity cost. The drop-off in production between a first-round back and one taken in a later round is statistically unnoticeable. The difference between a first-round pass rusher and a second-round pass rusher, though, is decidedly more pronounced.
But that's not all. Yes, Detroit's pick here was horrendous on principle alone, but the specifics may be even worse. The back they took, Jahmyr Gibbs, mostly graded out as a second-round pick. That means the Lions reached on a reach of a pick. At a position, by the way, where they're currently in pretty good shape.
Fans had just five picks to get their blood pressure back under control before Brad Holmes and Dan Campbell were at it again, at 18 overall. This time they took a linebacker.
OK, you may have thought. This makes sense. It addresses a glaring need on our roster.
True. But everyone knows the guiding principle of the NFL Draft — You take the best player available, regardless of need. And if you don't want to do that, you trade down to convert that into more picks.
Instead of obliging common sense, the Lions reached yet again, drafting Iowa's Jack Campbell at 18. At least there was a discernible theme to Detroit's bumbling on Thursday night; Like Gibbs, Campbell was also graded as a second-round talent.
Great! Two picks within the first 18 selections and the Lions walk away with a pair of guys who they stood at least a decent chance of getting 30-some picks later!
The worst part is yet to come. We''ll probably spend a lot of time over the ensuing years thinking back to this draft and the pair of mind-numbing reaches the Lions made in the first round. But we'll spend even more time thinking, "What if?" about some of the names they passed on, like:
Jalen Carter
Paris Johnson
Jaxon Smith-Njigba
Christian Gonzalez
Dalton Kincaid
Quentin Johnston
Nolan Smith
Yep. We'll reflect on this moment the same way we look back on the Lions' disaster of a draft in 2020, when they passed on guys like Justin Herbert, Tristan Wirfs, CeeDee Lamb, and Justin Jefferson in favor of Jeff Okudah.
I honestly don't understand the strategy here, assuming there is one.
Maybe these two guys measured off the charts in terms of grit?
Perhaps Gibbs is a Ford-truck man?
Is it possible that Jack Campbell and Lions coach Dan Campbell are related?  Seriously, I would feel better about it if this was a nepo-baby situation.
None of it makes any sense. So...
Things That Make More Sense Than Detroit Lions' First Round Of The 2023 NFL Draft
Not only did the Lions take a running back in the first round, they took one at No. 12 overall. And not only did they take a running back at No. 12 overall, they took a running back at No. 12 overall who many had graded as a second-round pick.
Their second first-round pick at least addressed a position of need, although the player they took there was also graded as a second-round talent.
Here are some things that make infinitely more sense than whatever Brad Holmes and Dan Campbell were thinking.
More From The Game 730 WVFN-AM