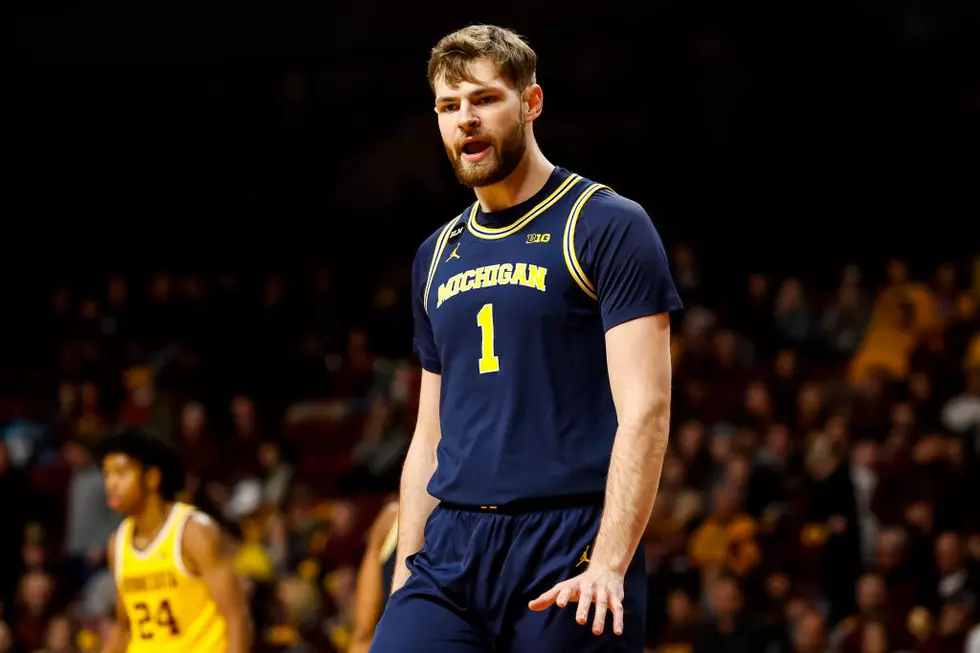 You Only Return To College As A 7-Foot Upperclassman If You Can't Get Into The NBA
Getty Images
Hunter Dickinson, a professional loves-to-dish-it-but-definitely-can't-take-it guy, has some thoughts on academics. Specifically, the quality of a Michigan State education compared to that of one from Michigan.
"You only go to Michigan State if you don't get into Michigan."
Dickinson made those comments on a podcast over the weekend. It was the same podcast on which a month ago he infamously predicted that Michigan would blow out Arizona State by 20 points, only for the Sun Devils to rout him and the rest of the Wolverines by 25 points in a game that wasn't even that close.
Maybe Dickinson's mouth should stop writing checks his ass can't cash, because it happened again.
Michigan's first game since Dickinson's tone-deaf and hilariously oblivious sermon on MSU's academics was Wednesday night. The Wolverines lost at North Carolina.
Dickinson fouled out after logging just 9 points in 27 minutes. He was thoroughly outplayed by UNC big man Armando Bacot, who scored 26 points.
(Michigan State, coincidentally, won on Wednesday night. #Karma)
Setting aside the laughable lack of credibility of any major college athlete pretending to have anything serious to do with academics, let's take a look at how Dickinson himself would stack up against U-M's admission criteria.
Dickinson maintained a 3.74 GPA in high school. That's a good mark.
But it's not good enough to get into Michigan.
The average GPA of the most recent incoming class at the University of Michigan was 3.88. The average U-M enrollee scored 1435 on the SAT, too. We don't know Dickinson's score on that standardized test, but odds are it wasn't that high — the national average is 1060.
Even with a solid 1200 score on the SAT, Dickinson wouldn't make the grade at U-M. In fact, according to PrepScholar.com, that score along with his high-school GPA would give Dickinson a 5.09 percent chance to be accepted into U-M.
Bummer. Guess he'd have to go to Michigan State.
Luckily for Dickinson, he's 7-foot-1 and can dunk a basketball.
The point is this guy shouldn't be demeaning anyone else's education. It's bad enough that he'd be the butt of his own joke if he hadn't won the genetics lottery and grown to over 84 inches tall. But what's even worse is that Dickinson, who takes so very seriously the education he's getting, is in his third year at the scholastically prestigious University of Michigan and his major is... *checks notes*... undecided.
I've gotta be honest, Dick — I'm starting to think your whole spiel about MSU's academic inferiority to Michigan is total bullshit.
It's par for the course for Dickinson and U-M, though. Remember when Mark Dantonio legendarily quipped, "It comes from the program," after a Michigan player had smuggled a tent spike onto the field at Spartan Stadium then planted it into MSU's turf? Dickinson's comments — and his general inability to not behave like a spoiled-rotten brat and a whiny little bitch simultaneously — are just the latest manifestation of Dantonio's prescient diagnosis of the overall U-M condition.
Michigan's condescending approach to and superiority complex with MSU is in the DNA of who they are. It goes all the way back to the Civl War era, when U-M tried to co-opt the Morrill Land-Grant Acts funding the federal government awarded then-Michigan Agricultural College in an effort to keep what we now know as Michigan State from ever entering existence. It goes back to 1949, when the Big Ten, down to nine members courtesy of the University of Chicago's exit, voted 8-1 to admit MSU into the league — can you guess who the lone opposition vote belonged to? And it certainly goes back to seemingly every single sports encounter between U-M and MSU.
Can you imagine a Michigan State player behaving like Dickinson? First of all, I'm pretty sure the first time any MSU hooper appeared on a podcast that it'd also be the last time once Tom Izzo found out. But imagine a State player talking about Michigan the way Dickinson spoke about MSU in a very public setting. There would be consequences, namely a severe ass-chewing and probably at least a half-game sit-down.
But there again, "It comes from the program." Take a look at the guy in charge of Michigan State's basketball program, its players, and its culture. He has more Final Four appearances on his own in 28 seasons as State's head coach than 41 of the 65 Power Five schools have over the entire history of their basketball programs. He has more Big Ten regular-season championships in his tenure at MSU than literally half of the league's schools have achieved in their storied histories. He has a national championship, the only current Big Ten coach who can say that. And, for better or worse, he has at the core of his program principles to which he dogmatically clings that guide who the Spartans are and what they do.
Compare that to the guy who coaches Dickinson. Within just the last couple of years, that coach has threatened to kill another coach on a basketball court, then outright struck another coach in the head in the handshake line following a loss. That same coach a few years ago also brushed under the rug his team leader wrapping the vehicle belonging to the wife of the school's AD around a lamp post early one Sunday morning then lying to police about it. That same coach was part of arguably the biggest cheating scandal in college basketball history as a player at Michigan. And that same coach has also been sued for allegedly knowingly infecting a woman with a sexually transmitted disease.
"It comes from the program."
So while Dickinson is busy going on podcasts and losing basketball games, I'll do him a favor and give him a more accurate and actionable gibe to ponder until he and his big mouth bless us with another delicious karmic hex next graces us with his carefully thought-out and insightful takes.
You only come back to college basketball for your third year as a 7-footer if you can't get into the NBA.
7 Ways To Get the Michigan-MSU Rivalry Back Under Control
Tunnelgate has cast a dark cloud over the already-pernicious MSU-Michigan rivalry. Here are seven ideas to preserve our intrastate college football tradition without completely losing ourselves to the toxicity.
More From The Game 730 WVFN-AM