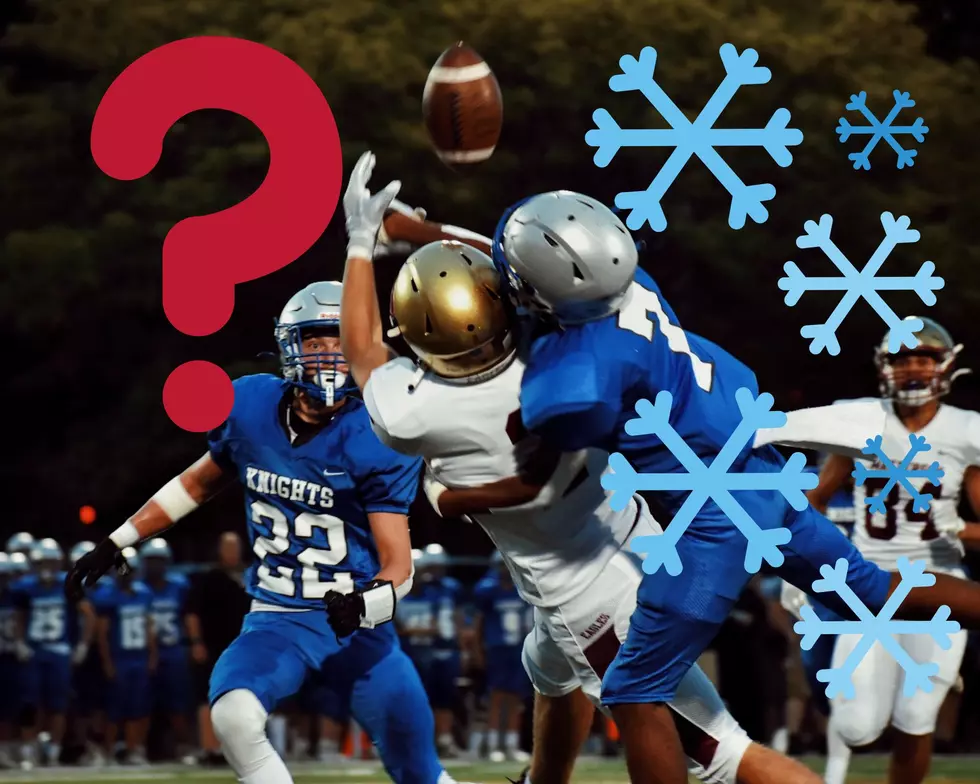 Will Snow Play Havoc With The High School Football Playoffs?
Unsplash/Canva
Five Grand Rapids teams remain in this weekend's state football playoffs, but will snow cause some cancellations?
Several Games Are In Harm's Way For Saturday's Playoff Schedule
Five Grand Rapids teams remain alive in the playoffs, which reach the semi-final stage Saturday at neutral sites around the state. Generally, the rule has been to play the games regardless of the conditions, but heavy lake effect snows forecast for Saturday afternoon may play havoc with some of those games.
The Michigan State High School Athletic Association makes an effort to make sure the games are scheduled for field that have artificial surfaces, so that weather becomes less of a factor. The MHSAA has moved games to lesser impacted fields bfore, but it's still unclear whether that will be necessary this weekend.
Let's take a look at how weather could impact games Saturday.
Division Three Game Scheduled For Greenville High May Be In Jeopardy
The games that seem most in harm's way involve Forest Hills Central In Division 2, Muskegon in Division 3 and South Christian in Division 4, with all these games scheduled for town's in the lake effect snow belt.
In Division 2, FHC is slated to play Dexter at Portage Northern High School. As of this writing, the snow's should be tapering off early Saturday, allowing crews a chance at clearing the field before the 1:00pm kickoff.
Likewise, South Christian's shot at getting revenge against Edwardsburg looks good. That game will be played at Battle Creek's Harper Creek filed, which is on a line to receive lesser amounts of snow, and no snow is forecast for Saturday afternoon.
The game most in question would be Muskegon's game with DeWitt in Division 3, currently slated for Greenville High School. Greenville is in a line where heavy snow showers could bring some problems. Moving that game further east could be a possibility.
Caledonia, Catholic Central, and West Catholic Are All Playing East Of The Snow Line
In Division 1, Caledonia's game against Clarkston is scheduled for DeWitt's Memorial Stadium near Lansing, which is well out of reach of the snow threat.
Likewise, the Catholic Central game with Gladwin in Division 5 is being played in Ithaca, and West Catholic is playing in Coldwater, both which seem out of harm's way.
The MHSAA has promised to make any decision by Friday afternoon, so fans have time to adjust. But as of this writing, games are to go on as scheduled. Kick off for all games is 1:00pm Saturday.
Highest Paid College Football Coaches For 2022
The coaching carousel in 2021 reset the market for college football coaches and their pay scale. Here are the top-paid guys heading into the 2022 season, according to
data compiled by USA Today.
More From The Game 730 WVFN-AM