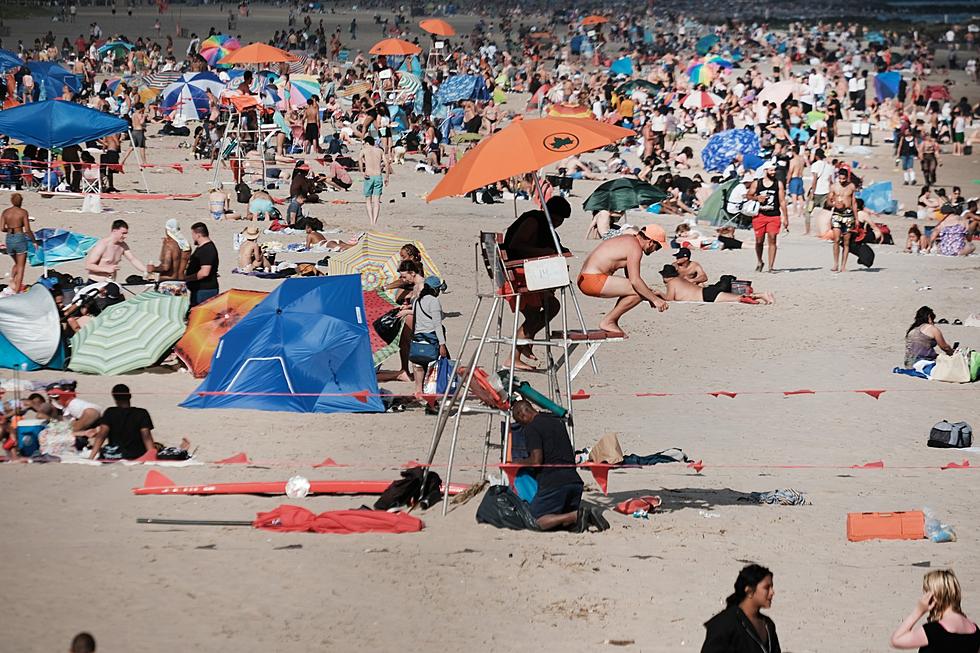 Why The Rush To Autumn In Michigan? Let's Enjoy Summer!
Getty Images
This is something I've percolated about in my brain this week with the relatively cool weather in the Lansing area.
Why are we in such a rush to get to September when we're in mid-June?  Look, I love September weather just like most of you that are reading this...WHEN IT'S SEPTEMBER!!!  We're in mid-June!!!  Technically, it's not even summer until next week.  Why don't we just relax and enjoy the summer for awhile?
It just seems like when school ends and the kids are out, people automatically turn their attention to the next school year.  And by extension, the autumn.  I have a few theories about that.
FOOTBALL, FOOTBALL, FOOTBALL!!!
There is no question that football, whether it's the National Football League, college or high school, is our National Pastime now.  And it has been for more than a generation now.  The popularity continues to grow every year because the sport is better promoted than baseball is.  You already see magazines out promoting the upcoming season in your local bookstore in June.  And people get really antsy for it after the Fourth of July every year.
THE KIDS HEAD BACK TO SCHOOL IN THE FALL
This usually applies to the parents, as they generally get sick and tired of being around their children most of the time in the summer.  But kids also get tired of being around their parents, too.  And it's good for them to get back to school and reconnect with their school friends/acquaintances after summer vacation.  And also to learn about new things in a higher grade in school.
PEOPLE GET TIRED OF BASEBALL
With the long baseball season (starting in late March and ending in early October), it can and does get monotonous.  It doesn't help that your Detroit Tigers haven't contended for a playoff berth since 2016, and haven't been to the playoffs since 2014.  It might be different if the Tigers were actually good.
THE COOLER WEATHER OF AUTUMN IS A REFRESHING CHANGE
Some people get worn out from the hot, summer months.  Especially in the more humid Midwestern states.  So when it cools off in September, it feels really good to them.  I know people that prefer fall weather to summer weather.  I think that's a little weird.  But I'm weird, so there's that.
But there are other reasons to enjoy summer before we get to September...
SUMMER IS MORE RELAXING
Adults tend to use the summer months to use some, if not all, of their vacation time in the summer.  Just simply to relax and get away from the daily grind of their jobs.  Many people and their families also use the time to travel all over America, if not the world for summer vacation.  And kids also need the time to get away from the pressures of school and to just let themselves mentally deflate after a stressful year.  You can also sleep in in the summertime.  That's a good thing, too.
THE WEATHER IS WARMER, DUH!!!!
Because of the mercury rising, there are countless things you can do outdoors that you can't do when the weather is crap.  Heading to the beach or pool.  Going biking or hiking.  Going fishing, or hitting the golf course, etc.  Luckily in the great state of Michigan, there are ample opportunities to do all of these things in the warm summer.
IF YOU LOVE BASEBALL (OR SOFTBALL), IT'S YOUR TIME OF THE YEAR
June, July, and to an extent, August are the prime months to go watch and play baseball.  And we've got lots of teams to go see here in Michigan.  From the Detroit Tigers to the High Class A Midwest League's West Michigan Whitecaps, Lansing Lugnuts, and Great Lakes Loons.
And there's the college woodbat league, the Northwoods League.  Which started on Memorial Day and runs into Mid-August.  This is for college baseball players to have a place to play once their college season ends in May.  Teams like the Battle Creek Battle Jacks, Kalamazoo Growlers, and the Traverse City Pit Spitters roam in the Northwoods.
Not to mention the countless youth baseball and softball leagues in the state.  And the hundreds of adult slow pitch softball leagues in Michigan.
The point of this article is...Yes, the fall is great with everything starting up again (school, football, etc.).  But let's enjoy the summer while we have it.  I don't want to hear you complaining about the weather when it's below zero outside next January.
Top 10 Foods You Can Eat At A Baseball Game
More From The Game 730 WVFN-AM