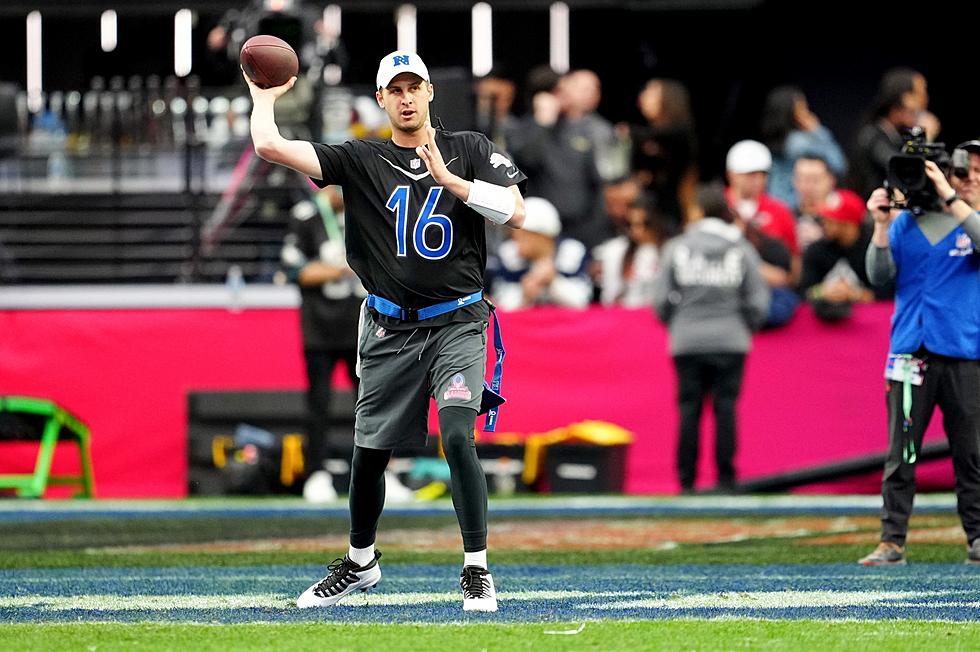 Whoa!!! Let's Hold Off The Jared Goff Contract Extension Talks, Please!!
Getty Images
I was surprised and a bit alarmed to see that the Detroit Lions have begun dialogue with the team's starting quarterback, Jared Goff, and his representatives on a contract extension.
Why surprised?  Because Goff has two years remaining on his existing deal.  Why a bit alarmed?  Because he's not worthy of a new deal, at least not yet.
Jared Goff is a former number 1 overall draft pick out of California-Berkeley and he came to the Lions in the Matthew Stafford trade two years ago from the Los Angeles Rams.  Goff was figured to be a "bridge" QB for the team until the next guy took over long-term.
It sure looked that way after the 2021 season.  Goff played in 14 games and threw for over 3,200 yards with 19 touchdowns and eight interceptions and a completion percentage of 67.2%.  Not bad, but not great by today's NFL standards.
However, Jared was much better in 2022.  He threw for almost 4,500 yards and 29 touchdowns while playing in all 17 games and he made the NFC Pro Bowl team (seen above).  That's pretty good.  Not elite, but pretty good.
So now the Lions are in a bit of a conundrum.  It's a good problem to have because Goff's play in 2022 has made it that way (If he'd have sucked in 2022, he would've probably been cut by now).  Do you give him a contract extension before the 2023 season?  Or do you let the year play out and see what happens before committing to him long-term?
Let's get a couple of facts out of the way first...
HE'S UNDER CONTRACT NOW FOR BIG $
Goff has two years left on his current deal.  His base salary is almost $21 million for next season, and his cap number is just shy of $31 million (according to spotrac.com/nfl).  That's big money.  But not exorbitant compared to other deals for equal/better QB's.
THE LIONS SAVE BEAUCOUP DOLLARS IF HE'S CUT OR TRADED
The Lions would save $16 million of he was cut or traded now (which isn't happening).  But, the team would save over $26.5 million on the 2024 cap if he is cut or traded after this season.  Again, according to spotrac.com/nfl.
Because of the two facts I just stated, I think it is reckless and premature to give Goff a new deal now.  You might save money on the cap now if you do an extension, but you need to use future cap money to give contract extensions to other key players like Amon-Ra St. Brown, Penei Sewell, and possibly Aidan Hutchinson, Jameson Williams, or Kerby Joseph.
Let the 2023 season play out.  If Goff is as good if not better than he was in 2022, then you commit to him long-term even if it will cost you more than if you did a new deal now (Goff turns 29 this coming October).  If he stinks the joint out, you can cut him and you'll take only a $5 million cap hit in 2024.  If Goff gets hurt, you can use those games to find out if recent 3rd round draft pick Hendon Hooker can play at the NFL level.
If Hooker plays great, a la Lamar Jackson in his rookie year, then you cut Goff and go with Hooker long-term.  If Hooker stinks, you can either commit to Goff with an extension or (even better) let him play out the 2024 season (the final year of his deal) before giving him a new contract.  The positives of waiting to do a deal outweigh the positives of doing it now, IMO.
What do you guys think?  Let us know!!!
Things That Make More Sense Than Detroit Lions' First Round Of The 2023 NFL Draft
Not only did the Lions take a running back in the first round, they took one at No. 12 overall. And not only did they take a running back at No. 12 overall, they took a running back at No. 12 overall who many had graded as a second-round pick.
Their second first-round pick at least addressed a position of need, although the player they took there was also graded as a second-round talent.
Here are some things that make infinitely more sense than whatever Brad Holmes and Dan Campbell were thinking.
More From The Game 730 WVFN-AM