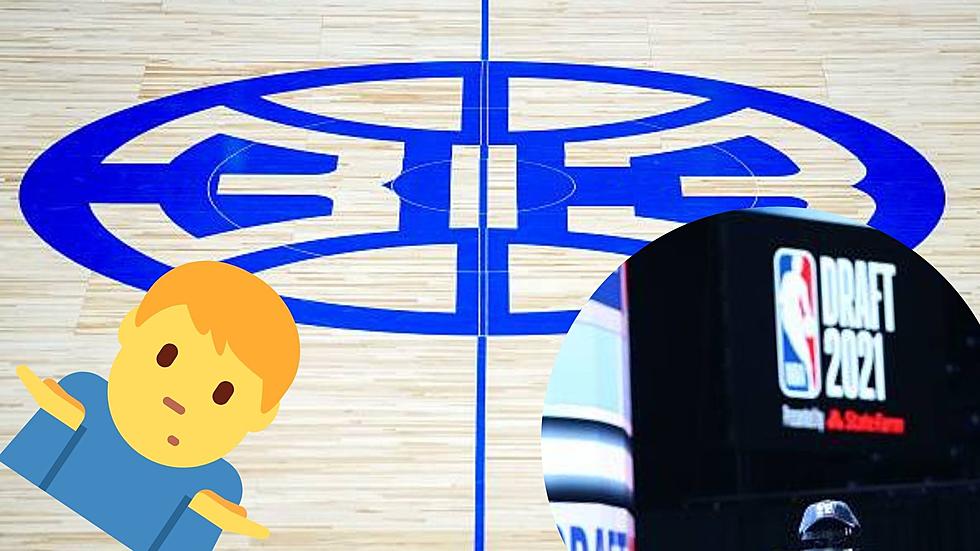 Who Should The Detroit Pistons Draft in 2022
Canva/Getty Images
With the regular season coming to end, there are so many different avenues for basketball fans to take right now. Firstly, if you're team made the playoffs, that's your main focus. Looking at matchups for your team, what's the easiest route, and checking your account balance to see if you have enough for playoff basketball tickets. Some fans are just casually watching games or trying to decide who will be the number 1 draft pick. Then there are fans of teams who don't make the playoff, like the Pistons.
When your team doesn't make the playoffs, the front office, the players, the media, and the fans all have so many questions. Most of those questions aren't aimed at current players but instead refer to coach firings, possible trades, and most importantly the NBA draft. This year the Pistons are looking at tons of options, especially since they have such young talent. Time to throw on those general manager caps and mock some potential trades and draft picks for the Pistons.
Trade Timer
The first thing that comes to my mind as a Pistons fan is that the front office needs to decide what kind of team they want to have in Detroit and make trades to better suit that play style. As fans watched Jerami Grant struggle from time to time and deal with injuries this season, someone stepped up in his absence, causing fans to ask to move on from Grant. Rookie Cade Cunningham along with other young talent like Saddiq Bey, Isiah Livers, Marvin Bagley and others have shown they have what it takes to compete.
Detroit has so many options to trade to help bolster their talented young roster. Of course, the main piece they are looking to dish out is Jerami Grant, with teams like the Portland Trailblazers, the New Orleans Pelicans, and the Charlotte Hornets offering nice trades to help fulfill the roster. Such as trading Portland for first and second round picks and possibly a player like Josh Hart or Joe Ingles to come in and offer perimeter shooting and defense. The Pelicans and Hornets have Zion Williamson and Miles bridges along with pick swaps to offer the Motown team.
Free Agency Frenzy
The Pistons have had a tough time with free agency the past few years, pulling in some players that they felt would be stars and help take them back to the playoffs. Well, they've made one playoff since these moves and lost in the first round as the 8-seed. This was pre-play in tournament as well, so they had a solid season with Blake Griffin but Jerami Grant and others have not been the signings they believe they would be.
Looking at possible free agents this year and what the pistons have already, there are a couple of moves that make sense. They need more of a perimeter presence but also need a big man. I believe free agency and trades will be where they address the perimeter issues and turn to the draft for a big man. With players such as Donte DiVincenzo, Victor Oladipo, and Lugentz Dort available, the pistons could resign or let Hamidou Diallo and Marvin Bagley to round out the squad and have a successful free agency.
Draft Day Dealings
The Detroit Pistons are back in the draft lottery and after trades they have made in the past they only have 2 draft picks this year. They are almost guaranteed to have a top 4 pick as they are tied for the highest chances of the first overall pick at 14% with the Rockets and Magic. Their other pick is in the second round and is pick 46, meaning they have to be diligent this draft and answer their remaining questions.
As I mentioned above, I believe they'll use their first round lottery pick to address their size issue. Looking at this incoming rookie class, they definitely have some options to choose from, especially if they're able to secure a top 4 pick. Chet Holmgren who stands 7'1 has perimeter and inside skills, making for a very healthy stretch power forward, while Paolo Banchero is a different monster. Standing at 6'10 and have the handles of a guard, the touch of a shooter, and the post game and solid base to play inside. Lastly there is Jaden Ivey, who is a perimeter player but has to be included as his off ball offensive ability and defensive prowess boost his draft grade, pairing well with young PG Cade Cunningham.
The Detroit Pistons have tons of questions to answer this off season as they are looking to turn their organization around and make it back to the playoffs. Firstly, decide what they are going to do with free agency and trading before the deadline. Depending on what the roster looks like changes who they decide to draft or if they play with the draft pick and do some pick swaps on draft night. Either way the Pistons better make changes or the fans won't be happy.
Abandoned '50s Detroit ice Cream Parlor That Needs A New Owner
More From The Game 730 WVFN-AM