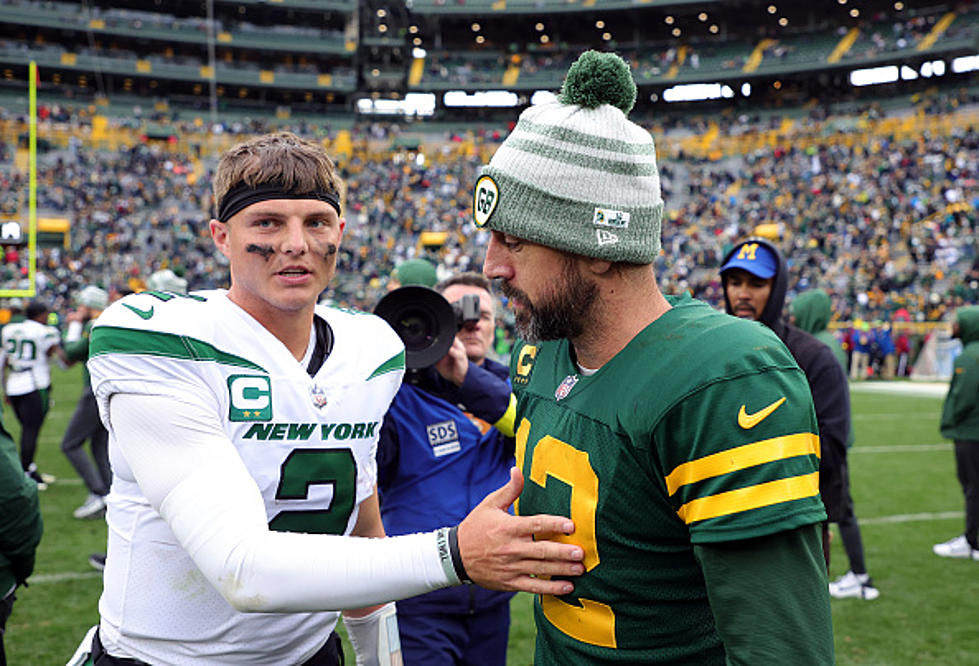 What Will The New York Jets Look Like In 2023 With Aaron Rodgers?
Getty Images
 Aaron Rodgers is finally a New York Jet, 40 days after announcing on the Pat McAfee Show that he was interested in being a Jet.  Both teams and their front offices worked out their differences and traded picks and now here we are.  The Jets are now immediate contenders in not just the AFC East but the NFL overall with a great veteran like Rodgers.  His relationship with the New York media is what intrigues me as he always has some good sound bites.  Below is my quick take on this from The Times Union:
The New York Jets will make the playoffs next season, but after that there are no guarantees. Quarterback Aaron Rodgers is the missing link, but he still needs to play at the highest level, and he will. Rodger's will play with a chip on his shoulder with plenty to prove. He wants a prove to the Green Bay Packers that they were wrong on showing him the door. And Rodgers knows there is no better place to win a Super Blow then New York. That would be the ultimate way to end his career.  Too many good teams and elite quarterbacks in the AFC, but Rodger's and the Jets need to be included among the best teams.
MJ and I discussed Rodgers to the Jets earlier this morning right here on Big Board Sports.  Below is our full conversation on this.
Rodgers will wear number eight and not number 12 as legend Joe Namath wore it.  Jets fans can finally rejoice that Rodgers is their quarterback.
10 New York Jets That Can Lead Gang Green To The Playoffs
Can the New York Jets return to the NFL playoffs for the first time in more than a dozen years? Can Zach Wilson be the quarterback that GM Joe Douglas dreamed he would be? Can Sauce Gardner and Jermaine Johnson turn the Jets defense into a contender? That answer to "can" they is yes. The answer to "will" they may be yes as well!
The Ultimate Rankings! Which Franchise Do Albany, NY Fans Love Most?
The results are in on one of the Capital Region's biggest sports debates: which sports franchise do Albany fans love the most? We finally have answers.
More From The Game 730 WVFN-AM