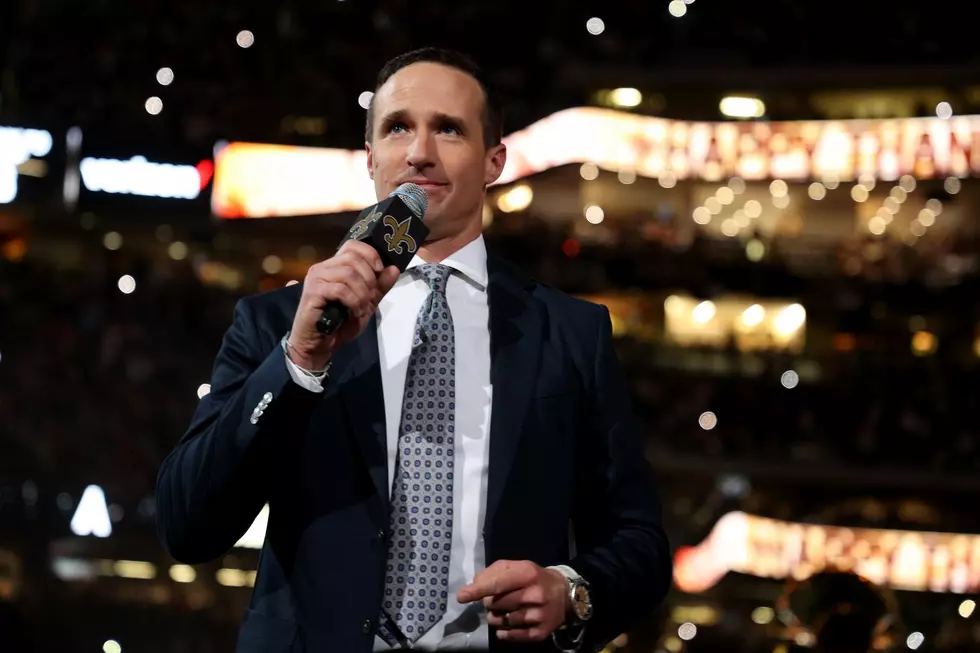 Well, Drew Brees Didn't Last Long At NBC!!!
Getty Images
One year after retiring from the New Orleans Saints, future Hall of Fame quarterback Drew Brees is reportedly out of a job at NBC.
The New York Post reported on Sunday that Brees will not return to NBC for the 2022 season in either a studio role or game analyst role.
Brees joined NBC after he retired from the NFL after the 2020 season.  He was a studio analyst for NBC's "Football Night in America" which precedes "Sunday Night Football" with Mike Tirico, Tony Dungy, Chris Simms, and Mike Florio.  He also was a color commentator with Tirico for NBC's coverage of Notre Dame Football this past season.
But Brees received mixed reviews for his work on television.  And media critics largely panned his performance for the Las Vegas Raiders at Cincinnati Bengals AFC playoff game (which he called with Tirico).
The Brees reported departure is part of major changes for one of primetime TV's highest rated shows.  Over the weekend, Maria Taylor was named the new host of "Football Night in America".  And while the studio lineup (other than Taylor) is still officially up in the air, it is expected that Tony Dungy, Chris Simms, Mike Florio, and possibly Rodney Harrison will also be in the studio.  Mike Tirico will replace Al Michaels and join veteran Cris Collinsworth in the booth.
It is a surprise, but not a shock that Brees is out after one year.  Many figured that NBC would give Drew more time.  But with his reported desire to call games in the booth exclusively and not do studio work, something had to give.  Especially with the excellent Collinsworth remaining in the booth with Tirico.
He could head to FOX or CBS.  But with the 2022 NFL season rapidly approaching, joining either of those networks might have to wait until 2023.
And with a reported net worth of around $120 million, Brees can afford to sit out a year and wait for possible openings for 2023.  He's not hurting for cash at all.
But it is a bit stunning that, as highly publicized as his signing was with NBC, that he would be out after just one season.  What do you think??  Let us know!!!
The Detroit Lions Throughout The Years With Collector Items
Love 'em, or hate 'em, they're still the good old Detroit Lions. Take a look back in time with some collector's items from over the years and see how the Detroit Lions have evolved over the years.
More From The Game 730 WVFN-AM