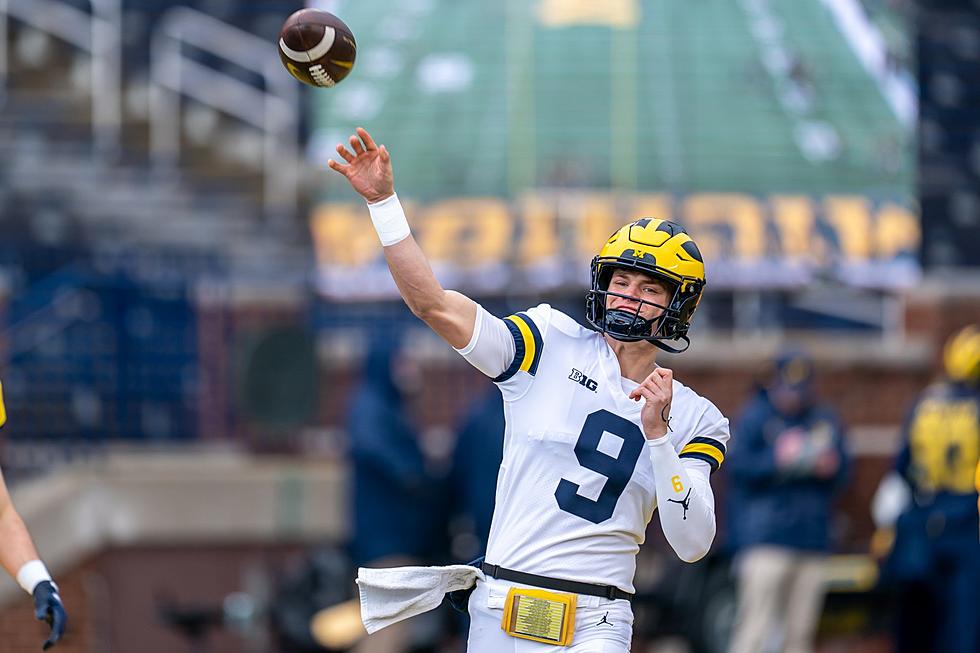 U-M Football: Setting Themselves Up For Failure?
Getty Images
Very few college football teams will enter the 2023 season with as much hype as the Michigan Wolverines will.
After all, they have won the Big Ten the last two years.  They've finally figured out how to beat Ohio State (two years running), and have made the College Football Playoff the last two years.  So a lot of it is deserved.  The Wolverines look to be pretty strong heading into the fall.
But will all the media hype, and the hype that the Michigan players have put out there.  Is it all setting themselves up for a major disappointment?  Let's examine.  First, the positives:
MICHIGAN HAS TONS OF TALENT BACK
Junior QB J.J. McCarthy (pictured at the Michigan spring game) is the unquestioned starter.  Their top two running backs are back in senior Blake Corum and junior Donovan Edwards.  Even though they lost receivers Ronnie Bell, Andrel Anthony, and A.J. Henning, as well as tight end Luke Schoonmaker, they have lots of depth at WR (Cornelius Johnson, Roman Wilson, etc.) and sophomore Colston Loveland played a lot at TE last year as a freshman.
The offensive line looks good again, and the defense has some top players returning in Mike Sainristil, Kris Jenkins, and Junior Colson.
But there are negatives as well, including one thing not many people have mentioned.  But is very important to note:
A NEW KICKER AND PUNTER
Jake Moody was one of the best kickers that Michigan has ever had (and they've had some good ones).  But he's in the NFL now, and that leaves a huge hole.  Who's going to kick field goals and extra points this year?  And will he be needed like Moody was in the Illinois game last year?
Punter Brad Robbins is gone, too.  He was very good the last few years.  So, who's going to take his place?  And will he be able to "flip the field" and pin teams deep in their own territory as good as Robbins did?  We'll see.
TOUGH ROAD GAMES
Michigan has to go to Maryland (who they had massive trouble with last year), Penn State, Minnesota, Nebraska, and Michigan State.  Penn State will be really good.  And Michigan State always "plays up" against their arch-rivals.  If forced to, I would pick U-M to win all of them.  But they aren't all "lock wins" at this point.
CAN THEY BACK UP THE TALK?
It's one thing for the media to talk a team up.  It's another for the players to talk their own team up.  And Michigan's players have done lots of talking about the upcoming season and their expectations.
Here's J.J. McCarthy:
"I want to be one of the best teams to ever play this game, We have the potential to do it, we have the talent to do it, we have the dedication and commitment and hard work to do it, it's all about just putting it together and executing the plan."
"My 1A goal is bring a national championship to Ann Arbor; 1B is to never lose to (Ohio State), That will mean a lot to me. From the guys that play scout team to the guys that are touching the ball every play, we have to be our best at all times. That's not always going to look pretty, but we just got to keep pushing, keep pushing and growing in every aspect, and we'll be where we want to be by Nov. 25."
Blake Corum:
"The number one goal is to win a national championship, we have to go get it.  Goal two is to repeat - beat Ohio State, beat Michigan State, win the Big Ten Championship."
So now, Michigan has finally entered the 21st century in college football.  How many times have we heard "Our goals are to win the Big Ten and go to the Rose Bowl." in the past?  Bo Schembechler did a great job of indoctrinating the fan base on this point.
But this isn't 1978 anymore.  Winning the Big Ten and going to the Rose Bowl is no longer good enough for the Maize and Blue (nor should it be for them).  This season, anything less than the national championship is failure.  Especially after all the talk this off-season.  10-2 this season and a New Year's Six bowl is failure.  Even if/when they have injuries, 10-2 isn't good enough.  And imagine the criticism they'll get if they go 9-3 or 10-2 and miss out on the College Football Playoff.
But stop talking about it.  Don't say "We gonna...".
Go do it.
How TV Networks Are Ruining College Sports
As major college sports sells off the final bits and pieces of its dignity and soul, the industry is growing more and more unrecognizable to longtime fans. The never-ending drive for added revenue and new revenue streams has given TV networks hegemony over college sports the likes of which we've simply never seen. It's good for business, but hardly ever good for anyone else.