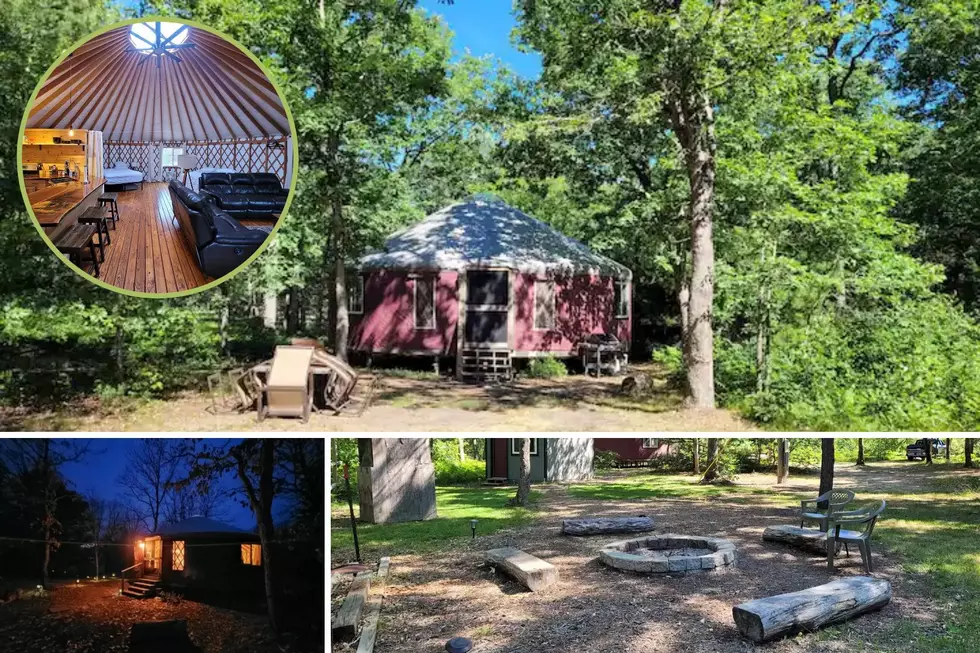 This Northern Michigan Airbnb Yurt is Excellent for Glamping
Photos courtesy of Michael via Airbnb
This is the time of year that Michiganders hear the call for adventure. We've been coupled up all winter long, and now we need a break.
For some, taking a break is going for a hike on your rustic camping stay. For others, taking a break might mean booking a hotel for the weekend and just relaxing. However, if you've ever wanted a nice medium between the two with a Michigan twist, this unique Airbnb stay might be the place for you.
Unique Michigan Airbnbs
Nestled in northern Michigan, this Airbnb Yurt is available to rent. Tucked amongst some secluded trees in Baldwin, Michigan, this yurt is the perfect combination of modern amenities and rustic charm. A real Goldie Locks and the Three Bears situation...it's juuuust right.
Northern Michigan Airbnb Yurt
Michael hosts this six-guest yurt. There are a total of two bedrooms with four beds, one bath, and a firepit, and it's less than an hour's drive to Lake Michigan.
This cozy and spacious yurt could be an excellent spot to take the family, go with friends, or plan a romantic getaway with that special someone. I love the fact that the kitchen has a full setup. The fireplace in the living room is a cozy touch. And, you can look at the stars as you fall asleep. Oh, and did I mention this place has 4.92 out of 5 stars? Practically perfect.
If you prefer blaming over camping, you've got to check out this northern Michigan yurt. It could be just the place for your next getaway.
This Northern Michigan Airbnb Yurt is Excellent for Glamping
If you want to have a nice, relaxing weekend up north, but camping isn't really your thing, may I introduce you to this northern Michigan yurt? It's available on Airbnb, and it's the perfect combination of modern amenities and rustic camping charm. Whether it's you and the family, you and some friends, or you and a significant other, this northern Michigan Airbnb could be the getaway. Check out the pictures in the gallery below.
The Best You-Pick Cherry Farms Across Michigan
Now that Michigan's really getting into summer, it's the perfect season for cherry picking.
Whether you want to stay around town in the mid-Michigan area, or perhaps make a day of it and travel someplace new and check out the Michigan town that's literally famous for its cherry festival; Traverse City, there are plenty of great you-pick cherry places across the state. Check out where you can pick your own cherries across Michigan.
20 Unique Northern Michigan Airbnbs Perfect for a Getaway
If you're in need of a little rest and relaxation, look no further than the great state of Michigan! Northern Michigan is the perfect place for a vacation. Check out these 20 stunning & unique Airbnbs and start packing your bags for a getaway.
More From The Game 730 WVFN-AM