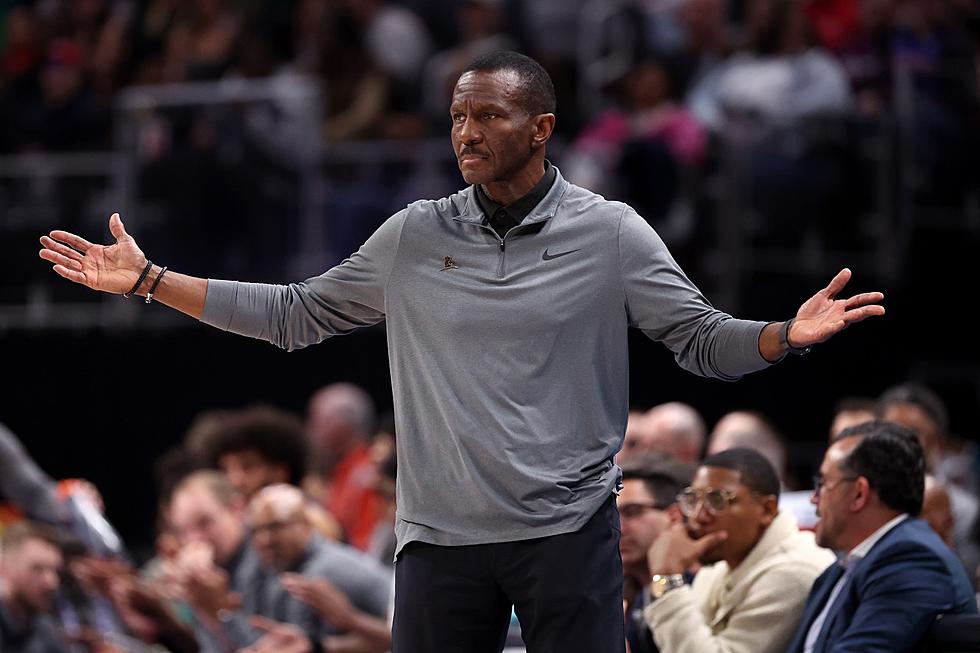 This Has To Be Rock Bottom, Doesn't It?
Getty Images
The long national nightmare that has been the 2022-23 Detroit Pistons season is now over after the Pistons lost to the Chicago Bulls on Sunday, 103-81 to finish the 2022-23 season at a NBA-worst 17-65.
And now, owner Tom Gores and executive Troy Weaver will have to look for another coach.  As fifth-year head coach Dwane Casey (pictured above) announced after Sunday's loss to Chicago that he'll step down from the sideline and join the team's front office.
Which brings up the question I pose in the headline..."This Has to Be Rock Bottom, Doesn't It?"
Yes, I believe it is.  The Pistons have been pretty much an insignificant franchise in the NBA since they traded Chauncey Billups to the Denver Nuggets for Allen Iverson early in the 2008-09 season.  The team hasn't won a playoff game since.
Yes, you read that right.  Not only has the team not won a playoff series since 2008, they haven't even won a single playoff game since Game 4 of the 2008 Eastern Conference Finals (they ended up losing that series 4 games to 2 to the eventual NBA champion Boston Celtics).  They've been to the playoffs three times since then and have been swept in the first round all three times (twice by the Cleveland Cavaliers and once by the Milwaukee Bucks).
The Pistons are maybe the worst defensive team I've ever seen in the NBA.  And they're very likely the worst fourth quarter team I've ever seen in the NBA.  Whoever Troy Weaver hires to replace Casey will have to improve both of those things almost immediately.
There is young talent on this roster.  Rookies Jalen Duren and Jaden Ivey showed promise.  As did second-year man Killian Hayes.  But other youngsters battled injuries all season long.  Cade Cunningham, Isaiah Stewart, and Isaiah Livers all missed significant time due to injuries.  As did veteran forward Bojan Bogdanovic (who was the Pistons best player this season).  Because of that, they were never a cohesive unit all season long.
The Pistons will have the most ping-pong balls in the hopper when they NBA Draft Lottery happens this spring.  They'll have the best chance to get likely top pick Victor Wembanyama, the 7-4 teenager out of France.
But if they get Wembanyama, will it matter?  Will he make that much of a difference?  That remains to be seen.
After all, these are the Detroit Pistons.  Apathy among the general fanbase is entrenched here with more than a decade of losing.  Do you even care in the first place?
Contract Status of Detroit Pistons Players After 2022-23 Season
More From The Game 730 WVFN-AM