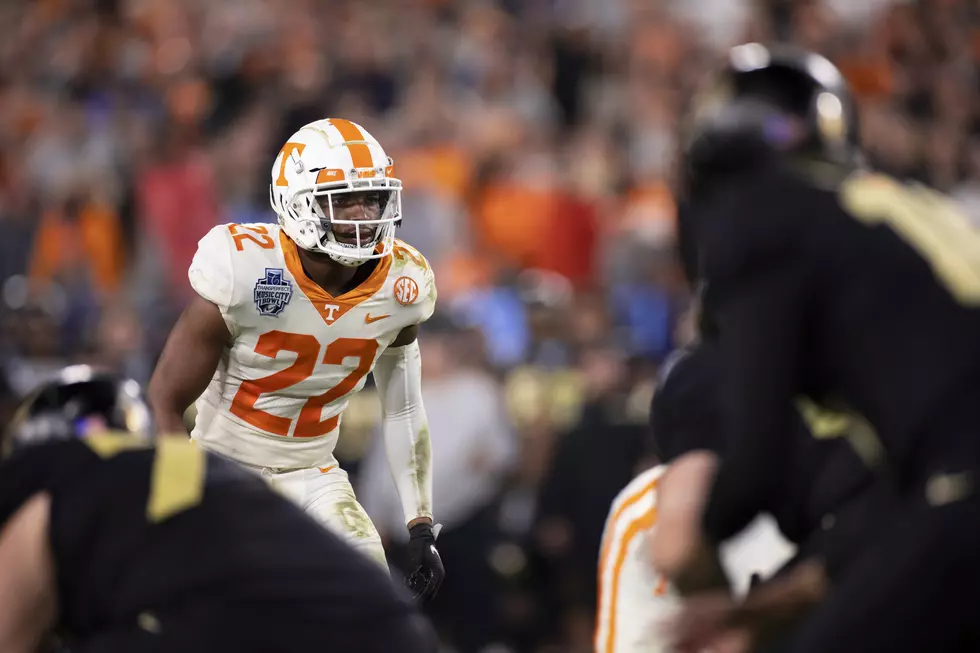 Tennessee Starting Safety Arrested
Getty Images
Tennessee's starting safety Jaylen McCollough was arrested for aggravated felony assault on Sunday.
According to Adam Sparks of Knoxville News Sentinel, the arrest warrant claims a man called police stating that he had been drinking with friends and had to retrieve something from a car.
When he returned, he accidentally walked into the wrong apartment. When the man realized it was the wrong apartment, he apologized and left but was followed by an aggressive man, who punched him in the face.
He had a "bloody, swollen mouth and missing teeth," as well as lost consciousness, according to the Knoxville News Sentinel.
"Police found blood on the stairs leading to the top floor of the building, where the apartment was located. They also spoke to a woman who said she was McCollough's girlfriend. She called McCollough back to the scene, and he arrived with a bloody bandage on his right hand. McCollough did not answer any questions, the report said, and he was taken into custody without incident," wrote the Knoxville News Sentinel.
McCollough has been a big help to the Tennessee defense over the past few years. The senior has seen time in 41 games and has made 148 total tackles in his career (103 solo, 45 assisted), ten tackles for loss for 40 yards, two sacks for 20 yards, three interceptions, 12 passes defended and one forced fumble.
"We learned of it really late yesterday, and as we gather more information, I'll have more for you," said Tennessee head coach Josh Heupel on McCollough's status.
No. 3 Alabama takes on No. 6 Tennessee on Saturday, October 15, 2022, at 2:30 p.m. CT on CBS. Coverage will be on Tide 100.9 and 95.3 The Bear.
More From The Game 730 WVFN-AM