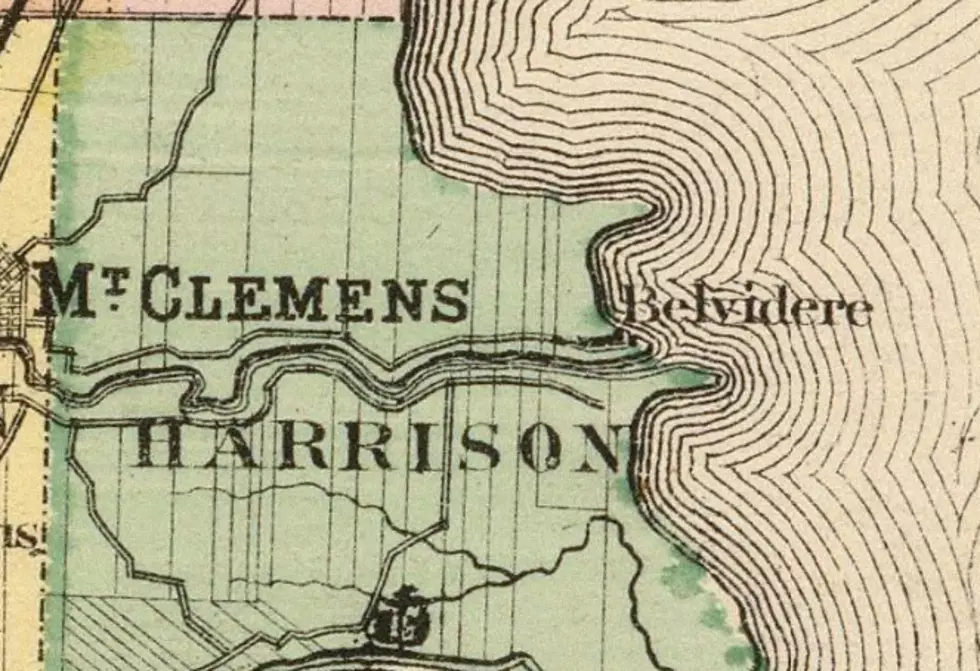 Sunken Underwater: The Ghost Town of Belvidere, Michigan
public-domain-via-rumsey
I've written about other Michigan towns that have been buried:
SINGAPORE, buried under the sand dunes near Saugatuck in Allegan County
RAWSONVILLE, buried under Bellevue Lake in Wayne County
Well now here's another one: BELVIDERE buried under the waters of Lake St. Clair at the mouth of the Clinton River in Harrison Township, Macomb County.
In 1835, the land was bought by David and James Conger from Cleveland and hired Abel Dickinson to plat the village as "Huron Point". In 1836 the plat was enlarged by Edward Blackwell and in 1837 Belvidere got its own post office.
According to Lost Towns of Eastern Michigan, James was making a good living selling his wonder drug: "Conger's Tonic Liver Pills" that could cure everything. Low blood pressure? It raised it. High blood pressure? It lowered it. Blood too thick? It thinned it. Blood too thin? It thickened it. Wonder drug, indeed. It was his liver pill money that helped him buy the land.
The village was soon being built, complete with carp fisheries, general store, grist mill, hotel, machine shop, post office, sawmill, tavern, and many homes.
Native Americans living in the area approached James Conger and told him he made a bum deal...he threw his money away on land that would be underwater in twenty years. A catholic priest told him the same thing but their warnings were ignored. However, the Indians and priest were wrong...the village was under water in just TEN years, not twenty. Lots had been sold, homes and businesses had been built...but slowly the village became so flooded, these were all abandoned.
Conger was living in his hotel and remained there while others fled the village. As the waters flooded the first floor, he moved to the top (third) floor and stayed there as long as he could before water completely engulfed the building.
But Conger turned out to be a good guy after all...he paid back everyone who bought land and later became a state representative. He passed away in 1876 and insisted to be buried in the remains of Belvidere...but more floods came back and he was moved to Columbus, Ohio.
In 1882 the death knell for Belvidere was sounded: a steamboat caught fire and burned down what little was left of Belvidere. Conger's dream of a successful town as well as a thoroughfare for ships has now been underwater for almost 200 years.
Belvidere, Underwater Ghost Town
MORE RELATED MICHIGAN STUFF:
Devil's Soup Bowl
The Shipwreck 'Atlanta'
Soo Locks
More From The Game 730 WVFN-AM