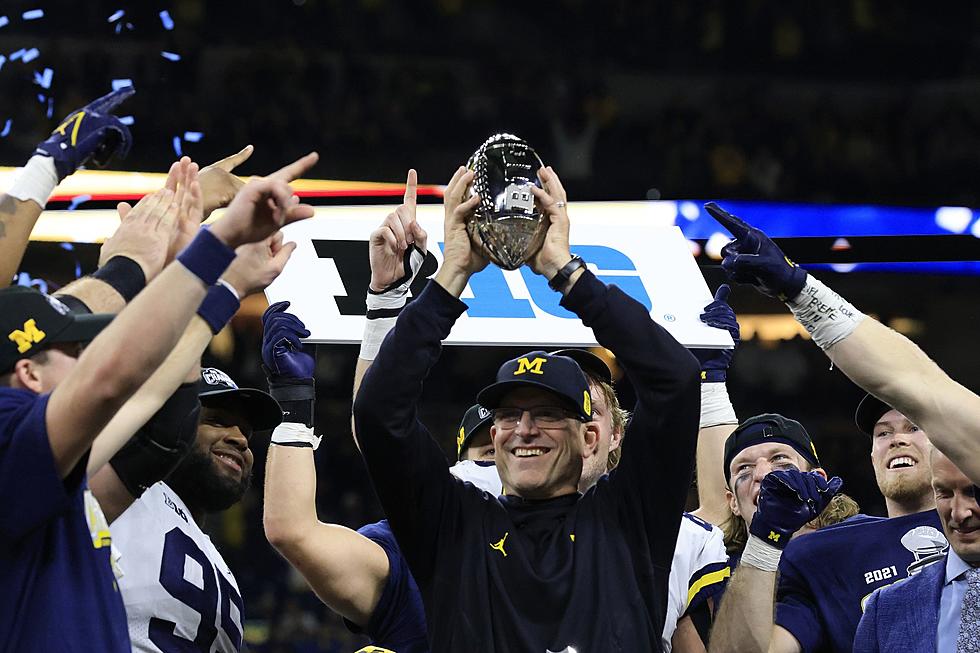 So, Jim Harbaugh Is Back at U-M…Now What Happens?
Getty Images
To the surprise of some, Michigan head football coach Jim Harbaugh (pictured after winning the Big Ten title in December) will return to Ann Arbor to coach the Wolverines and not head to the NFL for the 2022 season.
So, now what happens with the Blue as Harbaugh enters his eighth season as head coach in 2022?
MOST IMMEDIATELY
Harbaugh does have to reconcile with the current players, coaches, and recruits that this was a one-time thing and that he won't pursue an NFL job again.  That will be difficult for him to do.  With his NFL background, if he has continued success, you know that NFL teams will come calling for his services no matter what Harbaugh says.
Oh yeah, and he's got spring football coming up around the corner.
DEALING WITH HIGHER EXPECTATIONS
After a 12-2 season, a Big Ten championship, and a berth in the College Football Playoff, he has established the benchmark for Michigan going forward.  Some fans will expect this most years going forward.  Harbs may have a hard time dealing with this.
What happens if he loses to Michigan State again?  Not to mention Ohio State, or anybody else?  If Michigan finishes 8-4, you know the fans and media will be all over him.  Does Jim go running to the NFL to get away from all that?
AS FOR THE 2022 SEASON
Michigan opens next season at Michigan Stadium against Colorado State.  They spend the entire month of September at home as they take on Hawaii, Connecticut, and Maryland, respectively.  Not that difficult on paper.
Their first road game is on October 1st at Big Ten West champ Iowa.  They also visit Indiana and Rutgers before the Ohio State game in Columbus on November 26th.  They do host Penn State and Michigan State on October 15th and 29th, respectively.  In other words, it gets tougher once it hits October.
AND FOR THE QB SITUATION
Jim will be asked frequently this spring about who will play quarterback in 2022, 4th year sophomore Cade McNamara or true sophomore J.J. McCarthy.  Many fans and media feel that even though McNamara was the starter and was a key cog to the 2021 success, McCarthy is the one with more talent and has a much bigger upside.  How he maneuvers this situation could dictate how well the Wolverines do next season.
Michigan State and University of Michigan Heisman Trophy Winners and Finalists
More From The Game 730 WVFN-AM