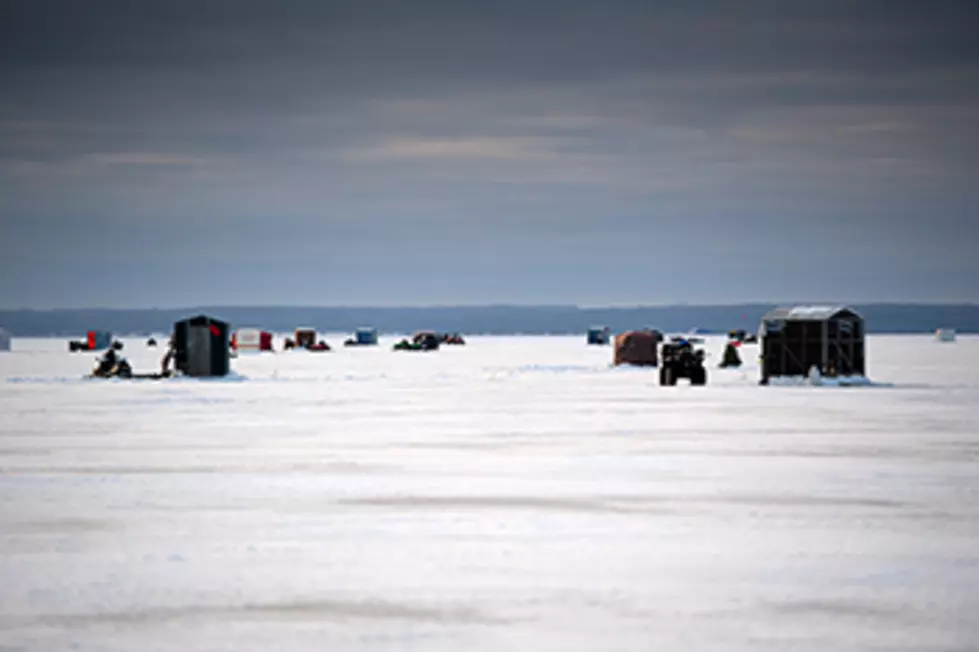 No Fish Story: It's Time to Bring in the Ice Fishing Shanty
Photo Courtesy: David Kenyon, Michigan DNR
The dates begin as early as this weekend to remove fishing shanties on Michigan lakes as temperatures begin to rise above freezing and compromise the ice.
Detroit Tigers' pitchers and catchers reported to Spring training in Lakeland, Florida this week and here's another sign that Spring is coming. Michigan DNR reminds ice fishermen to remove shanties from Michigan lakes before the ice is too thin to support them. Lake St. Clair on the East side is the most delicate, as immediate removal is mandated as temperatures finally rise above freezing after about two weeks of arctic conditions.
Based on the 10-day forecast, portions of the Lower Peninsula are predicted to experience fluctuating temperatures near or above freezing. Temperature fluctuations can create unstable and unsafe ice conditions very fast. It's the angler's responsibility to safely remove their shanty before it falls through the ice.

-1st Lieutenant Jason Wicklund, DNR Law Enforcement Division
Can't you just simply clear out your gear and abandon the shanty? Not only is it irresponsible, it's illegal. Shanty owners whose structures fall through the ice are subject to penalties of up to 30 days in jail, fines up to $500, or both. If a shanty is removed by a government agency, the court can require the owner to reimburse that agency for up to three times the cost of removal.
The shelters must be removed from Michigan lakes by March 1st for most of the lower peninsula. The northern lower Michigan counties of Alcona, Alpena, Antrim, Arenac, Bay, Benzie, Charlevoix, Cheboygan, Clare, Crawford, Emmet, Gladwin, Grand Traverse, Iosco, Isabella, Kalkaska, Lake, Leelanau, Manistee, Mason, Mecosta, Midland, Missaukee, Montmorency, Newaygo, Oceana, Ogemaw, Osceola, Oscoda, Otsego, Presque Isle, Roscommon and Wexford have a deadline of March 15, and U.P. dates are as late as 3/31.
Of course, no one has told Mother Nature these dates so be sure to check the ice conditions every time you go out and be safe!
More From The Game 730 WVFN-AM