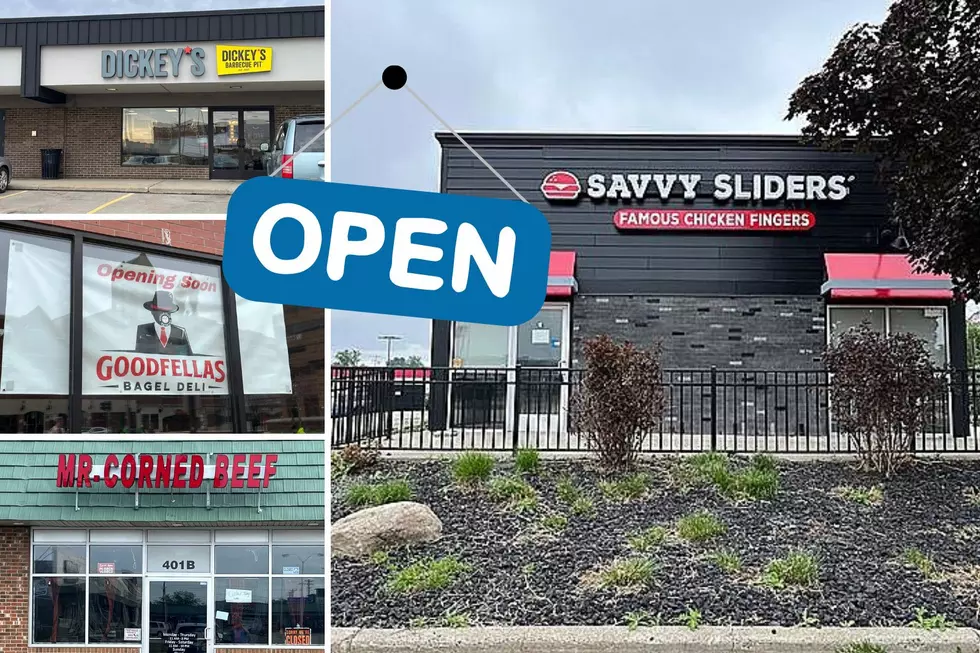 Restaurants That Opened or Reopened in the Lansing Area in 2022
Courtesy of Kristen Matthews TSM Lansing and Canva
The last two years have been tumultuous for many businesses, particularly restaurants.
Due to the pandemic, restaurants have had to find creative ways to continue to serve customers, while also dealing with higher food costs and the difficulty of finding enough staff.
Sadly, along the way, we saw some local Lansing area restaurants close their doors for the last time. It's always sad to see a business close, especially ones that meant so much to the community.
Lansing Area Restaurants That Opened in 2022
On the brighter side of things, we saw many restaurants open their doors for the first time this year, and even some that re-opened their doors after a bit of a struggle. It's so amazing to see businesses opening nowadays. To see which restaurants were able to open their doors for the first time this year, check out the list below.
Tannin
Tannin is a restaurant that was able to reopen this year. After closing in April due to staffing shortages, Tannin reopened its doors this November. 
Raising Cane's
Raising Cane's announced its first Michigan location in February of this year. From announcement to opening, it only took eight months, as it opened in East Lansing on October 18th, 2022.
Savvy Sliders
Savvy Sliders opened their Okemos location in October 2022.
Joe's on Jolly
Joe's on Jolly opened this past September.
Saroki's Crispy Chicken & Pizza
Saroki's opened its location in Haslett near the end of August 2022.
Goodfella's East Lansing
The Downtown East Lansing location of Goodfellas Bagel Deli opened in September.
Goodfella's Lansing
The Goodfellas location inside the Capital City Market in Downtown Lansing opened its doors near the end of August 2022.
Dickey's Barbeque Pit
Dickey's Barbeque Pit in Frandor opened for business just before Thanksgiving in November 2022.
Detroit Wing Company
The Detroit Wing Co. on Lansing's south side opened up in mid-July 2022.
Mr. Corned Beef
Mr. Corned Beef closed in early August 2022. However, we were happy to see them reopen at the end of October 2022.
Red Haven
Patrons of Red Haven had to say goodbye to it in June of this year. However, while the day-to-day restaurant portion closed, the owners did reopen it with different intentions. Red Haven now focuses on events and pop-up dining experiences.
Crumbl Cookies
Crumbl Cookies just opened its west Lansing location on December 2nd, 2022.
Grand Grillin
Grand Grillin was another recent open, as its first day was December 1st, 2022.
These Michigan Restaurants Have All Sadly Closed Since Appearing on National TV
You'd think an appearance on a national TV show like Diners, Drive-Ins, and Dives or Restaurant: Impossible would guarantee success for a restaurant.
That hasn't been the case for these six restaurants, all of which have closed after being featured on national television.
A Look Back at the Lansing Restaurants That We Lost in 2021
Lansing is home to tons of great food, but like the sign of the times, we did lose a few restaurants in the year that was 2021. Take a look down memory lane with us as we explore some now closed restaurants in Lansing.
These 15 Chain Restaurants are So Yummy that We Must Have Them in Lansing
Don't misunderstand; Lansing's food scene is absolutely incredible! It's got a variety of restaurants serving up a slew of delicious cuisines. But we think there's always room for improvement. Here are 15 chain restaurants that are so good that we think they should be added to Lansing's lineup, pronto!
More From The Game 730 WVFN-AM