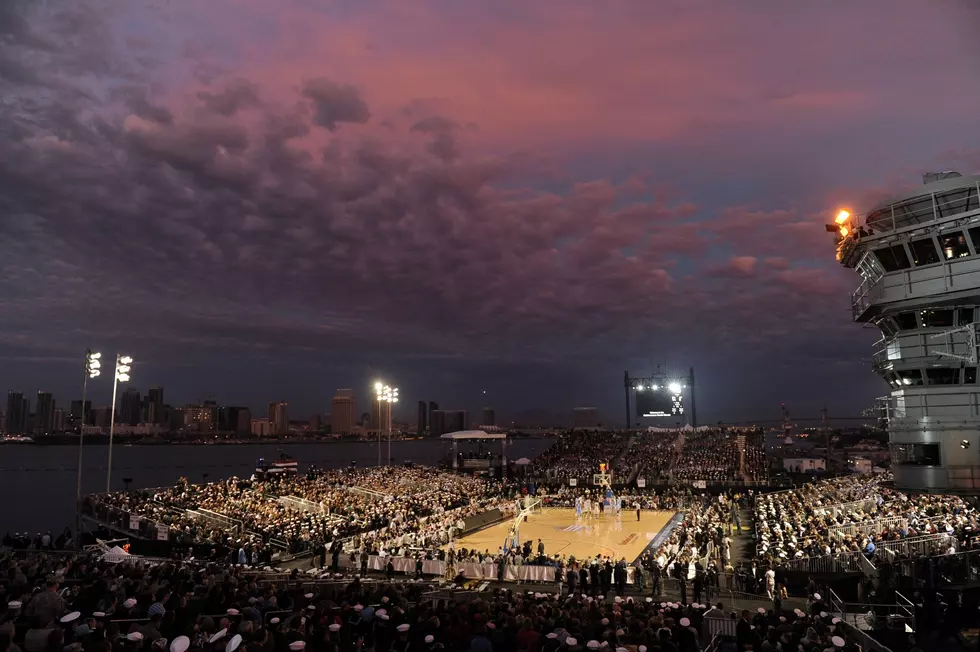 Report: MSU Basketball To Play On Aircraft Carrier Again
Getty Images
Multiple media outlets are reporting that Michigan State men's basketball will open the 2022-23 college basketball season on an aircraft carrier.  Much like they did a decade ago against North Carolina.
According to the report, MSU will play Gonzaga on the USS Abraham Lincoln off of the coast of San Diego, California.
You may remember that the Spartans played North Carolina in November of 2011 on the USS Carl Vinson in San Diego (seen above).  The Tar Heels beat the Spartans that night, 67-55.  That game inspired the current "Armed Forces Classic", which is played at various American military bases around the world.
There is no official word from Michigan State as of yet, but that is expected soon.  MSU head coach Tom Izzo issued a statement to MLive about the game:
"I know our players, coaches and staff, and all of Michigan State Athletics are very excited about the opportunity to play a tremendous program like Gonzaga on the deck of the USS Abraham Lincoln while honoring all of those who serve in our military, this game is big for our program, for Michigan State University and for the Big Ten Conference."
The Spartans are coming off a 23-13 2021-22 campaign, finishing tied for seventh in the Big Ten.  They made the Big Ten Tournament semifinals before losing to Purdue.  State then beat Davidson in Round 1 of the NCAA Tournament before losing to Final Four-bound Duke in round 2.
Gonzaga finished 28-4 last season, and advanced to the NCAA Tournament as a number 1 seed in the West regional.  But after wins over Georgia State and Memphis,  they fell to Arkansas 74-68 in the Sweet 16.
Michigan State's Protected Rivalries In A Divisionless Big Ten
There's much speculation among the media that the Big Ten will abandon it's division-based format for football in the 2023 season.
If/When that happens, each team will likely have three opponents that are protected. That means that that those specific games will be played each season.
With that in mind, we've come up with some choices for Michigan State's three protected games in a divisionless Big Ten.
More From The Game 730 WVFN-AM