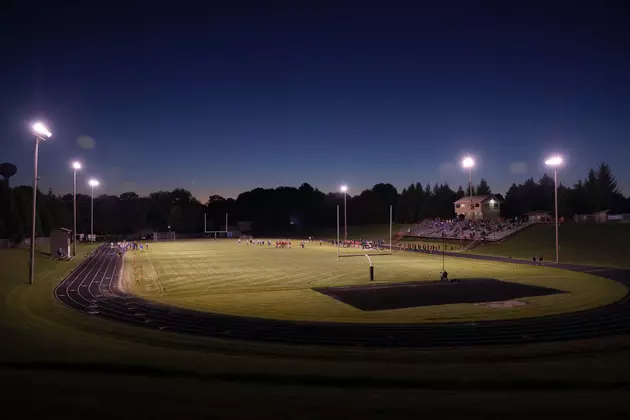 Previewing Portland @ DeWitt Tonight In H.S. Football
Getty Images
You'll hear the Portland @ DeWitt game tonight in high school football on The Game 730 AM WVFN, with the pregame beginning at 6:00pm.  Then, I'll be joined by Erik "Doc" Love from DeWitt's Memorial Stadium just before 7:00.
These two programs are not only among the elite in Mid-Michigan, but are two of the best in the entire state.  They have great coaches in John Novara (Portland) and Rob Zimmerman (DeWitt).  And both teams made it to at least the state semifinals last season.  Portland lost in the Division 5 semifinals, while DeWitt was beaten in the Division 3 championship game at Ford Field.
They played a classic last season, as Portland scored in the final minute to beat heavily favored DeWitt 20-17 at Portland HS in Week 2.
Both teams are 1-0 on the season as Portland beat Ovid-Elsie 36-8 last week.  And DeWitt beat Haslett 21-14 at Michigan Stadium in Ann Arbor.
The Portland Raiders have a lot of new players, and only 27 full-time players on varsity.  But they lean on senior running back/defensive back Drew Miller.  All he did last Thursday was have 63 yards rushing, 66 yards receiving, and had six tackles on defense.  Quarterback Marc Nobis threw for 135 yards and two touchdowns while running for another score against Ovid-Elsie.
The DeWitt Panthers have sophomore Aspen Keyes at quarterback.  He replaces all-stater Tyler Holtz at that position.  And he's got help at running back with Blake Haller (the son of MSU Athletic Director Alan Haller) and Abram Larner.  Larner scored the winning touchdown last week against Haslett.  And the Panther defense allowed only 48 yards of total offense to Haslett.
And it's also the first game on the new FieldTurf artificial turf field at Memorial Stadium.
So tune in tonight at 6:00 with the pregame of Portland at DeWitt.  And then game coverage begins just before 7:00.  Brock Palmbos and Erik "Doc" Love will have the call from Memorial Stadium.
10 Things To Look For In MSU Football In 2022
More From The Game 730 WVFN-AM