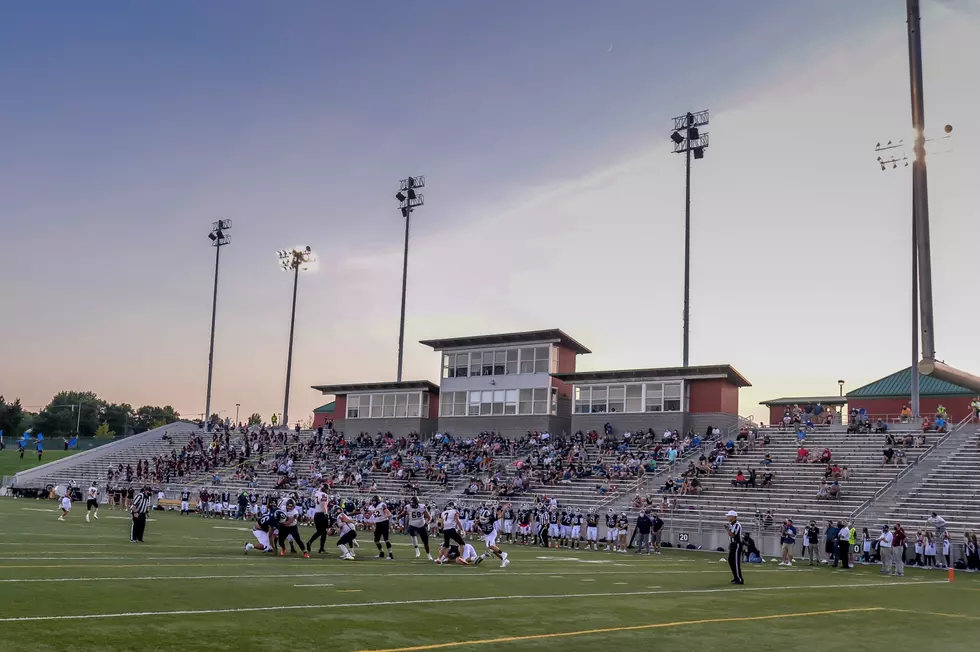 Previewing Portland At Charlotte Tonight
Getty Images
While there are several good games around the area tonight, the game of the night in the Mid-Michigan area is in the county seat of Eaton County, Charlotte.
The 5-0 Charlotte Orioles host the 4-1 Portland Raiders tonight at 7:00.  The winner clinches a share of the CAAC White title with one game remaining in the league schedule.
Portland is coming off a tight 21-20 victory over Sexton at home last Friday night.  Running back Drew Miller scored the winning touchdown in the fourth quarter.  Senior QB Marc Nobis threw for 196 yards and two touchdowns and Caden Thelen had a TD reception and in interception.
Portland's only loss of the year came in Week 2 to DeWitt on the road, 39-34.
As for Charlotte, this is their best start since 2008 (where they started 4-1).  Head coach Mike Sparks is a serious candidate for the area coach of the year.  Cutler Brandt and Braden Hill ran for 101 and 98 yards and a TD, respectively.
The Orioles will be without their starting quarterback, Ben Buzzard, who is injured.  Sophomore Christian Powers will get the start for coach Sparks.
This is easily the biggest regular season game they have played since 2004, where the Orioles beat St. Johns 35-25 to finish off an undefeated 8-0 regular season.
We'll have coverage tonight on The Game 730 AM WVFN, starting with the pregame show at 6:00pm.  Brock Palmbos will have interviews with Portland coach John Novara, Charlotte coach Mike Sparks, and Brian Calloway from the Lansing State Journal.
And then Erik "Doc" Love will join Brock for the game broadcast from Charlotte just before 7:00pm.  We'll also do our best to keep you updated on all of the other action around the area.  It includes:  DeWitt at Grand Ledge, Holt at Waverly, Fowlerville at Haslett, Olivet at P-W, and Morrice at Merrill.
Lansing-Area Top 10 H.S. Football Teams (After Week 5)
More From The Game 730 WVFN-AM