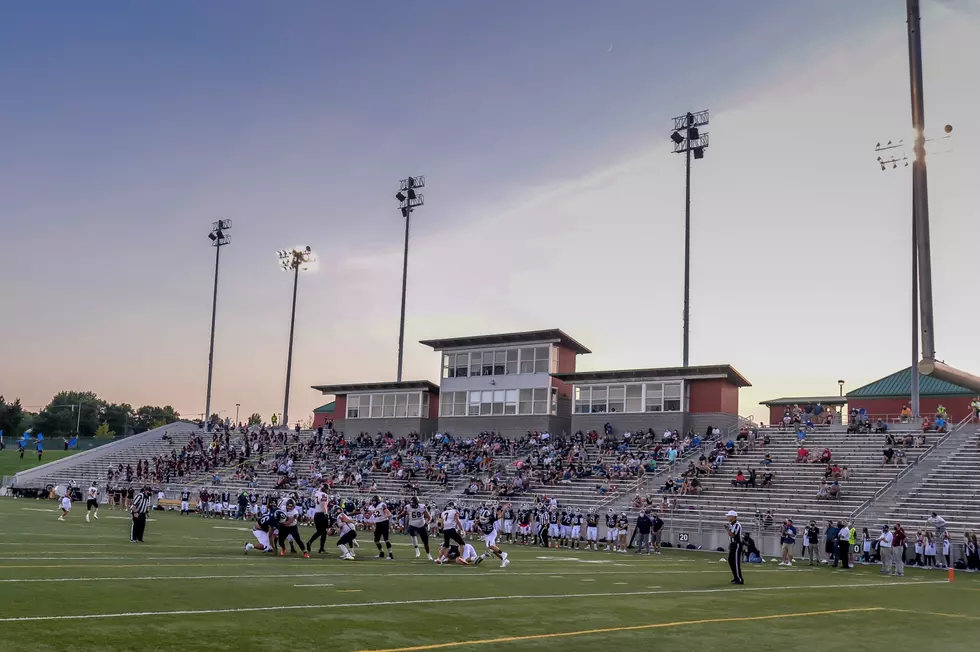 Previewing DeWitt @ East Lansing Tonight
Getty Images
It is a historic night at East Lansing High School tonight.
Not only is it a top-level game between 2-1 DeWitt and homestanding 3-0 East Lansing, it is also the very first game on the new FieldTurf field at Lynn C. Adams Stadium.
Getting artificial turf in E.L. has been talked about for several years now.  And now it is a reality.  At it will host a contest between CAAC Blue rivals looking to take the early lead the league standings.
DeWitt lost to perennial power Detroit Catholic Central on the road last week, 45-38 in overtime. And they are led by their all-purpose, do everything senior Bryce Kurncz.  He plays running back, quarterback, and wide receiver.  And he also plays defense.
East Lansing is coming off a 77-0 victory over Okemos on the road.  Senior Dalen Adams is at the controls.  And he's got offensive weapons all over the place.  Senior Kanye Jackson is their lead running back.  But other top players include seniors Kieran and Dorijan Jackson, as well as Evan Boyd.
Both coaches are veterans   DeWitt is led by Rob Zimmerman, who's in his 24th season as the varsity coach for the Panthers.  East Lansing is led by former Michigan State quarterback Bill Feraco, who replaced the great Jeff Smith in 2004 and has coached the Trojans since then.
We'll have the game right here on WVFN starting with the pregame at 6:00.  Brock Palmbos will have interviews with coaches Zimmerman and Feraco, as well as his two-part interview with Brian Calloway from the Lansing State Journal.
Jesse Goldberg-Strassler joins Brock from East Lansing HS just before 7:00pm with the game coverage.  We'll do our best to keep everybody updated on all of the other games around the area throughout the broadcast.
Lansing-Area High School Football Top 10 (After Week 3)
More From The Game 730 WVFN-AM