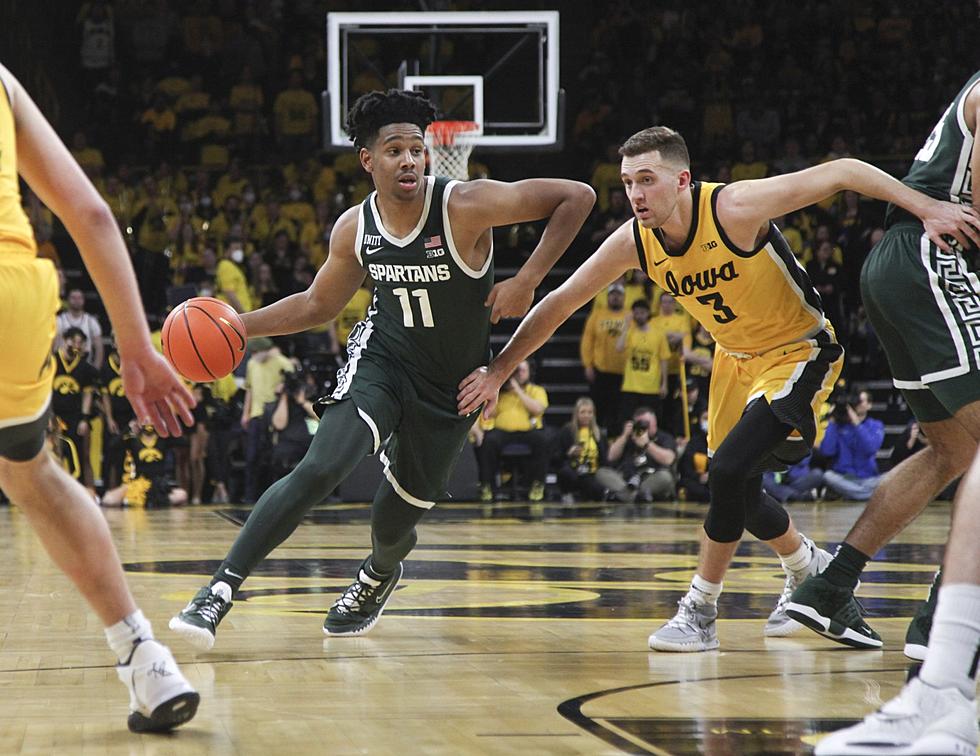 Ok, State Fans. You Should Really Be Concerned, Now
Getty Images
After Michigan State latest loss, an 86-60 thrashing at the hands of Iowa on Tuesday night in Iowa City.  The Spartans have now lost five of their last six games and have fallen to 18-9 overall and 9-7 in Big Ten play.
Although not mathematically so, the Spartans have likely kissed their Big Ten title dreams for this season goodbye.  They are three games behind Purdue, Wisconsin, and Illinois in the loss column with four games left to play before the Big Ten Tournament.
But Spartan fans, like the title of this article says, you should be really be concerned about this team.  Here's why:
REGRESSION
It looks to me that some of the players have regressed since the Bahamas tournament in late November.  Look how well Gabe Brown and Marcus Bingham were playing back then.  Now??  Not so much.  That is alarming.  Max Christie has hit the freshman "wall", even head coach Tom Izzo has said that.  If it weren't for Tyson Walker and A.J. Hoggard (pictured above), they'd be even worse off.
DEFENSE
This teams doesn't seem to be as good defensively as previous years.  They give up an average of around 67 points a game.  And their defensive field goal percentage is just over 40% (.406 to be exact).  Which is pretty good, actually.  But if you watched the Iowa game (and other games, Rutgers on the road, and Illinois at home), you would see that this hasn't been a Tom Izzo-type defensive team.
JOEY HAUSER ISN'T THE PROBLEM
Apparently, Joey Hauser has taken a lot of grief on social media from a lot of fans this season.  Get off his case!!!  Ok, he's not the team's best player.  He has his deficiencies.  He has troubles defensively, and it seems like he's always in foul trouble.  But without his last second basket against Minnesota at home, they might've lost the game in overtime.
INCONSISTENT PLAY
Maybe this is related to the "Regression" paragraph.  But we can all see and hear the inconsistency of this team.  Tyson Walker plays great against Illinois, but only scores nine points at Iowa.  A.J. Hoggard plays great against Michigan, but against Iowa he had only four points in 23 minutes played.  And we've already talked about Brown and Bingham's struggles.  Again, the inconsistency is alarming.
THE SCHEDULE IS TOUGH
The last four games of the regular season aren't easy.  They have Purdue at home on Saturday before the rematch with Michigan next Tuesday in Ann Arbor.  That's followed by a visit to Columbus to play Ohio State.  They should win on Senior Day the following Sunday against Maryland.  But the way things are going, who knows for sure?
THEY'RE STILL NOT IN THE NCAA TOURNAMENT
They'll probably get in.  Especially if they beat Maryland.  But it's not definite.  What if State loses the three road games and then gets beat in the first round of the Big Ten Tournament?  That would put them at 19-13 overall, with a 2-9 finish to the year.  That still probably gets them in, but the NCAA Committee frowns on teams that finish the season on a downer.  Their seed in the NCAA Tournament won't be very good.
OVERALL
State needs to right the ship before the Big Ten Tournament.  A win over Michigan or Ohio State on the road before the Maryland game would certainly help their confidence.  And at least one win in the Big Ten Tournament would put them in the Big Dance.  But it starts with Purdue on Saturday.  We'll see.
Mid-Michigan High School Boys Basketball Top 10—2/22/22
Here's a look at the top 10 teams in the Lansing area in boys basketball.
More From The Game 730 WVFN-AM