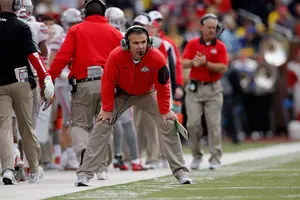 Ohio State Board To Meet Wednesday & Discuss Meyer Investigation
Gregory Shamus
The independent group looking into Ohio State head football coach Urban Meyer wrapped up their investigation on Sunday.  Now, the Ohio State board of trustees will meet Wednesday to discuss "personnel matters".
Investigators briefed trustees on their findings during a informal meeting Monday afternoon, the university announced.  There is an Ohio law that requires a 24 hour public notice from the board before holding any formal meetings.
"The board will not deliberate or discuss any public business or make any decisions today based on the information presented during the session," a university statement said. "Today's briefing is to ensure that board members are adequately prepared to discuss this matter at Wednesday's meeting."
Urban Meyer has been on paid administrative leave since August 1st after the ex-wife of former assistant Zach Smith accused the coach and other university members of mishandling allegations of domestic abuse she had made in the past.  Courtney Smith claims Meyer and others in the football program knew about the abusive behavior for years, yet did nothing to do help her.  Meyer fired Zach Smith on July 23.
University president Michael Drake and the board of trustees will decide if any further action is necessary after reviewing the results of that investigation.
More From The Game 730 WVFN-AM