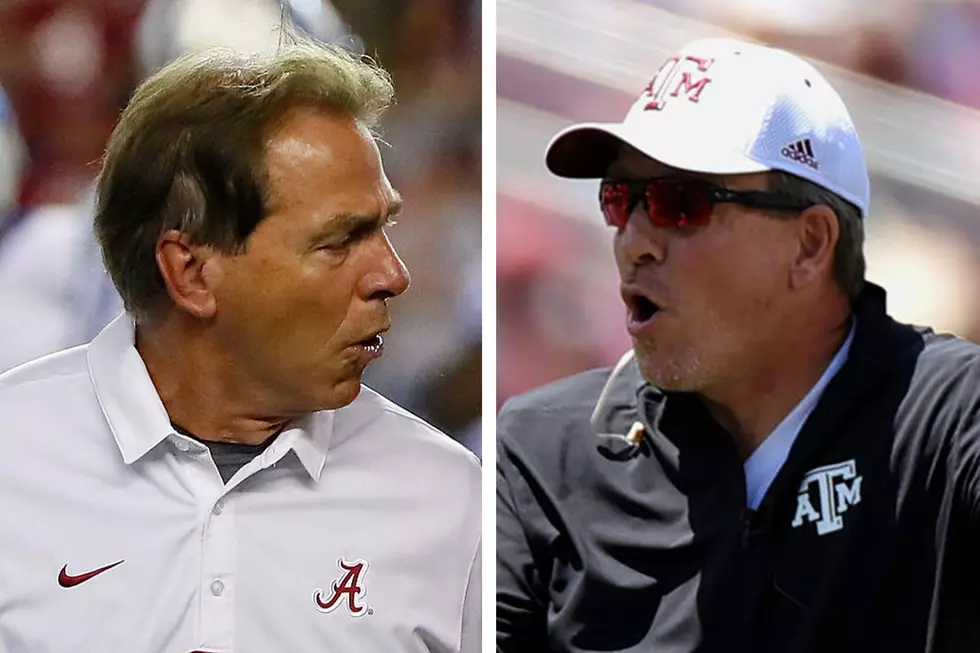 Nick Saban Vs. Jimbo Fisher: Interpreting Their War Of Words
Getty Images
Leave it to the SEC to even dominate college football's offseason.
Speaking Wednesday night before a group of Alabama business leaders (read: Crimson Tide football investors), Nick Saban used the opportunity to get on a soapbox about his many grave concerns regarding college football's name, image, and likeness rules.
Saban said a lot of dramatic things, including:
"If we start paying players, we're gonna have to eliminate sports."
"This is all bad for college sports."
"Jackson State paid a guy a million dollars last year that was a really good Division I player to come to their school. It was in the paper, and they bragged about it. Nobody did anything about it."
But the biggest headline-making verbal diarrhea the Nick-tator spewed was a line of serious allegations of impropriety against Texas A&M and his former assistant Jimbo Fisher:
"We were second in recruiting last year. A&M was first. A&M bought every player on their team -- made a deal for name, image, likeness. We didn't buy one player, all right? But I don't know if we're gonna be able to sustain that in the future because more and more people are doing it. It's tough."
It's worth mentioning that just last season Fisher became the first former assistant of Saban's to defeat him head-to-head when Texas A&M beat Alabama 41-38 on a walk-off field goal. Fisher served as Saban's offensive coordinator and quarterbacks coach at LSU in the early 2000s.
Coming into last season, Saban had a perfect 24-0 record coaches who had served as an assistant to him. After Fisher gave that mark its first blemish, Kirby Smart added another when Georgia beat Alabama in the national championship game.
Saban's all-time record versus his former assistants is 26-2.
Fisher hastily called a press conference Thursday morning to respond to Saban's allegations. A media salivating for an offseason morsel was not disappointed as Fisher returned heavy fire at his former mentor:
"We never bought anybody. No rules are broken. Nothing was done wrong. It's a shame that you've got to sit here and defend 17-year-old kids and families and Texas A&M. Because we do things right. We're always gonna do things right. We're always gonna be here. We're doing a heck of a job.

"It's despicable that a reputable head coach can come out and say this when he doesn't get his way. The narcissist in him doesn't allow those things to happen. It's ridiculous when he's not on top.

"Some people think they're God. Go dig into how God did his deal. You may find out ... a lot of things you don't want to know. We build him up to be the czar of football. Go dig into his past, or anybody's that's ever coached with him. You can find out anything you want to find out, what he does and how he does it. It's despicable."
We at The Game 730 AM found this to be the perfect opportunity to test out our latest technological investment — Coachspeak Translator 3000. This new tool allows us to process sound bytes from prominent coaches and distill it down to the speaker's actual, honest feelings on a given matter.
Listen to the audio clip below to hear Coachspeak Translator 3000 decipher the war of words between Saban and Fisher.
KEEP READING: Here are 50 of the most famous sports goofs
More From The Game 730 WVFN-AM