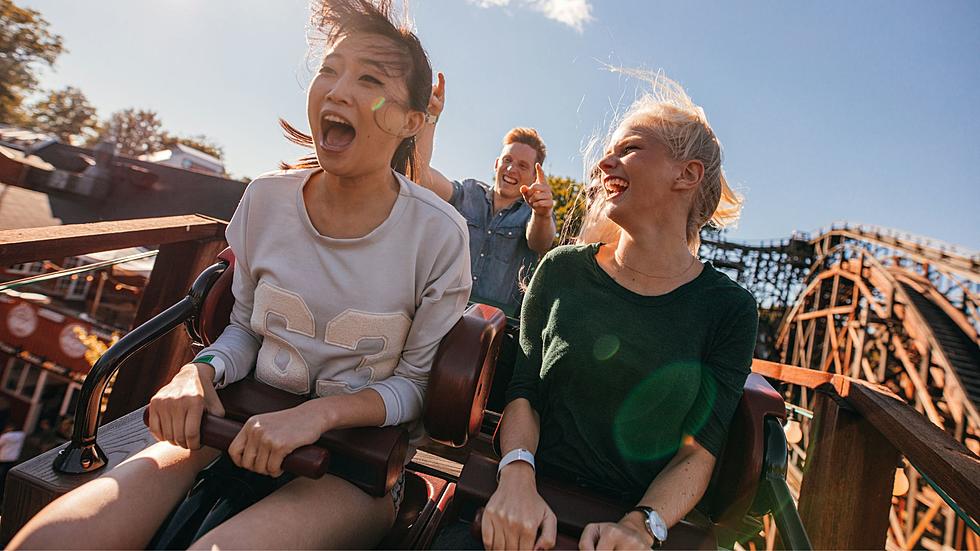 New Roller Coasters Within Driving Distance You Have To Ride in 2023
Canva
I freakin' love Roller Coasters. When I was a kid, we used to go to this small amusement park in my hometown that had one roller coaster - a white and red wooden one that was a simple Out-and-Back design that was simple... but fun.
Unfortunately, that roller coaster doesn't exist anymore, nor does the park, but that roller coaster was what unlocked my love of thrill rides, and now I'm stoked to check out these new rides coming to areas within driving distance of Southwest Michigan.
HourDetroit.com released a list of six new roller coasters opening this year across the country within a day's drive of us, and two of them are VERY close.
Cedar Point - Sandusky, Ohio: Wild Mouse
Part of the park's new development, this roller coaster is the 18th one in the park, and it is BONKERS!
This nod to the original coaster at Cedar Point (also named Wild Mouse, which ran from 1959-1963), it will take riders on a game of "cat and mouse." It starts with a 52-foot climb in a four-passenger car that SPINS 360 Degrees while on the track, twisting around tight turns up to 35 mph.
Guarantee, no two rides on this roller coaster will be the same experience.
Indiana Beach - Monticello, Indiana: American Dreier Looping
There's a reason "Looping" is in the name of this rollercoaster at Indiana Beach. This is the sixth coaster in the small park that was supposed to open last year, but should be good to go this season.
But this also isn't a brand new roller coaster, it's been around since 1984, but in Hannover, Germany, and three other parks in Europe, before moving to Indiana Beach.
There's a 100-foot cimb dropping you in at more than 55 mph, and will push you back in your seat at a whopping 6.1 G's. Also, ya know... the loops.
Other New Midwest Rollercoasters
Four other coasters will open within driving distance of southern Michigan this year.
Kansas City - World's of Fun: The Zambezi Zinger
About a 10-hour drive from southwest Michigan, World's of Fun is bringing back a classic that once stood with the park opened in 1973. That coaster went defunct in 1997, but the new Jumbo Jet-style, steel-extended Zambezi Zinger will leave you nothing short of thrilled when you're done riding.
Hershey, Pennsylvania - Hersheypark: Wildcat's Revenge
A shorter ride for most, about 9 hours from southwest Michigan, the Wildcat's Revenge is a new hybrid roller coaster built on the bones of the park's old Wildcat roller coaster that closed last year. You'll rise 140 feet off the ground, and reach speeds up to 62 mph in the first drop.
Pigeon Forge, Tennessee - Dollywood: Big Bear Mountain
You can get to Dollywood in about 8-9 hours from southwest Michigan, but it's worth staying a few days in Pigeon Forge for a full vacationing weekend. The new Big Bear Mountain roller coaster is HUGE! It has nearly 4,000 feet of track, and a two-minute ride with three launching points. It's not particularly tall at only 66 feet, and careens around the track at around 50 mph. But enduring that for two minutes would be an awesome ride.
Williamsburg, Virginia - Busch Gardens: Darkoaster
About a 12-hour ride from southwest Michigan, this is the furthest from us on the list, but a full day at Busch Gardens will warrant a multi-day trip. This "Escape the Storm" coaster is North America's first all-indoor, straddle coaster. You'll climb on to cars that are shaped like snowmobiles, then ride into near total darkness, cruising at around 40 mph and into 4 different launch points.
Again, not all of these coasters are day-trippers, but for the real thrill-seekers out there, it's worth the drive.
Oakwood Amusement Park, Kalamazoo: 1907-1925
This Was One Of Mid-Michigan's Only Amusement Parks
You've probably heard of the Lake Lansing Amusement park. If you're someone my age, that is all it is, but if you're old enough, you may remember it. Take a look at Mid-Michigan's Only Amusement Park.
More From The Game 730 WVFN-AM