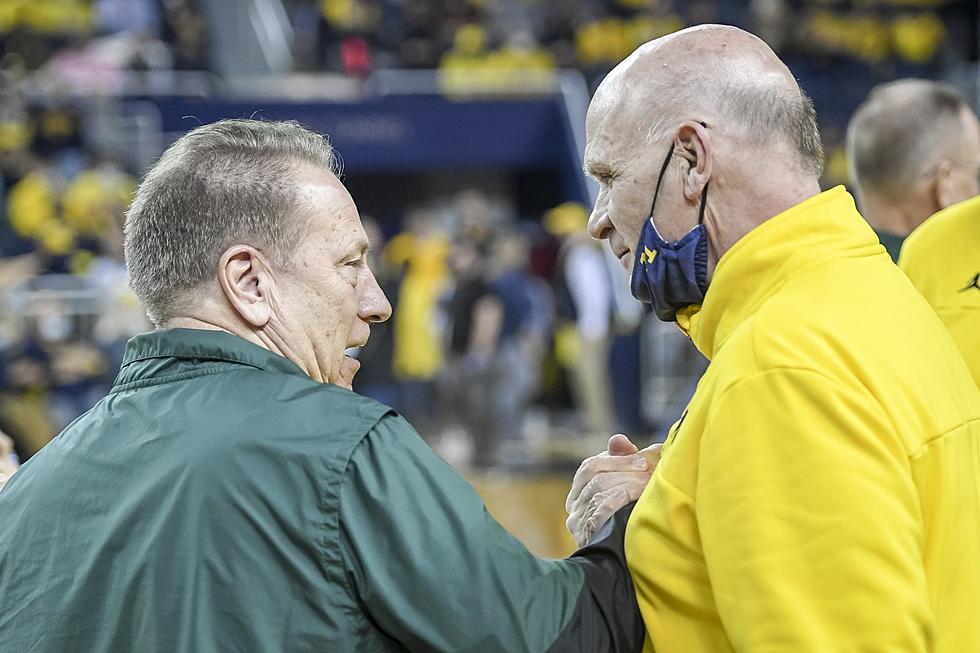 MSU & U-M Basketball: Ok, Now What?
Getty Images
After Michigan's 87-70 victory over Michigan State on Tuesday night, where do both teams stand as we enter the final 10 days of the regular season?
Michigan started the season at 7-7, but have went 9-5 since then.  Michigan State started the year 14-2, but have slipped to 19-10 after Tuesday's loss.
So like the title says:  Now What?  Let's start with Michigan.
MICHIGAN
The Wolverines are 16-12 after Tuesday's win over MSU.  They are widely projected (as of this writing on Wednesday, March 2nd) to be on the good side of the NCAA Tournament bubble with two regular seasons games left before the Big Ten Tournament.
Their guard play has been spotty this season, one of the reasons they're not as good as they were last year.  And they haven't gotten the ball to center Hunter Dickinson enough in key situations (Tuesday night, nothwithstanding).
Moussa Diabate shows potential, but is inconsistent.  Same with Terrance Williams.  You know what you're going to get in Eli Brooks.  Solid, not spectacular.
If nothing else, the Juwan Howard suspension (he's lucky he only got 5 games) has united the squad.  Can they carry it into the postseason?  We'll see.
AS FOR MICHIGAN STATE
They're in the NCAA Tournament without a doubt because of the wins over Wisconsin and Purdue.  Plus, they beat Connecticut and Louisville in the preseason.  The blowout loss to Baylor in the Bahamas doesn't really hurt them.
But the lack of a floor leader like Mateen Cleaves or Cassius Winston.  They don't have a guy that will get in other people's faces when they're playing like crap.  That's what seems to be missing.  That attitude.  Yes, Tyson Walker and A.J. Hoggard have had their moments, but not consistently.  And Tom Izzo (pictured above with Michigan's acting head coach Phil Martelli) can only get on these guys so much and so long.
That's in addition to the regression we've seen from several players (Gabe Brown, Marcus Bingham, etc.).  Max Christie looks like a future pro, but NOT YET!  He's projected to be a first round pick by nbadraft.net, but he looks too small to head to the league right now.  A year in the weight room, and another year at MSU would be beneficial for him, IMO.  Malik Hall has had some good games but he had only five points against Michigan.
Joey Hauser and Julius Marble have had their moments, too.  But they've struggled at times as well.
OVERALL
It looks like Michigan and Michigan State are pretty equal teams right now.  One's not better than the other.  Michigan's playing better right now, while State has regressed somewhat.
That was unthinkable when MSU was 14-2 and ranked in the top 10 and Michigan was 7-7.  But you're watching these games, too.  And they are pretty much even right now.
Both teams have two games left before the Big Ten Tournament next week.  Michigan hosts Iowa and visits Ohio State.  While MSU visits Ohio State and hosts Maryland.  They will both likely start the Big Ten tourney next Thursday.  Get ready, it will be a fun March as it usually is around here.
Mid-Michigan High School Boys Basketball Top 10—3/1/22
Here's a look at the top 10 teams in the Lansing area in boys basketball.
More From The Game 730 WVFN-AM