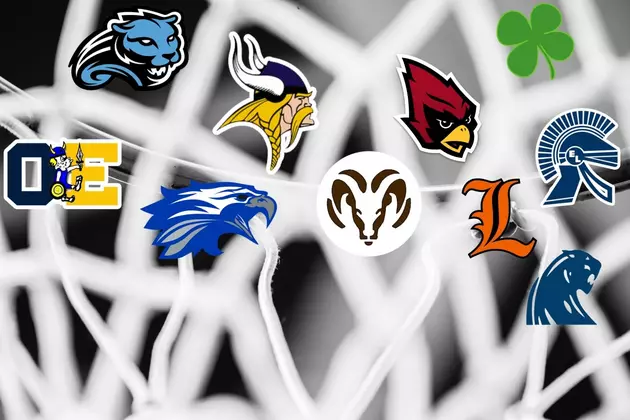 Mid-Michigan Girls Basketball Top 10 Poll (thru January 17th)
Canva
The same ten teams that were in the top ten last week are in the poll this week.  It's just that the order is a bit different.
And that's because of Lansing Catholic's tremendous comeback 55-52 win over defending Division 2 state champ Portland on Friday night.  And also, East Lansing took out Holt on Tuesday night 72-54.  Fowler also had a big week, winning three games in five days to move to 8-1 on the season.
Only three undefeated teams are left in the area.  Lansing Catholic (11-0), Portland St. Patrick (11-0), and Ovid-Elsie (8-0).  And six other teams have only one loss on the season.  All of those teams are in the poll this week.
A handful of notable games this week.  On Tuesday, 6-1 Holt visits 8-1 DeWitt.  Also, 7-1 Leslie visits 6-4 Stockbridge in a battle of GLAC leaders.  And then on Thursday, East Lansing visits Division 2 state power Detroit Edison.  On Friday, DeWitt is at 3-3 Grand Ledge and Lansing Catholic visits 5-3 Ionia.
Ok, on with this week's poll.
Mid-Michigan High School Girls Basketball Top 10—1/17/2022
Here's a look at the top 10 teams in the Lansing area in girls basketball
The boys basketball poll will be updated on Tuesday.
We will have the Holt at DeWitt girls basketball game on Tuesday night right here on The Game 730 AM WVFN, starting with the pregame at 7:00.  Erik "Doc" Love joins Brock Palmbos for the broadcast. from DeWitt H.S.
High school basketball is brought to you all season long on The Game 730 AM WVFN by Wayne Lacy and his great staff at Cherry Creek Mortgage Company in DeWitt.  Give them a call at 517-580-5050 and ask them about any kind of home loan and/or mortgage.
More From The Game 730 WVFN-AM