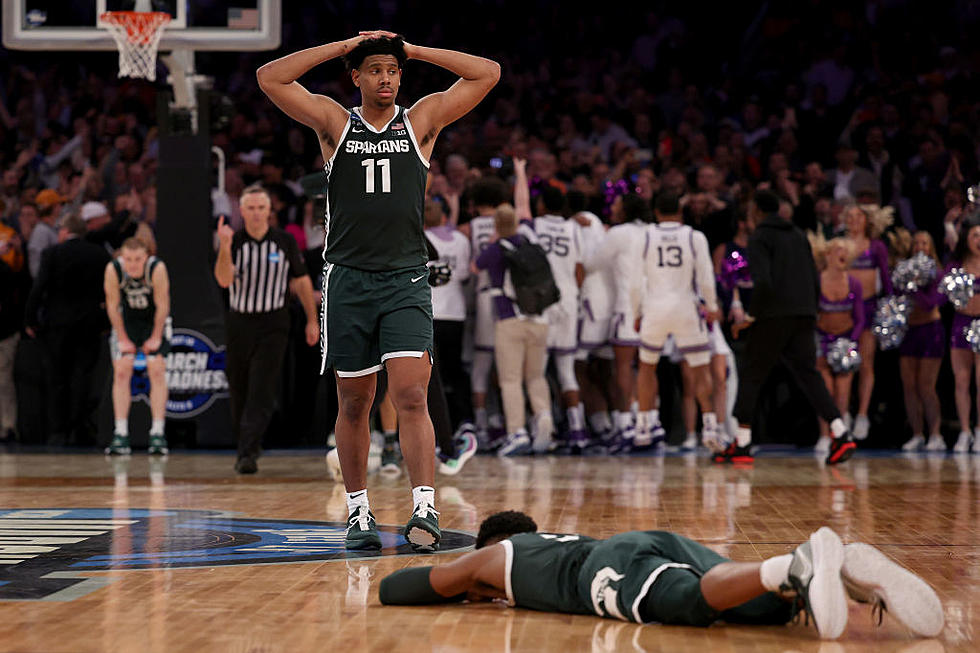 Getty Images
Michigan State's basketball season is officially over after a heartbreaking 98-93 overtime loss to Kansas State in the Sweet 16.
Losing always hurts. But losing in the NCAA tournament is a different kind of hurt because of the nature of the event: The stakes are incredibly high, and if you lose your season is over. Throw in the fact that the Spartans mounted a late rally to force overtime and a series of mystifying brain farts they committed throughout the game and it's one that'll take even longer than usual to get over.
Here's a sampling of the mistakes MSU made Thursday night against Kansas State that you simply cannot make and expect to win a basketball game, let alone an elimination game with a trip to the Elite Eight on the line:
Miss free throws down the stretch
Watch rebounds go out of bounds when you could easily corral them
Let the other team inbound the ball off your ass
Fall asleep on a critical defensive possession in overtime, allowing your opponent to hold an impromptu NBA All Star Dunk Contest
Have your Hall of Famer get out-coached by a rookie with a sexual innuendo for a last name
Turn a one-legged basketball hobbit into Allen Iverson
That sucked. But we have to deal with it. I don't want to hear about the recruiting class Tom Izzo has coming in next year. I don't care that the game may have turned out to be the real regional final for this part of the bracket. And please, for the love of God, do not complain about officiating.
We need to just drink this one in for a while and own it.
But we shouldn't forget to give Kansas State some credit. The Wildcats are pretty good. They'll be a tough out for anyone the rest of the way, and that's thanks in no small part to new-NCAA-tournament-single-game-assist-record-holder and literal basketball wizard Markquis Nowell. His 20 points and historic 19 assists were undoubtedly the difference Thursday night. And he did a good chunk of that damage to MSU after badly rolling an ankle, which noticeably limited his movement and ability over the final third of the game.
I know you're hurting right now, Michigan State fans. You're either sick to your stomach or you've successfully numbed yourself with copious amounts of alcohol, which of course means that you will still inevitably be sick to your stomach, and probably even more so on account of the trauma you've wrought on your liver.
Regardless, hang in there! You've got the Detroit Tige— nevermind.
Oh! You've got MSU spring footb-- yeah, no, forget that too.
Hey! The NFL Draft is just a few weeks away! And the Lions are actually good now, so the draft doesn't represent the pinnacle of your pro football calendar anymore! What a truly bizarre time to be alive.
And, if it's any consolation, it took a generational performance to end the Spartans' season. The tournament will be hard-pressed to produce a better game than the one between MSU and K-State Thursday night, too.
Photos: Michigan State Falls To Kansas State In Overtime Of The Sweet 16, 98-93
It took a historic point-guard performance, five extra minutes of play, and a series of uncharacteristic mistakes, but Kansas State eliminated Michigan State from the 2023 NCAA tournament in Thursday night's Sweet 16 game at Madison Square Garden.
More From The Game 730 WVFN-AM