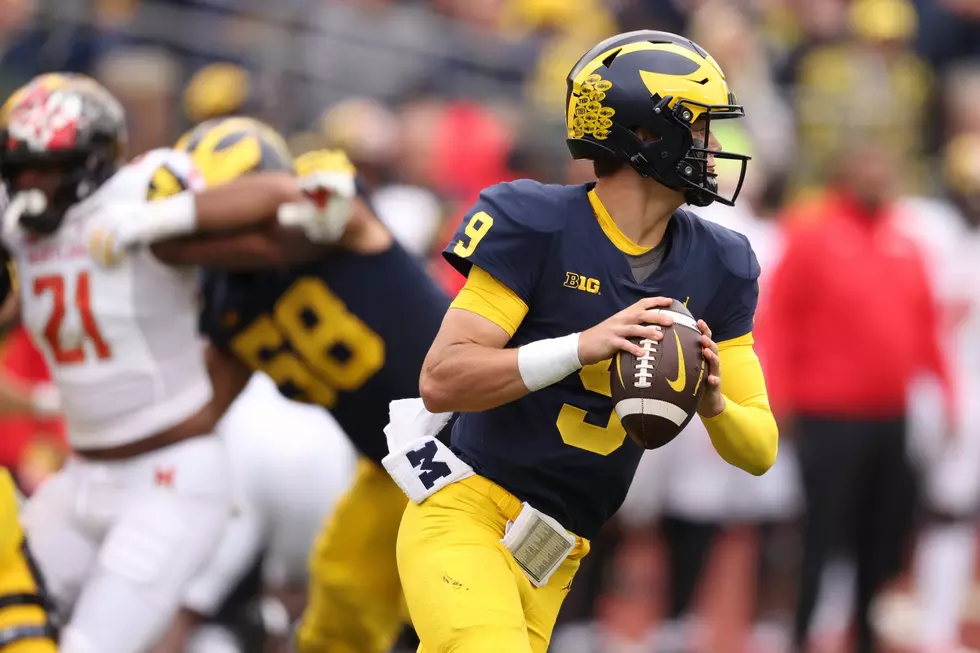 Michigan Is NOT The 4th Best Team In The Country Right Now
Getty Images
Early season rankings in college football, in most cases, are not a reflection as to how good a team really is.  See Michigan State.  Before the Washington game two weeks ago, the Spartans were ranked 11th in the Associated Press writers poll, and ranked 9th in the AFCA Coaches poll.  Two weeks later, the Spartans have lost two in a row and have fallen out of all the rankings.  With more losses possible on the horizon.
Well, we don't have to travel very far to see another team that is overranked.  Just head to Ann Arbor.  Michigan is currently ranked 4th in both polls behind Georgia, Alabama, and Ohio State in that order, respectively.
This is a complete joke considering their level of competition that they've played so far.  Colorado State, Hawai'i, and Connecticut.  Those three teams are, as Tim Staudt would say, AWFUL!!  It is shameful that Michigan has scheduled those squads this season.
And just look at what happened when they played a real opponent (Maryland).  Yes, they won.  But they struggled mightily for the entire game.  This is the most misleading 4-0 team I've ever seen wear the Maize and Blue.  And yet, because of reputation, they are ranked 4th.  It doesn't make sense.
OK BROCK, THEN WHO IS 4th?
IMO, there are a number of teams who are better than the Wolverines right now.  Kentucky, Clemson, USC, Tennessee, and Oklahoma State. All have played more credible opponents and are currently unbeaten.  I'm not even counting North Carolina State, who heads to Clemson this Saturday night.  Just pick any of them, I won't argue with you.
Y'ALL ARE TOO SENSITIVE!!!
It's amazing to me how sensitive people are when people are critical (rightly or wrongly) about their teams.  I've seen it for years with Michigan State fans.  Tell MSU fans their team isn't as good as everyone thinks and they whine and cry like little kids.
Now I'm seeing it more and more with U-M fans.  I got into a mild Twitter dispute with a Michigan fan on Monday when I said that Michigan wasn't the 4th best team in the country.  He got all defensive and tried to defend the schedule and the team.
I get the passion about supporting your team.  But you have to have SOME objectivity!!  Not a lot, but you have to have some.
U-M HAS PLENTY OF TIME TO PLAY UP TO THEIR RANKING
Even though they aren't the 4th best team in the nation right now.  Michigan has eight more games to play up to their lofty status.  They host Penn State and Michigan State.  They also play at Iowa (bad offense, good defense) and Indiana.  And they finish, as usual, with Ohio State in Columbus.  Despite their schedule, if Michigan is 13-0 after beating Ohio State and (possibly) Minnesota in the B1G title game, they'll be in the College Football Playoff.  You can count on that.
But right now, they aren't the 4th best team in the country.  They just aren't.
Michigan Scandals, Controversies, and Embarassments During Warde Manuel's Tenure as Athletic Director
Michigan athletics has been engulfed by multiple scandals, controversies, and embarassments over the last two years, all occurring on athletic director Warde Manuel's watch.
As the issues continue to mount, and Manuel continues to be practically invisible to the media and public, it's a wonder Manuel hasn't been fired already.
More From The Game 730 WVFN-AM