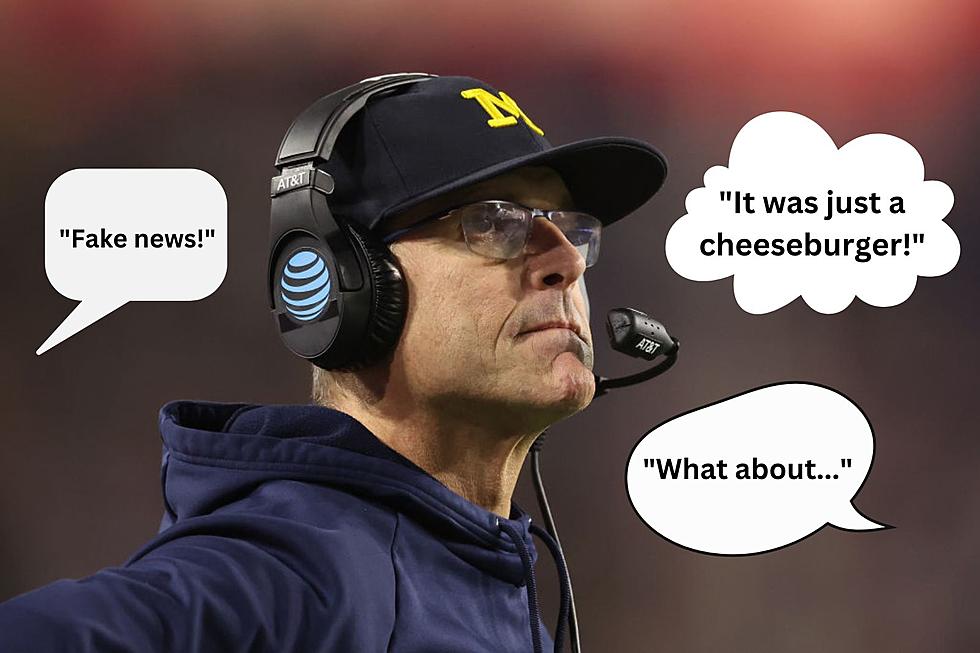 Michigan Excuse Bingo For Jim Harbaugh's 4-Game Suspension
Getty Images
Jim Harbaugh will be suspended for four games this season, and, despite what shamelessly disingenuous and hypocritical Michigan fans are saying, it's not because he bought a recruit a cheeseburger.
That's the narrative they're running with, and one could understand why. For one, the school is pushing that angle, and the Detroit media has hopped right to attention and obliged its friends in Ann Arbor in helping to disseminate that message. For two, and most importantly, Michigan's entire facade is built on the myth and outright lie of their own moral superiority.
For years, Michigan fans have bitched and whined about impropriety at Ohio State, Michigan State, the entire SEC, and any/every other opponent they've lost more games to than they've won. If you're unfortunate enough to have a U-M fan in your life, there's no doubt you've heard countless diatribes and gripes about Jim Tressel and Urban Meyer for cheating at Ohio State, Mark Dantonio for embracing the criminal element as part of his Michigan State program, Nick Saban and Kirby Smart for paying players, and innumerable other works of fiction born of a complete inability to take a hard look in the mirror and acknowledge their own program's shortcomings.
Anyone not in the Michigan cult already knew the U-M moral superiority act was completely baseless, but today's news of the Harbaugh suspension and the subsequent reaction of his mindless Michigan minions absolutely seals it. They're out in force doing damage control on this story, throwing out every excuse and straw-man-argument misdirection, no matter how irrelevant, in an effort to deflect criticism, and to avoid confronting the reality that they're no better than the programs they've been complaining about and preaching at this entire millennium.
Michigan ought to lobby the NCAA into making mental gymnastics an officially sanctioned sport. Not only would they dominate it, they'd also actually win a championship for a change.
Let's have some fun with this ought-to-be-studied-by-academics-and-the-world's-foremost-psychologists case of mass formation psychosis. Check out the Michigan Excuse Bingo Card below. Odds are it won't take long for you to hit.
Michigan Scandals, Controversies, and Embarassments During Warde Manuel's Tenure as Athletic Director
Michigan athletics has been engulfed by multiple scandals, controversies, and embarassments over the last two years, all occurring on athletic director Warde Manuel's watch.
As the issues continue to mount, and Manuel continues to be practically invisible to the media and public, it's a wonder Manuel hasn't been fired already.
5 Things The Detroit Media Should Look Into Instead Of MSU Athletics Donations
The Detroit Free Press is suing Michigan State University for records pertaining to donations from two billionaire alumni that helped fund Mel Tucker's 10-year, $95 million contract extension. It's peculiar that the Detroit media has such dogged interest in menial and old news at Michigan State after displaying a distinctly different appetite for coverage of the Robert Anderson scandal at Michigan.
Regardless, it appears that the Detroit media is eager to wield its investigative power to hold public institutions and figures to account. With that in mind, we've come up with a few things that would actually merit their attention, effort, and resources, unlike beating down the door for MSU's tax-deduction receipts.