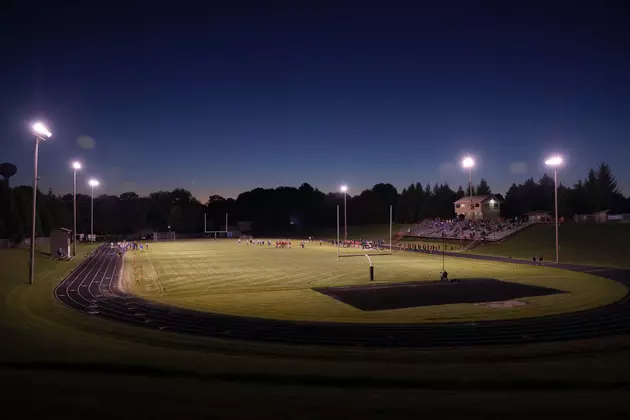 Lansing-Area H.S. Football Top 10 Poll (After Week 10)
Getty Images
To the surprise of some (myself included), we have 13 area teams still alive after the first week of the playoffs.
Some of the surprises were:  Grand Ledge crushed Brighton on the road 38-3.  East Lansing shut out Battle Creek Central 24-0 on the road.  A 4-5 Lansing Catholic team upset 9-0 Durand on the road 28-21.  And in 8-Player football, Morrice destroyed Peck on the road 62-6 to advance to the regional final.
And we are guaranteed to have at least two area teams in the regional finals next week as the Grand Ledge at Holt winner will advance in Division 1.  And the Lansing Catholic at Ovid-Elsie game will move on to Round 3 with a victory in Division 6.
Before we get to this week's poll, we want to recognize the teams that lost last weekend to see their season come to an end in the first round of the playoffs.
Haslett ended their season with a 35-14 road loss at Linden in Division 3.  Williamston saw their season end with a tough 34-27 loss at Corunna.  The GLAC champion Olivet Eagles nearly beat Portland, but lost on a goal line stand, 21-14.  Bath ended their season with a 47-12 loss to P-W.  And in 8-Player football, Fulton lost a tight one to Breckenridge 36-32 on the road.  Kudos to all of teams that made it to the postseason.
Now, on with this week's rankings:
Lansing-Area H.S. Football Top 10 Poll (After Week 10)
We will have the Division 1 district championship game from Mike Smith Memorial Stadium in Holt for the rematch between the Grand Ledge Comets and the Holt Rams.  Pregame coverage begins at 6:00pm with Brock Palmbos.  And then just before 7:00pm, Erik "Doc" Love joins Brock with the game coverage.  We hope you can tune in Friday night!
More From The Game 730 WVFN-AM