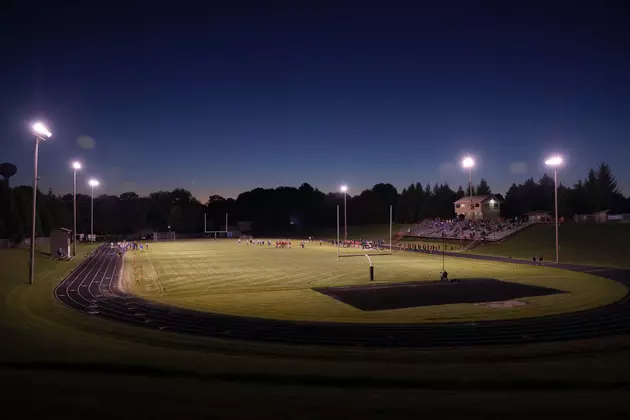 Lansing-Area H.S. Football Poll (After Week 5)
Getty Images
The big winners in high school football last week were Mason and Fowler.  The Bulldogs finished off a tough two-game road stretch by beating Haslett 28-13 behind A.J. Martel's 200+ yards rushing and 3 touchdowns.  They should win the CAAC Red outright now.
As for Fowler, they knocked off arch-rival P-W in a thriller at Spicer Stadium 20-16.  The Eagles scored on 4th and 11 from the P-W 14 with 16 seconds left to win The Milk Jug and take the lead in the CMAC.  It's Fowler's first win over P-W since 2014 and their biggest regular season win in at least that long.
Other big winners last week were Charlotte (who remains unbeaten), Olivet, Laingsburg, Grand Ledge, and Williamston.  And in 8-Player football, Morrice knocked off Breckenridge 42-20 to stay unbeaten.  Head coach Kendall Crockett has built an 8-man powerhouse over in Morrice.
The big upset was undefeated East Lansing losing at home to 2-2 Grand Blanc 28-21, and we had another near-upset as Portland had to score in the 4th quarter to beat Sexton 21-20 at home.
Now that we are past the halfway point of the season, we can take a peek ahead to the playoffs and look at positioning for the first time this week.  Remember, the top 32 teams in each division in terms of computer points make the playoffs (No more six wins and you're in anymore).  As of this week, 19 area teams are in the playoffs.  Eleven others are between 33rd and 39th in their respective divisions.  We'll keep you updated on that from here on out.
Our game this Friday is the CAAC White showdown between 4-1 Portland and 5-0 Charlotte from Charlotte HS.  Brock Palmbos will have the pregame beginning at 6:00pm.  And then Erik "Doc" Love joins Brock for the game broadcast just before 7:00pm.  You can listen to it on The Game 730 AM, thegame730am.com, or on The Game 730 AM app on your smart device.  We hope you can join us!!!
Lansing-Area Top 10 H.S. Football Teams (After Week 5)
More From The Game 730 WVFN-AM