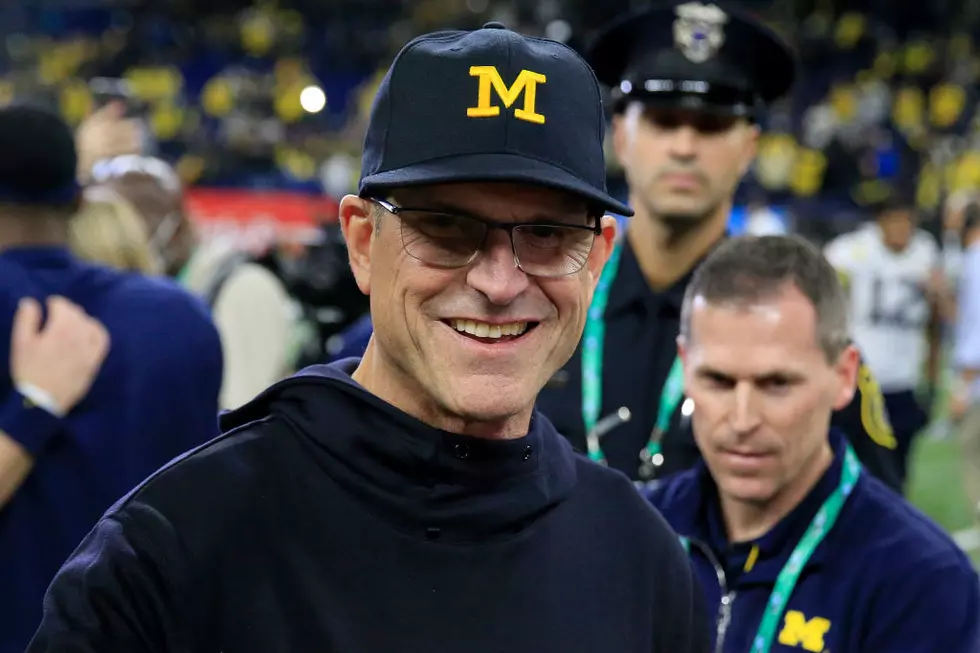 How Much Longer Will Michigan Tolerate Being Cuckolded By Jim Harbaugh?
Getty Images
Like an adulterous spouse, Jim Harbaugh has made a fool of Michigan.
His annual (one-sided) NFL flirtation supposedly ended two weeks ago when, through a university statement, he announced he was no longer interested in the Denver Broncos' head coaching vacancy and reaffirmed his love for and commitment to U-M.
But, as is so often the case with philanderers, Harbaugh's words of affection were merely a payment of lip service.
ESPN reports that Harbaugh met again this past weekend with the Broncos, which is an odd thing for someone who's definitely no longer a candidate for Denver's head coaching job and happy beyond measure in Ann Arbor to do.
Broncos owner Greg Penner and University of Michigan football coach Jim Harbaugh met last week in Ann Arbor to discuss Denver's head-coaching position without any deal materializing, league sources told ESPN.

Although Harbaugh two weeks ago announced he was staying at Michigan, Penner did his due diligence and still traveled to Ann Arbor to meet with the coach in person, like he's done with seven other candidates during the Broncos' head-coaching search.

The follow-up conversations were part of the process for both Denver -- led by Penner with general manager George Paton -- and Harbaugh. The face-to-face meeting came after Harbaugh's initial video interview with Denver, after which he pulled his name out of contention and reaffirmed his commitment to Michigan.
First of all, notice the careful wording in this piece of so-called "journalism" from ESPN. It should come as no surprise that the byline on this story belongs to noted U-M alumnus Adam Schefter, whose ethical turpitude and complete lack of any journalistic integrity have manifested many times before in the form of blatant, shameless public-relations and damage-control propaganda work on behalf of Michigan. (Seriously — Schefter has sold out his journalism bona fides to cover for U-M more often than Harbaugh has sold out Michigan for any attention whatsoever from an NFL franchise.)
Schefter is eager to point out that Penner's coming all the way to Southeast Michigan to meet with a man who has publicly proclaimed he's no longer interested in the Broncos job is completely normal — nothing to see here! In fact, it's mere due diligence for Denver's ownership group AND for Harbaugh.
I don't know about you, but when I remove myself from consideration for a job because I'm no longer interested in the position, I routinely follow that up with an in-person meeting with the hiring manager for that job that I'm no longer interested in two weeks after letting them know that I'm no longer interested. Totally common!
The truth is it's embarrassing for Michigan. The Wolverines are coming off the greatest two-year run for their football program in more than 30 years, and their head coach appears eager to hightail it out of town as soon as possible. Even after saying he's coming back because of all the warm-and-fuzzy feelings he has for Michigan.
He did this last year, too!
Once the 2021 season concluded, Harbaugh followed up Michigan's greatest football campaign in a generation by practically begging the Minnesota Vikings to hire him. He had one foot out the door, even interviewing in Minneapolis on National Signing Day. Afterward, he promised that he would be staying at Michigan for good, that he was done with the NFL, and that his interest in the Vikings' job was a "one-time thing."
The question is how long Michigan will continue to put up with this. I'm sure U-M will tolerate it again this offseason, seeing as the Wolverines return almost every key contributor to the team next year. That, plus a schedule that guarantees a bare minimum of 10 wins — not to mention getting Ohio State in Ann Arbor — means Michigan will be the prohibitive favorite to win the Big Ten and return to the College Football Playoff for a third straight season. The Wolverines will likely be among the teams most-favored to win the national championship in 2023, too.
We know U-M wants Harbaugh back if not only through the tweets of their fanboy of a university president. Why Michigan still hasn't come up with a new deal for Harbaugh is less clear. His apparently icy relationship with athletic director Warde Manuel probably has something to do with it. There are also the itsy-bitsy matters of an ongoing NCAA infractions investigation of the U-M football program, allegations of a Level I NCAA violation against Harbaugh personally, the shady handlings of player discipline and legal matters of late, and, not to mention, the recent dismissal of one of Harbaugh's top assistants amid a police investigation into "computer access crimes" allegedly committed at the football team facility.
But, as Brady Hoke once said in such fitting and pithy terms, "This is Michigan." Winning is all that matters, and winning at all costs. That much is abundantly clear, so it's safe to say Harbaugh will remain in Ann Arbor for the 2023 season if he so chooses.
But what about after that? Harbaugh has proven that his own words are completely hollow, that he's likely to always be interested in a return to the NFL, and that he wants out of Ann Arbor. Add to that an unavoidable exodus of talent that will take place after next season, likely signaling the closing of a championship window at U-M, and you've got a set of circumstances that are tailor-made for another Harbaugh will-he-won't-he act.
Who knows?
But one thing we do know is that Harbaugh's recurring dalliances with the NFL are hurting Michigan's recruiting. Take a look at how U-M's classes have ranked lately, per 247sports.com:
| | | |
| --- | --- | --- |
| Year | Michigan Football National Recruiting Class Ranking | Michigan Football Big Ten Recruiting Class Ranking |
| 2016 | 8 | 2 |
| 2017 | 5 | 2 |
| 2018 | 22 | 3 |
| 2019 | 8 | 1 |
| 2020 | 10 | 2 |
| 2021 | 13 | 2 |
| 2022 | 9 | 3 |
| 2023 | 18 | 3 |
Top 10 and Top 20 recruiting classes nationally certainly aren't bad, but it's not good enough for Michigan given the program's resources and what the team has accomplished over the past couple of seasons. In order for the Wolverines to get over the hump and actually win a CFP game and a national championship, they need the kind of talent that the Georgias, Alabamas, and Ohio States regularly attract.
Harbaugh has had a class in that ballpark just once at U-M (2019), and his most recent recruiting effort won't get Michigan any closer. Turns out it's hard to pull down an elite recruiting class when you're busy throwing yourself at the NFL the way a lady of the night does with transient male motorists at certain red lights.
Harbaugh's antics are hurting Michigan's football program, and at a critical time. Tigers don't change their stripes. Why, then, should we expect from Harbaugh anything other than an annual NFL tryst? That's not going to change.
Just like a fed-up spouse is the only thing that can stop a cheating partner, the only thing that can stop Harbaugh from cuckolding Michigan is Michigan. The question is whether it will ever come to that.
Does U-M have any dignity or self-respect? Or will the Wolverines continue to overlook Harbaugh stepping out on them?
Highest Paid College Football Coaches For 2022
The coaching carousel in 2021 reset the market for college football coaches and their pay scale. Here are the top-paid guys heading into the 2022 season, according to
data compiled by USA Today.
What Could Happen In The Aftermath Of The Big Ten Poaching USC and UCLA
USC and UCLA are defecting the Pac-12 for the greener (read: richer) pastures of the Big Ten. This development sends the already-chaotic world of college sports into further chaos. Here's what could happen next.
More From The Game 730 WVFN-AM