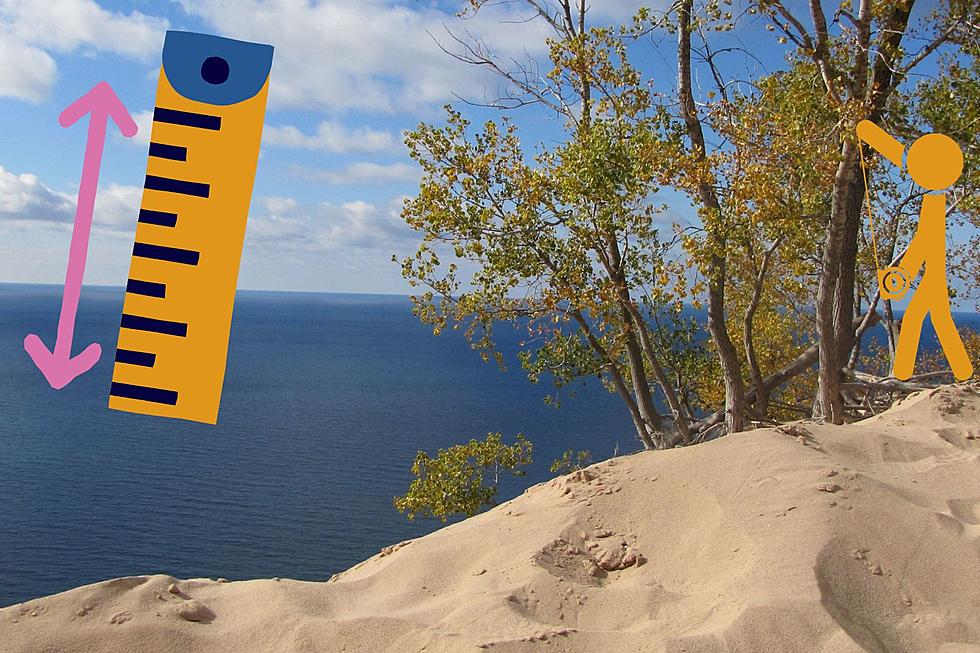 Exactly How Tall Are Michigan's Popular and Coveted Sand Dunes?
Credit: Sleeping Bear Dunes National Lakeshore Facebook, Canva
Michigan's sand dunes are massive, popular and beautiful. Sure, there are other sand dunes scattered throughout the United States, but none situated along freshwater with vegetation & wildlife.
We're curious to know more about these natural creations. After all, they've been around since the last ice age and long enough to have created a buried ghost town, too.
See Also: Does Michigan Have Mountains?
How tall are Michigan's most popular sand dunes?
Sleeping Bear Dunes National Lakeshore has numerous dunes along 35 miles of shoreline:
The tallest is Empire Bluff Main Dune at 526'.
The most visited, Pierce Stocking, is 450'.
All of the other peaks associated with Sleeping Bear are still higher than most others throughout the state.
Other dune heights along Lake Michigan include Arcadia Dunes with a highest peak of 460' located in Benzie County. The popular Old Baldy/North Bluff Dune is 360'. If you've been to Lookout Point Dune in Manistee County, that sits at 379'.
Saugatuck Dunes State Park sits along 2.5 miles of Lake Michigan shoreline with beautiful scenery.
Its highest dune is 233 feet in Allegan County.
This dune system actually created a buried ghost town -- a once-thriving place named Singapore, Michigan.
MI's Buried Ghost Town, Singapore.
If you want one of the most beautiful experiences (without a towering height, by comparison) check out Silver Lake State Park. The highest dune is 163'. The area spreads along Lake Michigan beaches and Silver Lake around the towns of Hart, Mears and Pentwater. They even have a place to ride along the dunes.
Does the Upper Peninsula have sand dunes?
Yes, a few. One of the most popular is Grand Sable Banks and Dunes. A five square mile area. The dunes sit atop the banks at 300 feet in Alger County. It's hard to imagine, but glaciers formed it.
Michigan has hundreds of dunes (more height info, here) with many beautiful hiking trails and views you won't find anywhere else in the world. The next time you're up for an adventure, plan to stop and be in awe.
This Fenton Home Sits on its Very Own Private Peninsula
A stunning home on Lake Fenton sits on its very own private peninsula. This four-bedroom, four-bathroom house features lots of nice touches like heated floors in the master suite - which is just steps away from the pool and hot tub.
The $2.5 million price tag is hefty, but wait til you see the pictures and the views.
Michigan Lakes With Weird or Creepy Names
Lakes Around Michigan with Names that Sound Strange, Creepy or Like a Horror Movie
Check Out the Land Yacht in Aus Gres, Michigan
More From The Game 730 WVFN-AM