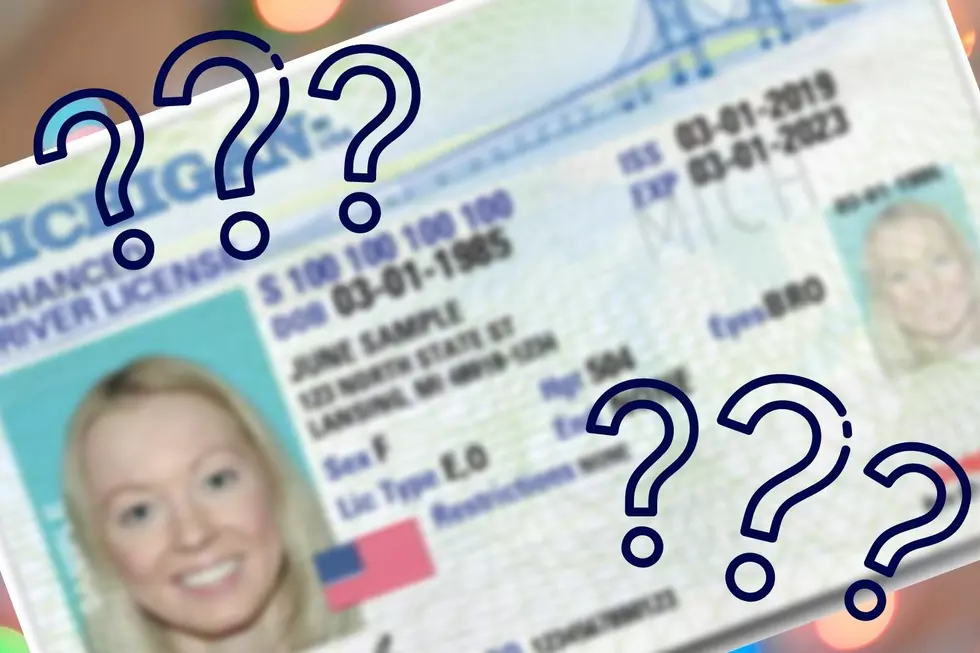 What's the Difference Between Real ID & Enhanced ID in Michigan?
Photos via Michigan.gov and Canva
We usually just carry them around in our wallets or purses and don't give them much thought.
Talking about your Michigan driver license. Yeah, most of us call it a driver's license... but that's beside the point. (Pull out your ID and see what it says.)
For decades, the design of your Michigan driver license and the information it contained went relatively unchanged. Now your license can be a "Real ID" or an "Enhanced ID". What's the difference? Do you need one or the other? Maybe.
Michigan Real ID
According to michigan.gov, Real IDs have a white star in the upper right corner, inside a gold circle.
Starting in May of 2023, you'll need to have at least a Real ID (an Enhanced ID will also work; more on that in a moment) to board a domestic flight in the United States; to enter a military base or nuclear power plant; and/or to visit certain federal buildings.
Per the state, if your current license is not Real ID-compliant, you can make an appointment with the Secretary of State's office to get it converted. You'll need your current Michigan driver's license or ID; a valid, unexpired U.S. passport, birth certificate, or other proof of legal presence document; and a certified legal name-change document (if your name is different from what is on your birth certificate).
Michigan Enhanced ID
An Enhanced ID offers all the privileges that a Real ID does, but takes things a step further. Enhanced IDs will feature a small American flag near the bottom right of the ID holder's photo. They may or may not also have the white star inside the gold circle in the upper right of the ID.
Holders of Enhanced IDs may use them instead of a U.S. passport when traveling between the United States and Canada, Mexico, Bermuda or the Caribbean.
The same documents used to obtain a Real ID are also usable when seeking an Enhanced ID, but you will also need to be prepared to prove your Social Security number and Michigan residency.
Neither license is free; applicable fees will be assessed.
Personalized License Plates Rejected by Michigan SOS in 2021
Have a great idea for a vanity plate? Well, the Michigan Secretary of State has rules about that sort of thing: no curse words, no poop talk, no sexual innuendo, among others. Here are 13 personalized plates Michigan SOS rejected in the first 6 months of 2021.
Michiganders Comment on Bad MI Drivers
We asked people on social media to share some of their encounters with bad drivers in Michigan.
More From The Game 730 WVFN-AM